The move from Preschool to Primary School is understandably a big one. Many parents and children face considerable anxiety in the face of this impending transition. In view of today's society ever-increasing academic pressures which have infiltrated even our preschools, parents are not unjustified for worrying if their children are up to mark particularly in terms of their ABCs and 123s.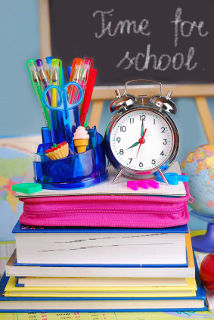 But is that all getting ready for Primary school entails? BrainFit Studio, a company founded in 2001 by a group of therapists passionate about unlocking human potential and enhancing lives through brain fitness training, will be the first to respond with a resounding "No!" According to them, far more critical than content knowledge in preparation for primary school is whether one has a "fit brain which can focus on, process and remember information easily."
Possibly a foreign concept to many, brain fitness is actually about laying the right foundations in the 5 core brain systems of Social-Emotional, Attention, Auditory, Visual and Sensory-Motor functions, which are vital for successful learning. So while your child will need to know his/her alphabets and numbers for Primary School, perhaps a more relevant question parents should ask themselves is whether their child's brain is optimally primed, or wired to learn well and to love learning when he/she goes to primary school?
What purpose do these 5 core systems serve?
Each of these 5 core brain systems has distinct functions, which when functioning optimally together, contributes to a fit brain that enables your child to "think faster, understand better, focus longer, remember more, and be a happy learner."
Visual Foundation: for efficient focus, understanding and retention of visual details and information

Auditory Foundation

: for successful listening, language, reading and

comprehension skills

Attention Foundation: for solid ability to pay attention, concentrate and remember information

EQ (Emotional – Quotient) Foundation

: for a positive mind-set, being motivated and resilient, and being socially competent

Sensory – Motor Foundation

: for good posture, focusing, learning speed, handwriting and motor coordination.
⇒ Related Read: Why Is My Child's Handwriting So Bad?
Brain scans have shown that some brains are wired to learn very easily, while others are less so. Alternatively, a child might be more inclined towards certain subjects and less interested in others, also due to the way his/her brain is wired. This is independent of one's IQ level – a child with above-average but with weaknesses in the 5 core brain systems might sail through the first few years of primary school with good results, but once the syllabus becomes significantly more challenging in the upper primary levels, that's when parents observe their child's grades falling and wonder, what went wrong?
That is where BrainFit Studio's Programmes for Preschool aged-children come in. They are unlike the typical enrichment/tuition centre that seeks to strengthen your child in a specific aspect or content area. BrainFit Studio deals with the 'how' of learning, as opposed to its more popular partner, the 'how' of teaching. Its mission is thus not about turning every child into a genius, but about assisting each child to achieve his/her maximum potential, whatever that may be.
Each programme begins with a 1-to-1 brain fitness profiling test of each child, known as the CognitiveMAP, which assesses the child's unique learning profile and enables parents and child to understand the child's strengths and weaknesses better. The CognitiveMAP is conducted over two one-hour sessions with pre-schoolers, with a report generated with graphs that illustrate each child's scores in the 5 brain systems. The report will be explained to parents to help them understand what the scores mean. With this report, parents can make better-informed and guided decisions for their child's learning journey.
As for parents who find just want to learn some tips to enhance their child's brain fitness, these are a few ideas shared by Founder and Director, Cheryl Chia during the BrainFit Studio Open House:
#1 Physical exercise/activity is also a brain workout!
Bring your children out to the

outdoor playgrounds

; ensure there is some time for physical activities in their

daily routine

.
Play ball games with them, i.e. catching and throwing, bouncing, changing direction and posture of the body, aiming and shooting at targets – this enhances their eye-hand coordination.
#2 Talk to your children, be descriptive in your language
The richness in children's writing comes from the experiences children have and the connections they make. When parents use vocabulary words in relation to authentic experiences, children learn these better and can then use them accordingly in their speech and writing.
#3 Play memory games with your children
When grocery shopping with your children, involve them by giving them a few items to remember. Increase the number of items they are to remember accordingly.
Encourage your children to re-tell their favourite stories.
Through BrainFit Studio's weekly 90 minutes sessions, students are intentionally engaged in specific activities that seek to build the 5 Brain Systems. This is as "the research behind lifelong neuroplasticity (the brain's ability to reconnect its neurons throughout life) and lifelong neurogenesis (the brain's ability to generate new neurons throughout life) indicates that targeted activities can improve cognitive abilities… Brain fitness training works by building the neural connections in our brain to form more efficient neural networks. When brain fitness activities are conducted in a way consistent with the laws that govern neuroplasticity, cognitive abilities can be improved." Cheryl explains.
The weekly 90-minutes sessions of each programme are offered in packages of 20 ($2020) or 40 sessions ($3220), which amounts to either a half-year or full-year's curriculum. Timings are flexible, and parents can select a timing which works best for them and stick to that timing. New classes will be opened up accordingly as and when there is sufficient demand. Class sizes are capped at a maximum of 6 children to 1 teacher, so parents can rest assured that their child will receive highly individualized attention. Furthermore, your child's progress will be tracked and closely monitored each session, with periodical reports generated for parents to keep abreast of their child's development.
With 10 centres throughout Southeast Asia 12 years down the road from their inception what is being offered at BrainFit Studio for pre-schoolers in preparing them for primary school and beyond, is a holistic curriculum based on the latest findings of brain research, specially designed to build the 5 core brain fitness systems essential for learning.
Parents who are keen to find out more can visit them here.
* * * * *
Like what you see here? Get parenting tips and stories straight to your inbox! Join our mailing list here.
Want to be heard and seen by over 100,000 parents in Singapore? We can help! Leave your contact here and we'll be in touch.