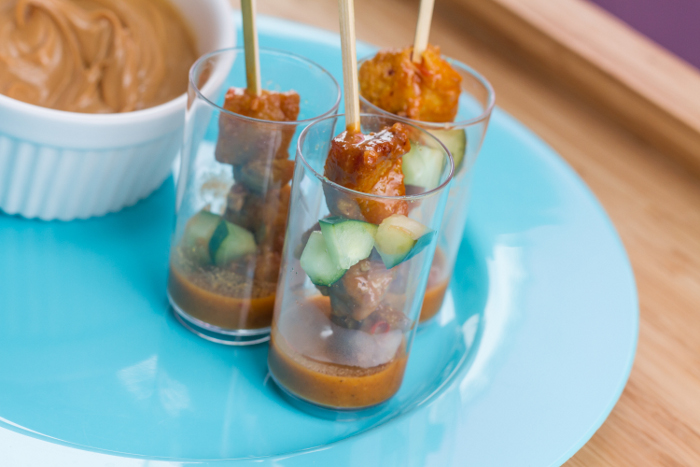 Ingredients
Chicken Satay:
400g Fresh Chicken Thigh Meat (cut in strips)
2 tbsp of oyster sauce
1 tbsp of chicken stock powder
1 tsp of dark soya sauce
Dash of pepper
Satay Sauce:
120g SKIPPY® Natural Super Chunk Peanut Butter Spread
65g water
1 tbsp of brown sugar
1 tbsp of fish sauce
½ tsp of sesame seed oil
A dash of pepper
Diced Japanese cucumber
Optional : 1 tbsp of ground chili powder for added spice
Peanut Butter Chix Stix
Chicken Satay
Mix chicken strips and other ingredients together in an airtight bag and marinate for at least four hours in a refrigerator.
Skewer the marinated chicken strips onto satay sticks.
Bake at 200°C for 15 mins or grill over a hot plate for 8 to 10 minutes.
Satay Sauce
Mix SKIPPY® Natural Super Chunk Peanut Butter Spread and water in a small pan,stiring until mixture thickens
Remove from heat and add brown sugar,sesame seed oil,fish sauce and pepper.
Cool to room temperature and mix in diced Japanese cucumber
Makes 12 sticks of satay.
Find us on Facebook or www.peanutbutter.com
If you find this article useful, do click Like and Share at the bottom of the post, thank you.
Want more comprehensive info? Check out our e-guides here.