For our Nov/Dec 17 Coverpage contest, we are collaborating with local baby apparel brand OETEO!
Born from a dream of designing thoughtful apparel that combines functionality with innovative designs, OETEO (ee-tay-o) produces apparel that surprises and helps people live better lives.
You and your whole family can now step out together in style. OETEO offers baby apparel (0-18 months) and Family style apparel (maternity and postpartum styles for ladies, men's polo and tees).
Their versatile apparel solutions also help to enhance the quality of parent and child bonding. Their labour of love – EASYEO (easy-o) Romper was created by their team after gaining helpful insights from parents and having numerous fitting sessions and discussions for 6 months.
No snaps, no zips, no buttons = No fuss
Designed in Singapore with safety and comfort in mind, OETEO's EASYEO rompers no fastening construction makes it hassle-free and easy to dress your little ones in a few quick minutes. Collections with a "back pocket flap" can be folded compactly for easy storage or brought along when you are out as a contingency apparel in case of a diaper blow-out.
Your baby can now be easily dressed in just a few minutes with their patent pending romper construction.
Visit www.oeteo.co for more details, and follow them on Facebook: @embraceOETEO and Instagram: #embraceOETEO
---
OETEO X The New Age Parents Coverpage Contest
Do you have a baby boy or baby girl between 5 to 15 months old? Here's your chance to showcase their cutest smiles!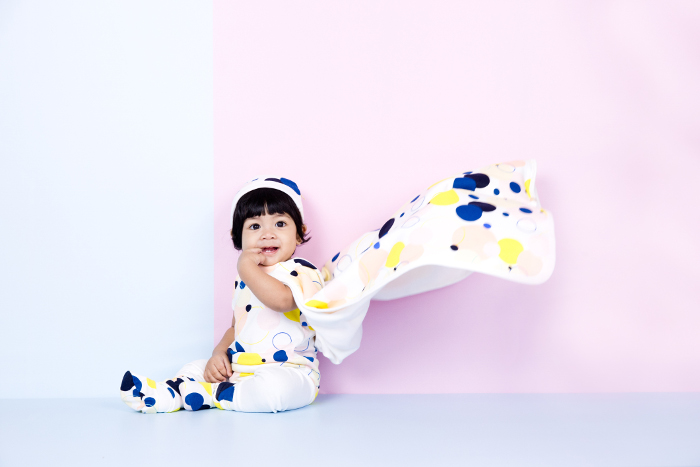 Baby Shakeel in OETEO's Circlely Geometric Set
Submit a close-up front shot of your babies in their most adorable smiles and stand a chance to be The New Age Parents next coverpage model!
The 1st prize winner stands to win a free photoshoot session (worth $168), wearing 2 sponsored rompers from OETEO's EASYEO romper collection. The winner will also be featured on The New Age Parents' Online Guide Coverpage in our Nov/Dec 2017 issue.
The 1st to 3rd prize winners may also get a chance to participate in OETEO's photography campaign for their upcoming collection.
Prizes to be won
1st Prize (Coverpage winner): $150 OETEO e-voucher + 2 sponsored sets of EASYEO romper worn during the photoshoot
(1 year validity from date of issuance)
2nd Prize: $100 OETEO e-voucher
(1 year validity from date of issuance)
3rd Prize: $50 OETEO e-voucher
(1 year validity from date of issuance)
Consolation Prizes (for all participants): 20% OETEO apparel for month of October 2017
(a special promo code will be sent via email)
How to participate:
1. To sign up our mailing list, fill in your particulars below:
(Existing members need not sign up again. New members need to check your email after signup to confirm subscription)
2. Submit your photo via this link: woobox.com/uy59xm
Hurry! Contest ends 20 September 2017.
The New Age Parents' Coverpage Contest (Non-Public Voting)
• In order to be qualified for the Coverpage Contest, you are required to join The New Age Parents mailing list (as below).
• The contest is open to children from 5 to 15 months old. Please submit a recent photo taken within the past month.
• This contest will be an INTERNAL judging contest by The New Age Parents and OETEO panel of judges.
• The judges' decision is final and no correspondence shall be entertained.
• Contest ends 20 September 2017, 11.59 pm.
* This contest is ONLY open to members residing in Singapore.
** Winners of the past Coverpage photo contests in The New Age Parents will not be eligible for this contest.
Terms and Conditions apply.