It's 4pm and two rows of chairs have been set up neatly in front of the whiteboard.
The classroom is clean and spacious. A group of 7-year-old boys and girls stream in, place their bags at a corner and take their place. When the children take their seats, main teacher, Teacher Paige greets them and preps them for class.
But this isn't your ordinary enrichment class.
In a few moments, the class will proceed at a breakneck speed, where almost all the activities are completed within one minute.
Accuracy, Precision & Speed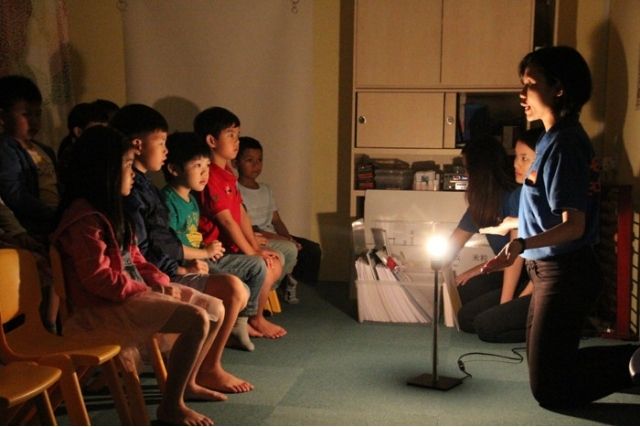 The entire 120-minute session is broken into two parts: High Dimension Lesson and Shuffle Lesson.
During the 60 minute High Dimension Lesson, I watched in awe as Teacher Paige reads and flashes a list of over 200 flashcards to the students. Once she is done, she moves on to the next component within seconds. It's time for link memory.
Link memory is a memory technique which students use their creativity and visual imagination to think of stories in their mind to link the objects together. Not only is this a fun exercise to stimulate the right brain, it is also a useful memory technique to acquire. 70 cards consisting of random places, people and items are flashed and read to the students.
When Teacher Paige is done, it's now the students turn to recall each card in order. They call out the objects so quickly that I was lost midway.
Which item are they at now?
A student answers the last card and Teacher Paige stops the timer. 2 minutes.
The lesson is not all about activities that develop cognitive abilities like long-term memory and speed reading. To broaden their horizon beyond academics, enriching activities such as classical music and art appreciation are inter-weaved into the lesson to inspire the children to enjoy the finer things of life.
To make the lesson more effective and impactful, the environment changes in between. Certain activities are done in dimmer lights, some in blue. Sometimes, background music is played. In one visualization and meditation exercise, the lights are switched to blue with relaxation background music being played.
Students lie down on the floor and Teacher Paige instructs them to close their eye. Next, she gives them empowering statements like "I can excel in my studies" to recite in their heart. When they're done, the lights are switched back to normal, and the session continues.
Kuah Eng Liang, Founder and CEO of Heguru Education Centre tells me that these external changes – dimming of the lights, changing to blue, playing special background music – are necessary elements to allow the brain to enter into an 'alpha state'.
"When the brain is in this alpha state, a child's stress level decreases. They feel calm, relaxed and it is in this state that the right brain is most active. In this active stage, supported by Heguru's activities, the right brain is further stimulated." Eng Liang explains.
Tapping On The Right Brain's Power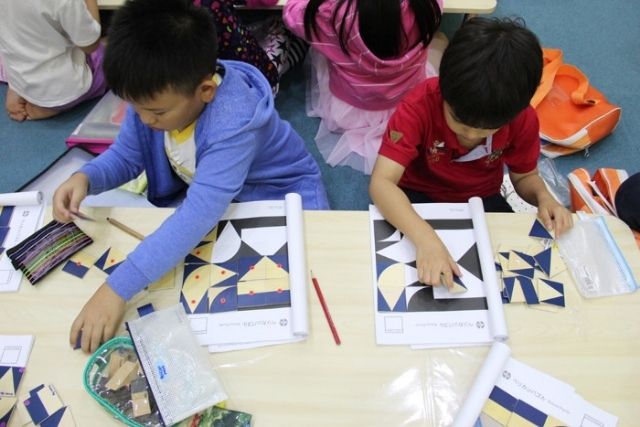 Once the High Dimension segment is over, the chairs are kept and long tables are brought out. Children retrieve their bags for their materials and a workbook is handed to them. For the next 60 minutes, they work vigorously and swiftly through each page of the workbook which contains a large variety of exercises ranging from speed reading, photographic memory, listening comprehension, IQ questions, mathematical calculation to case studies that hone their analytic thinking ability
Raised arms and shouts of "Done!" echo the room, prompting Teacher Paige or another teacher to check their work. When Teacher Paige checks their work, she acknowledges their effort even if they did not manage to complete the task or get the correct answer. She encourages them to do more the next round.
Besides the additional IQ and puzzle riddles, Eng Liang states the curriculum and content of the workbooks have been designed with the Singapore's Primary School English, Chinese, Mathematics and Science subjects in mind to reinforce what is taught in school.
Developing Skills Not Taught Elsewhere
What makes Heguru Education stand out is the emphasis to hone abilities that are not taught or learnt in Primary School. Abilities such as a winning mindset, enhanced focus, photographic memory, speed reading and writing, analytic thinking, sharpening of their IQ and more. Having these skill sets will greatly enhance their learning abilities in formal education.
Raving Reviews of Parents And Children's Amazing Results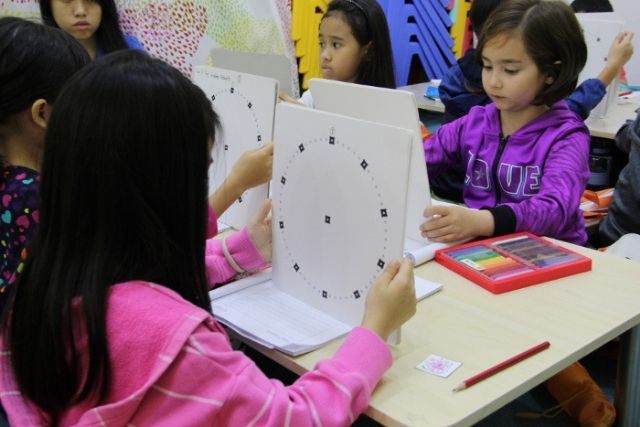 Wanting to give her daughter a head start in school, 37-year-old Madam Lee Pei Lin registered her daughter, Rachel, for the Primary School program two years ago. Pei Lin claims it has enhanced Rachel's learning abilities tremendously. Her daughter, who is 9 this year, can now read a 100-page book within a minute.
"Rachel does not bring any homework home because she is able to complete them in school. And when it comes to learning her Chinese spelling, she is able to learn all the words in 15 minutes." Pei Lin adds that because Rachel spends minimal time on school work, she now has more time to play in the evening with her friends.
Mr Jason Chan, whose son Matthew has been attending Heguru class for the past 4 years, finds Heguru Education unique and very unlike the usual tuition classes out there. "Heguru is not your usual academic-based lesson; it equips children with logical and intuitive cognitive skills."
Madam Rena Ou agrees. She believes what her children gain from the Heguru Education program will be far more beneficial than any tuition. Even her two Primary School children, Chong Wei and Jun Wei, noticed an improvement in their own memory abilities. All her four children, aged between 4 to 10 years old, attend weekly classes at Heguru Education Centre.
Getting It Right From The Start

Heguru Education Centre specialises in right and whole brain development for children aged 6 months to 12 years old to provide them with a strong foundation and crucial head start in their lifelong learning journey.
They are located at SingPost, Punggol (Waterway Point Mall), Sengkang and Our Tampines Hub.
For more information on their programmes, visit www.hegurueducation.com.sg.
Want to be heard and seen by over 100,000 parents in Singapore? We can help! Leave your contact here and we'll be in touch.
Stay in touch! Subscribe to our Telegram here for our latest updates.