GIFFEST III – IMPERFECT Ignites Conversation on Perfectionism with a Stunning Multimedia Showcase at the National Design Centre
Asia's largest GIF festival merges Art, Technology, and Social Impact to challenge perceptions through more than 80 GIFs by visionary local and international Creatives.
Now showing at the National Design Centre, GIFFEST III by EYEYAH! (18 May – 26 August 2023) brings together more than 80 animated Gifs by local and international Creatives in its third and latest edition. This year's theme, IMPERFECT, highlights the beauty and value of imperfections by delving into diverse perspectives on perfectionism and its impact on society—particularly for an emerging Generation navigating an increasingly digital landscape and AI-enabled world.
GIFFEST III by EYEYAH! is supported by DesignSingapore Council.
---
Visitors can look forward to 80 local and international creatives' amazing, animated artworks, curated by GIFFEST co-founder, Steve Lawler aka MOJOKO.
GIFFEST always focuses on crucial social themes. It uses animated GIFs to deconstruct important social topics – a fun way to teach young minds.
The exhibition highlights the beauty and value of imperfections, intentional and unintentional.
It's ok to be Imperfect. Perfectionism can hinder fresh ideas or success that comes from experimenting.
Imperfection = UNIQUE – that's what we all need to be telling children nowadays. They don't need the additional societal pressure of always being perfect.
What can we expect from GIFFEST:
Larger-than-life GIFs in an immersive pop-up showcase at National Design Centre. You might feel like you're in a Game world…
An array of incredible and interactive GIFs presented in novel ways, including a DVD player, and other iconic retro & cultural references (Great for nostalgia!)
Family-friendly fringe programmes and activities including hands-on workshops, talks, fireside chats on all things GIFs, and impact of IMPERFECT in process of creative-making, AI's influence and more. (Great for

June holidays

!)
Over 30 countries' creatives participated in this open call on Instagram and we celebrate local artists such as @meyyen_, @ctrl.unit, @mindflyer, @yanandjun etc
It's also a great way to spend time with the children; to slow it down; take time to sit, observe and think of the creatives
It is also a great space for the IG-worthy photos!
Activities for Everyone
Design by Accident • Panel Talk • 16 August, 6.30pm • FREE
In a world where meticulous planning and deliberate intention often guide the creative process, it is crucial to recognize the hidden potential of accidental design. During this thought-provoking discussion, our esteemed panel of experts, comprising innovators, designers, and academics, will share their insights, experiences, and perspectives on the how experimentation, failure and the perfect mistake can be catalysts for growth and innovation.
Event info and booking site:

here
RIFT-SCAPES – GIFFEST at Night Festival • Site Installation • 18, 19, 25 & 26 August, Every Hour from 8pm-12am (Four showings per night) • FREE
Rift-scapes is an awe-inspiring, site-specific installation set to debut at GIFFEST during NightFest 2023. This immersive experience invites the audience into a larger-than-life spectacle of audio-reactive visuals, transporting them onto a mesmerising time-travelling journey through the evolving landscapes that represent the past, present and 'future' of 'Singapore, the Great Port City'. Seamlessly blending the rich history of Middle Road, the contemporary National Design Centre, and the boundless possibilities of the future, Rift-scapes transports visitors through time and space, revealing the ever-evolving landscapes imagined and conducted by multi-disciplinary artist FLEX, in collaboration with sound design artist, Axel Serik.
GIFFEST III by EYEYAH! – Imperfection • Exhibition • Now until 26 August, 9am-9pm • FREE
GIFFEST is an interactive exhibition that celebrates the animated GIF, featuring artworks by over 80 emerging and established Creatives from Singapore and overseas pushing the boundaries of the GIF. Exploring the theme of "imperfect" from both the lens of design and as a social issue, the exhibition invites visitors to discover the beauty and value of imperfection as an essential aspect of human creativity and expression. This year's theme spotlights the prevalent social issue of perfectionism and its impact on society, challenging expectations, and attitudes through more than 100 incredible animated artworks.
For Kids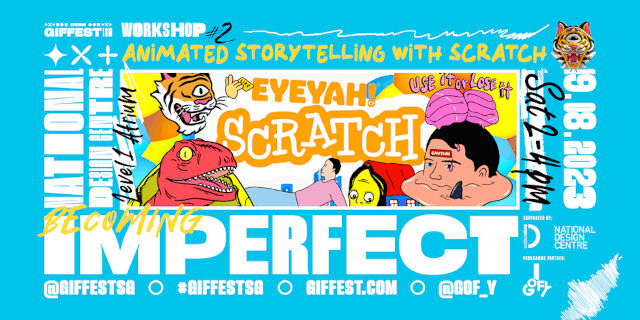 Animated Storytelling with Scratch • Workshop for 6-12 years old • 19 August, 2pm-4pm • $22.04
A learning workshop with hands-on experience that will empower children to craft animated tales through the help of Scratch, the world's largest free coding community for kids.
This workshop is designed for children aged 6-12 years old. Limited seats available, so don't miss your chance! All equipment will be provided and no experience is required.
Event info and booking site:

here
Key Highlights
Exhibition | Exploring the theme of "imperfect" from both the lens of design and as a social issue, the exhibition invites visitors to consider imperfection an essential aspect of human creativity and expression. The breadth of incredible digital artworks showcases the richness of GIFs as an artistic medium that merges the world of animation, graphic design, film, and photography, featured in cutting-edge, experiential and interactive formats. These include a motion-activated installation that projects visitors as moving GIFs, an immersive large-scale LED projection and screening nook, and GIF clips displayed on a retro portable DVD player.
Creatives | Curated from an open call on Instagram to #GIFFESTSG, the festival's exceptional collection of GIFs features diverse work of both acclaimed image makers and emerging talents across 30 countries.
A creative educational festival for all ages, GIFFEST III also features GIFs made by budding Creatives who are students of Yumin Primary School.
Fringe Programmes
GIFFEST's line-up of programmes in June include fringe programmes and activities such as hands-on workshops for children 6-12, talks and panel discussions for all ages.
Talk | The Perfectly Imperfect World of AI Images
Step into the captivating world of AI-generated images as we delve into the realm of prompts and prompt coding, transforming mere ideas into moving images. While human-created design embraces the value of imperfection, can AI-generated images ever achieve true perfection?
📅 10 June 2023
⏰ 2pm – 3pm
🏷 $5 per person (excluding platform booking fees)
Workshop | Bringing your Ideas to Life with AI
Dive into the limitless realm of AI-powered visuals as we guide you on a journey to transform your ideas into mesmerising digital designs. This workshop is designed for children aged 6-12 – no experience is required.
📅 24 June 2023
⏰ 2pm – 4pm
🏷 $20 per person (excluding platform booking fees)
Registration is required for all Talks and Workshops. Find out more here.
Event Details | GIFFEST III by EYEYAH!
📅 18 May to 26 Aug 2023
⏰ 9am – 9pm
📍 National Design Centre Level 1 Atrium, 111 Middle Road, Singapore 188969
General Entry: Free admission
---
June School Holiday 2023
It is the June school holidays. Do check out our compilation of Things To Do This June School Holidays in Singapore 2023.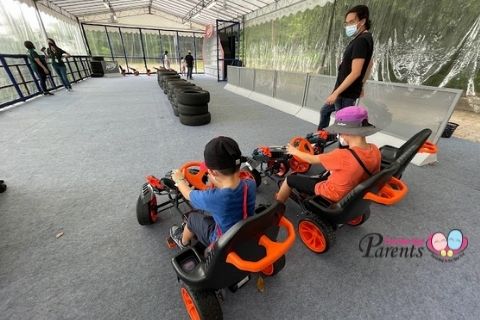 ---
Dragon Boat Festival falls on 22 June this year. We have compiled a list of Where to Buy Rice Dumplings in Singapore.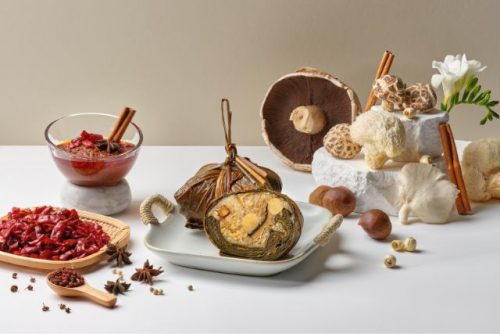 * * * * *
Like what you see here? Get parenting tips and stories straight to your inbox! Join our mailing list here.
Want to be heard 👂 and seen 👀 by over 100,000 parents in Singapore? We can help! Leave your contact here and we'll be in touch.