JOIN IN THE SEARCH FOR OUR WAR LEGACY MEMORIES
Memories at Old Ford Factory (MOFF), a historical site managed by the National Archives of Singapore (NAS), an institution of the National Library Board (NLB), will be closed for a revamp for a year from 16 February 2016. The revamp will bring exciting new features that will enhance the experience for visitors and create a better understanding of life during the Japanese Occupation. Visitors will be able to see new archival records showcased for the first time incorporating multisensory elements. MOFF will reopen in February 2017 to commemorate the 75th anniversary of the start of the Japanese Occupation in Singapore.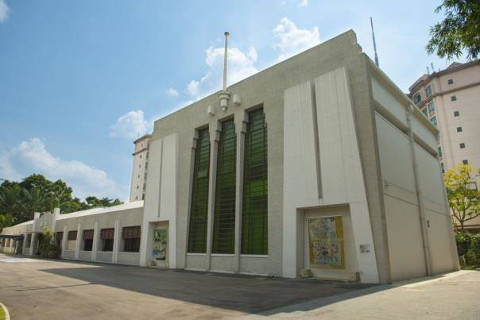 To tell a better story of the courage and resilience of the people during World War II, NAS will be making a public call for archives on Saturday, 12 March 2016. With this call, members of the public can come forward to donate historical materials from 1937 to 1954, which covers the China Relief Fund efforts to aid anti-Japanese war efforts in China, the Japanese Occupation here and the post-war reconstruction when the British returned to Singapore. Materials donated will be selected and showcased in the revamped MOFF exhibition gallery, alongside the current exhibits. Some examples of these historical materials include Japanese textbooks, Japanese language certificates and oral history accounts during the surrender of the British army to the Japanese.
Mrs Elaine Ng, CEO, NLB said, "The generation that experienced the war is gradually passing on and it is important that we make this call to reach out to them or their family members. We hope that this public call for archives will alert people to look among their family heirlooms for materials linked to Singapore's experience of the Second World War. Such items would help us tell the story of the emotions, struggles and sacrifices which form our war legacy."
The call for archives on Saturday, 12 March 2016 will take place at Level 10 of the National Library Building from 10.00am to 4.00pm. Members of the public are invited to donate items such as letters, diaries, photographs, documents or audio-visual records. A panel of eight (8) appraisers will be present to evaluate the donations. The panel members are:
Mr Ho Chi Tim, Lecturer, Department of History, National University of Singapore (NUS)
Ms Lee Geok Boi, Author
Mr Lim Shao Bin, Private Collector of historical materials
Mr Lim Guan Hock, Independent Researcher and Writer
Mr Lim Kheng Chye, Architect and Private Collector of historical materials
Dr Sandra Khor Manickam, Assistant Professor, Southeast Asian History, Nanyang Technological University, Singapore
Ms Tan Teng Teng, Art and History Consultant
Mr Alex Teoh, Paper and Book Conservator
MOFF is the former assembly plant of the Ford Motor Company of Malaya and the actual site of surrender of Singapore by the British Forces to the Japanese Imperial Army on 15 February 1942. The MOFF is open till next Monday, 15 February 2016. Members of the public, who have not visited the MOFF, will still be able to visit the gallery over this weekend. For more information on MOFF, please visit our website at www.nas.gov.sg/moff/AboutMemoriesatOldFordFactory/History.aspx.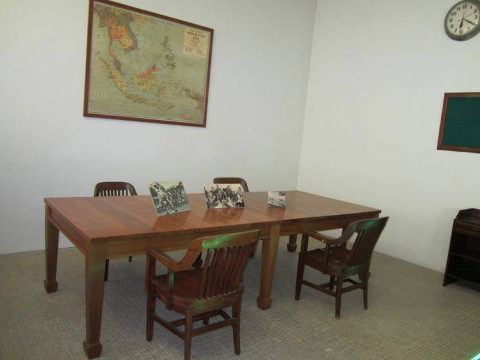 Call for Archives
Date: Saturday, 12 March 2016
Time: 10.00am to 4.00pm
Venue: Level 10, National Library Building
The NAS is in search of records and historical artefacts from 1937 to 1954 on the following general topics and subjects:
– Historically significant or momentous events, e.g. Sook Ching
– Education / school activities
– Leisure and entertainment
– Local and community happenings
– Correspondences, diaries, letters
– Marriage, customs, celebrations and traditions
– Births and deaths
– Work related
– Food related e.g. posters encouraging people to grow more food
– Law enforcement
– Banking and finance
– China war Relief efforts
– Nanyang Traders南桥机工
– British Military Administration
– Japanese Military Administration
Donations in the following formats are preferred:
– 2D records, such as paper like letters, diaries, documents or photographs
– 3D objects in relation to Japanese Occupation/ World War II period
– Audio-visual records of any format
How can the Public contribute after the Call?
Members of the public who wish to donate records and artefacts after Saturday, 12 March 2016 can write in to NAS_Outreach@nlb.gov.sg or call 6332 3255 for more information.
Examples of historical materials previously donated by public
Diary of Lim Bo Seng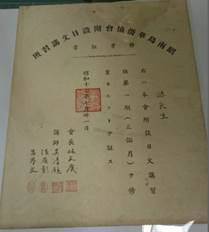 Overseas Chinese Association Japanese Language Certificate
Syonan Post Office Saving