Finding a range of eateries that serves a wide range of organic, yummy and wholesome food can be quite tough. Although organic and wholesome food eateries are not yet popular in Singapore, there are some restaurants that serve some of such foods for you and your child. Here are few eateries to check out.
1. Cedele www.cedeledepot.com/home/home.asp
Cedele's philosophy is to eat good and live well. They believe in making healthy food that tastes great and their aim is to surprise their customers with that! They are known to prepare their dishes with integrity, not compromising on their quality and will use only fresh and natural ingredients such as those without trans fats and baking with organic unrefined sugar. The good thing about eating at Cedele is that they keep their customers informed on the ingredients used and people who are allergic to certain ingredients can know which they can safely take.
On top of the usual dairy and egg dishes that they have, they also provide non-dairy and vegetarian (eggless) meals for people who may have preferences or customers who may be allergic to them. This is good news for Samuel!
To locate the Cedele outlets in Singapore, go to www.cedeledepot.com
Information and photo credits: www.cedeledepot.com
2. ONAKA @ ARC www.onakafoods.com
460 Alexandra Road #01-32 PSA Building Singapore 119963
Nearest MRT: Labrador Park
ONAKA is an acronym for Optimum Nutrition And Kitchen Arts. It is a restaurant known for conscious and healthy eating that specializes in "creative and conscious cuisine".
As reviewed by a local mum blogger, Chermaine See, who often associate healthy food with being tasteless, bland and "too organic", she finds ONAKA's food perfect for her liking. Their menu is 50% vegetarian and has low glycemic, gluten free and vegan options. They also use all-natural ingredients that are non-artificial additives, chemicals, colourings, flavourings, MSG and trans-fats. In addition, it does not serve pork nor lard in the restaurant.
Though there isn't any particular kids menu on weekdays, your child dines for free with 2 paying adults, for brunch on weekends!
For more information, please call 6270 2012 or email at hello@onakafoods.com
Starters:
Mains: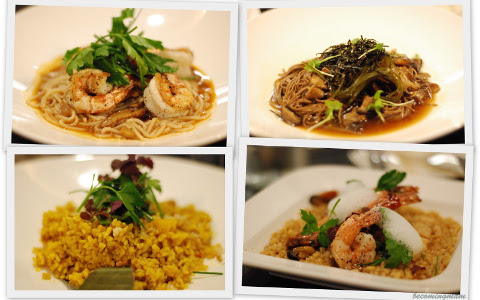 Meats:
Review and photo credits: http://www.timeoutsingapore.com/restaurants/international/onaka and online local mom blogger, Chermaine See: www.becomingmam.com
3. Delcie's Desserts www.delciesdesserts.com
Daily Branch outlet:
190 middle road #01-28B, Fortune Centre s188979
Tel: +65 6333 9684
Bakery HQ: 951 Upper Serangoon Road Singapore 534714
Tel: +65 62822951
Delcie's Dessert is known for making delicious healthy desserts from organic egg, dairy, soy, nuts, gluten-free ingredients. Their desserts are ensured to be diabetic friendly, allergy friendly and halal friendly. Besides being 100% egg and dairy-free, their desserts are also made halal. If that is not enough, Delcie also created 3 additional categories of desserts to serve customers such as babies, the elderly and people with wheat allergies. This will be such a good treat for Samuel who has dairy and egg allergy!
Do note that they have limited dining space!
Review and information credits: www.delciesdesserts.com and http://personalexcellence.co/blog/interview-delcies-desserts
4. Vegan Burg
FOUNDING RESTAURANT:
44 Jalan Eunos Singapore 419502
Phone: 6844 6868
MARINA BOULEVARD
12 Marina Boulevard #02-05
Marina Bay Financial Centre Tower 3 Singapore 018982
Phone: 6604 6018
THE GRANDSTAND
200 Turf Club Road #01-32 Singapore 287994
Phone: 6462 1281
KIOSK GOLDEN SHOE
(Located along Market Street, behind ASC Copy Services)
50 Market Street #01-28D Golden Shoe Carpark Singapore 048940
Phone: 6534 0386
Vegan Burg proves that fast food is not junk food and its nutritious burgers can be as tasty as their meaty counterparts. Vegan Burg's mission is to inspire and excite the world in introducing vegan diet into their lifestyle, as a form of sustainable diet and means of restoration for our global environment. Their menu is served based on the health and also the compassionate aspect with the philosophy that animals are not ours to use. They are committed in creating a new perspective towards vegan diet that it is great in taste, nutritional value through great fun and creativity. Everything that they serve is wholly vegan – which means that they contain NO dairy, honey, or eggs! That includes all their sauces and beverages. Vegan Burg's patties are gluten-free, served with organic buns.
Their food menu is marked clearly for those who are allergic to onions or nuts. They do also have an awesome dish known as the "Old School Hotdog" for those with nuts allergy. They also have foods suitable for those on a strict neutropenic diet.
Review and information credits: http://www.hungrygowhere.com and http://www.veganburg.com
5. Brownice www.brownice.com
Sin Ming Centre 8 Sin Ming Road, #01-03 Singapore 575628
Tel: +65 6456 6431
Find their mudpies and ice cream pops at:
Real Food Cafe
The Central, Eu Tong Sen Street #B1-52/53
Tel: 6224 4492
By Yvonne Chee
If you find this article useful, do click Like and Share at the bottom of the post, thank you.
Want more comprehensive info? Check out our e-guides here.