Information on Fort Siloso's national, historical and architectural merits
Fort Siloso is the best-preserved 19th-century fort in Singapore and bears an important testament to Singapore's rich military heritage. Constructed in 1878, it was part of a set of strategic coastal fortifications set up in the context of Singapore's growing importance as a trading port in the late 19th century. Fort Siloso played an important role in the Battle for Singapore (8 – 15 February 1942) as one of the two known busiest batteries on Pulau Blakang Mati (now Sentosa; the other being Fort Connaught). It served as a Prisoner-of-War camp during and after the Japanese Occupation (first for British and Australian POWs, and then for the Japanese POWs).
Historical Interest
Fort Siloso¹ was one of the five forts commissioned in 1878 as part of a large-scale extension of Singapore's defences. The Fort was part of Singapore's coastal defence system on Pulau Blakang Mati and was set up to defend Singapore's "New Harbour" (Keppel Harbour today), to protect Singapore's trade and to defend the country from foreign invasions from the sea. The Fort's strategic location on the western tip of the island allowed it to guard the narrow western entrance to Keppel Harbour. In general, the guns installed on Pulau Blakang Mati were naval and coast defence guns, as the primary objective of the forts was to counter attacks from the sea.
Roles during the World War II
During the Battle for Singapore, the coastal defences of Pulau Blakang Mati, including Fort Siloso, apparently helped to deter a Japanese seaborne invasion from the south. Colonel Masonobu Tsuji, who planned Japan's invasion of Singapore, assessed that a seaborne attack was not possible due to the seaward fortifications. As a result, the Japanese attack came from the north instead, which lacked permanent defences.
When the attack came from the north, the guns of Pulau Blakang Mati were turned landward after receiving orders to engage the invading troops. From 11 February 1942, the guns of Fort Siloso engaged enemies at the west end of West Coast Road and at Jurong River. On 13 February 1942, Fort Siloso, together with Labrador Battery, provided the 1st Malay Infantry Brigade with support fire, which enabled the Brigade to withstand attacks from the Japanese Imperial Guards Division. Its guns also destroyed the oil refineries at nearby Pulau Bukom and Pulau Sebarok to prevent the Japanese from using them. The battery at Fort Siloso was the first to be deliberately destroyed by the British themselves at 5am on 14 February 1942, when false reports of the Japanese landing came in².
During the Japanese Occupation, Fort Siloso was a Prisoner-of-War camp for Australian and British soldiers. After the surrender of the Japanese, the Fort became a Prisoner-of-War camp for the Japanese.
During Konfrontasi
During the Konfrontasi period (1963 – 1966), the 10th Gurkha Rifles Unit manned the Fort to prevent Indonesian saboteurs from landing on Pulau Blakang Mati and Keppel Harbour.
Present Use
Pulau Blakang Mati was returned to the Singapore government after the British military withdrew from Singapore in 1967. The island was renamed "Sentosa" and re-branded as a tourist destination in the 1970s. Fort Siloso was opened as an on-site military museum on 8 February 1975.
Architectural Interest
Fort Siloso is one of the few remaining intact examples around the world of 19th-century open artillery battery design. Designed by Henry Edward McCallum, colonial engineer of the Straits Settlements, this was an innovative concept in its time, featuring seemingly sporadic gun placements and underground structures. Fort Siloso features such "random" gun emplacements (placed not for geometry or aesthetics but for strategic firing) and underground structures, built beneath earth ramparts such that it would be difficult for enemies to engage with them. The Fort can be described as discreet, with a layout that is not easily discernible by the enemy.
First commissioned in 1878, Fort Siloso has seen major alterations to its layout and architecture as early as a few years after its completion up till to the 1940s, in response to changing needs. The Fort thus contains a unique collection of coastal artillery fort architecture structures from the late 19th century to World War II. At Siloso Point, an anti-motor torpedo boat (AMTB) emplacement with a 12-Pounder Quick-Firing gun, named OSO Battery, was constructed to combat fast-moving small vessels from raiding Keppel Harbour from the west.
Improvement works included the addition of a three-storey fire director tower, machine guns, searchlights and observation posts to monitor the straits and coordinate artillery fire. The Fort's underground infrastructure housed magazines, tunnels and a powerhouse that provided electricity for the Fort and submarine electro-contact and ground mines laid off the northern coast.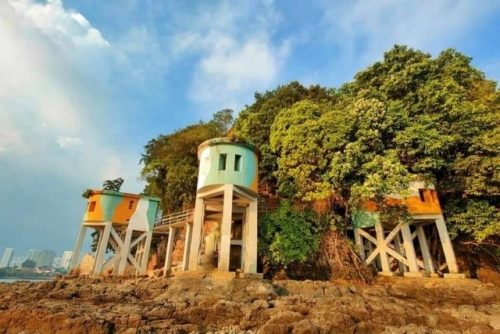 Fire Director Tower, 12-Pounder QF Gun Emplacement with Magazine and Searchlight Posts (Image courtesy of National Heritage Board)
¹ This network included Fort Siloso, Fort Pasir Panjang, Fort Connaught and Fort Serapong. Together with Fort Tanjong Katong, they were all commissioned at the same time as part of a large-scale extension of Singapore's defences to safeguard Singapore's position as a strategic trading port.
² Fort Connaught was the other busy battery that engaged the enemy. It joined the battle from about 2.30pm on 11 February, firing at land targets. Its three 9.2-inch guns were turned around from facing seaward to fire at targets in the centre, west and north of Singapore, shelling Tengah airfield where the Japanese had established their forward headquarters and destroyed the airfield so that it could not be used. The battery was destroyed by the British at around 7.15am on 14 February 1942.
Fort Siloso Price
Free entry to Fort Siloso
10am – 6pm (Last entry at 5.30pm)
How to Get to Fort Siloso Sentosa Singapore
Sentosa Beach Tram: Board at Beach Station
Sentosa Bus: Board Bus 1 or 2 and alight at Siloso Point
Singapore Cable Car: Board at Merlion Station or Imbiah Station and alight at Siloso Point
Opening Hours: 10am – 6pm (Last entry at 5.30pm)
Admission: FREE (Admission charges to Sentosa and Surrender Chambers apply)
Website: sentosa.com.sg
Nearby places within Sentosa to check out:
Nearby places to check out:
* * * * *
Like what you see here? Get parenting tips and stories straight to your inbox! Join our mailing list here.
Want to be heard 👂 and seen 👀 by over 100,000 parents in Singapore? We can help! Leave your contact here and we'll be in touch.