Going to Malaysia sometime soon? Do remember to check out LEGOLAND!
The sixth LEGOLAND to be built in the world and the very first in Asia, LEGOLAND Malaysia is targeted families with children between the ages of two to twelve years.
At LEGOLAND, families will be immersed in a unique mix of kid-powered rides, building challenges, spectacular LEGO models, interactive attractions, family-friendly coasters and shows that pull the audience into the action. LEGOLAND Malaysia will feature more than 40 interactive rides, shows and attractions when it opens.
A LEGO kingdom made from 30 million LEGO bricks, with a cluster dedicated to Singapore, everything in the LEGO TECHNIC is big, fast and action packed! Other rides in this zone include Project X, the high-speed coaster that is eighteen meters high and leads guests along a steep switchback track with lots of sharp bends. On the Technic Twister, one can whirl around in colourful LEGO pods using a hand-wheel to control how fast they spin.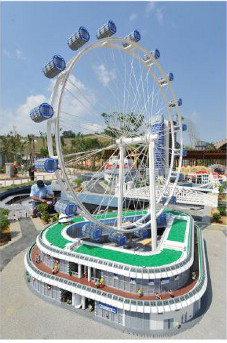 And for those who don't want the fun to stop at the end of the day, the specialty shops ensure guests can take home a piece of the magic. Highlights include the highly coveted Pick-a-Brick store where LEGO elements of all colours, shapes and sizes are on sale in a pick-n-mix sweetshop style, whilst the Big Shop, has the largest selection of LEGO toy sets under one roof in Asia.
Once fully operational the Park will also feature a wide variety of food and beverage outlets to cater to every taste. Three restaurants, three food-stands, and up to 10 food-carts serving freshly prepared food will be made available.
The Park prepares to open its doors officially on 15th September 2012. LEGOLAND Malaysia is located in Iskandar Malaysia.
Save more when you buy online at Voyagin. They are offering more than 30% off Legoland tickets.
For more information, go to their website here.