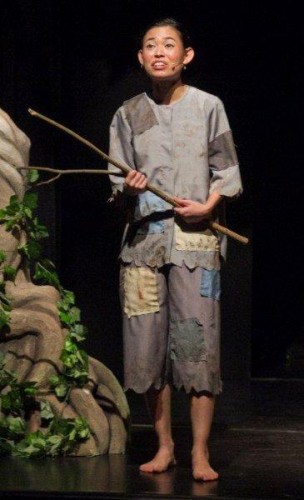 Once upon a time, there was a girl called Ashputtel. She was called Ashputtel because she sleeps in the ashes by the fire.
Does this sound familiar? This girl is actually known in different times and places by a few names: she is Yeh-Shen in China, Damura in India and Scootface in Ojibwa (a Native American tale). Today, popularized by Disney, she is also more commonly known as Cinderella.
Directed by Christina Sergeant, this Grimms' classic gets a makeover, with actor-turned playwright, Dwayne Lau, penning the script. This play is built for sensibilities of ALL ages, highlighting key lessons on generosity, perseverance and jealousy the original story reflects.
The story's original virtues of kindness and filial piety are highlighted in the character, Ashputtel. Matilda Chua, who plays her, is earnest and believable as the young, innocent, and sweet protagonist. Edward Choy, who plays Prince Charles, is quite the prince charming, with his comical antics when he first meets her and when he tries to get to know her better.
Not forgetting the supporting cast who did as splendidly well: Julie Wee as the conniving stepmother, Audrey Luo and Serena Ho as the two self-absorbed step sisters, and Tan Shou Chen as the faithful butler and Ashputtel's father.
We particularly enjoyed the interactive part of the show, when Prince Charles came down to the audience to ask a few girls to try on on the shoe. It was a delight to see how different genres of dance, from retro to Bollywood were infused during the ball scenes. Another interesting aspect was the use of hand puppetry in the show.
Catch Ashputtel – The tale of Cinderella in Singapore, and look out for the difference from this story, to the one you know!
Ashputtel is showing from the 25 Oct – 17 Nov 2012.
Show times:
Tue & Fri, 9.30am & 11.30am
Wed, 10am,11.30am & 2.30pm
Thu, 9.30am, 11.30am & 2.30pm
Sat, 2.30pm & 7.30pm
Sun, 11.30am & 5pm
*There are no shows on Monday.
The play is 50 minutes, with no interval.
Written by Michelle Ang, photos by I Theatre
Like what you see here? Get parenting tips and stories straight to your inbox! Join our mailing list here.
Want to be heard and seen by over 100,000 parents in Singapore? We can help! Leave your contact here and we'll be in touch.