In part I of 'Academic Success At What Cost', mummy writer Caroline asked if our children really needed tuition and what were the repercussions of overstudying. Instead of focusing only on academics, what about other areas of development for children such as Sports and Play? What are the impacts of these two elements in our children's lives? Caroline shares with us more.
Why Parents Should Expose Children To Sports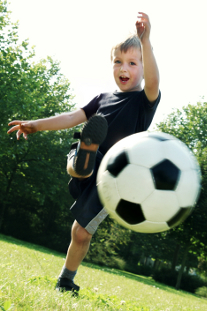 Sports, compared with academics, can be placed at a second place by most Singapore parents. We are not talking about going for a sporting career but just spending time to work out for fitness. With a culture that emphasizes on getting a realistic, and practical career (that actually earns), most parents want their children to spend more time on academics rather than on developing interests and participating in sporting activities.
Mindsets need to be changed and education needs to take place. While academics are important, health is also critical for one to be successful in life.
Sports interaction helps to eliminate stress, provides discipline and motivation for children to move on. Many parents do not understand that sports can help to develop physical skills; reduce anxiety and depression; and promote cooperation, interaction, and friendship. In addition, sporting activities enable individuals to adopt ethics and improve self-esteem which are fundamental in life. It is crucial for parents see these benefits. While sports is a major activity for most American children, it is not an important part of our culture. In order to get more youngsters involved in sporting activities, Education Minister Heng Swee Keat announced the new Physical Education syllabus at the second Physical and Sports Education Conference on July 31, 2013. To encourage recreational sports, every student has to take part in friendly matches starting from next year.
For those searching for sporting events to attend or participate, Singapore Sports Council's Singaporesports.sg provides sporting content, and extensive calendar highlighting big events happening locally. Sport On! Kid (also created by Singapore Sports Council) provides a comprehensive list of tryouts and workshops for those who are between 3 and 12 years old.
Don't Forget To Play
To protect children's interest, United Nation Convention recently published on the Rights of the Child on 17 April 2013 – that every child has the right to rest, leisure, play, recreational activities, cultural life and the arts. Just as adults need a break or vacation every now and then, youngsters also need to take time to explore other interests besides study. Students who consistently overwork will not be able to find the optimum strength to cope. A change in landscape or activity can help them to relax, and renew their energy level. In short, leisure or unstructured activities are essential to children.
Leisure activities are defined as those pursuits that individuals undertake which are non-compulsory for everyday life. Free time activities, both indoor and outdoor, can include arts and crafts, cooking, dancing, drawing, trekking, painting, gardening, reading, singing, and any unstructured play. A walk in the park or by the beach can also be a leisure activity.
Just as unstructured play is important for the child's development, and contributes to his/her cognitive, physical, social and emotional well-being (according to the American Academy of Pediatrics); unplanned activities can also help to spur exploration interests, imagination, creativity, and growth in children.
What Is The Best Education?
The best education in life is one that does not limit to academics – confidence, cooperation, discipline, ethics, interaction, motivation, and self-esteem are life's fundamental values which may not come from education alone. A child needs certain life skills to navigate through life – his/her overall development is derived from consistent exposure to different activities and processes in life.
Every generation sees a new and better breed. As we become more educated than our parents, and our children become more tech-savvy than us, we have the responsibility to safeguard our children's physical and mental health while they are undertaking life's pursuits. Just as governmental and professional organizations are tasked to streamline policies, parents and educators are also expected to be informed about the best options in order to help children, and ensure they do not suffer burnout or fall-out easily. An array of sporting and leisure activities is available to children to help them stay balanced and healthy.
Even at a very young age, parents can determine and plan their children's education journey.
By Caroline Yeung.
Educated in Singapore initially and later in the US, Caroline has over 18 years of communication and writing experience. She has lived in London and the US for the last 18 years and worked with technology and consumer companies. Her recent interest in Early Childhood Education has led her to work towards a certificate from The UCLA Extension in California. Caroline's previous teaching experience also came from working with junior college and polytechnic students in Singapore.
* * * * *
Like what you see here? Get parenting tips and stories straight to your inbox! Join our mailing list here.
Want to be heard 👂 and seen 👀 by over 100,000 parents in Singapore? We can help! Leave your contact here and we'll be in touch.