Caning might have been an effective method of discipline in the past. Many parents use this method of punishment as it was the way they were brought up and it works.
However, mums and dads today are more well-informed and educated. With parenting tips readily available at their fingertips, parents are aware of how corporal punishment can be harmful to children. Today, most parents would steer away from the cane, or only use it as a last resort.
➡️ Related Read: Caning: A Father's Sharing
Many of us were all caned by our parents, yet most of us turned out fine. Why is this so? Caning affects each child differently. Although it may prove to be effective in some situations, studies have shown that some children who were caned became violent. In these cases, these children were consistently punished physically – and this is what they were taught was right. We also need to know there is a fine line between caning for punishment and actual abuse.
There are two different schools of thought towards caning. When it is used properly and with appropriate follow-up, caning is certainly not barbaric. If you are a parent who is still set on using the traditional rod, here are a few important pointers to remember.
Focus on your child's behaviour
Explain and make sure your child understands that they are being punished for a certain behaviour or action that they took. Do not focus on the self-worth of the child, but the action they took. Do not humiliate your child; this will destroy their self-esteem and worth.
Exercise restraint
The aim of the punishment is to teach your child right from wrong, and that there are consequences for wrong actions – NOT to harm them. Restrain from hurting your child.
There is a grey area between abusing a child and punishing them with a cane – ensure you are punishing. Do not punish on impulse, this defeats the purpose of caning a child and pushes on the line of abuse.
If you are set against caning your child as a disciplinary tool, there are other – softer – methods of punishment.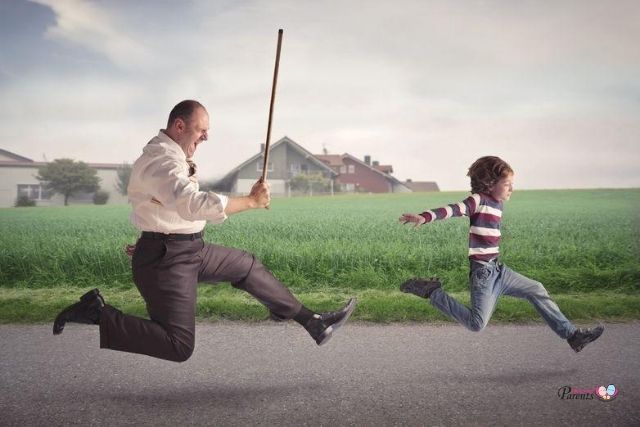 Stay consistent
Whatever parenting method you use, you must stay consistent! Once you have set standards, you must reinforce these standards in order to instil them in your child's head, along with building and keeping your credibility.
Present your child with choices
Give your child the freedom to explore and make simple choices; there are many developmental advantages to this technique. (For example, "Would you like to wear a blue jacket or a green jacket to school?") When children feel respected, they are – typically – more motivated to behave and respect others
Understanding with patience
Children love to do things that get on your nerves; it's not intentional, but innate. Patience is a virtue, but it would be in vain without any understanding. Find ways to cultivate both your patience and understanding.
Try to be more humorous and make mealtime fun. A good example is to have a competition to see who eats faster or provide a reward for a favourite snack or cartoon if they finish in a timely manner.
Educate the consequences
Rather than yell or scream at your child, let them know the consequences of certain actions. An example would be telling them that if they continue to kick the ball inside the house, they might break the TV. If this happens, they can no longer watch their favourite programs.
Take away privileges or give rewards
When your child acts using their bad behaviour, take away a particular privilege that they have. Alternatively, you can reward them when they have good behaviour. (Both work well together.)
Children love rewards and will strive to behave if they know they will get something in return.
Prepare your child for the transition
When a child is enjoying play or free time, they are easily frustrated when interrupted. Give them an advanced warning before interrupting them.
For example, tell them they have 10 more minutes to play before dinner or bedtime. This helps them to prepare – mentally – for a break in their joyful activity.
Teach your child how to resolve conflicts
Teach and encourage your children to speak verbally about conflicts, dislikes, etc. Teach and encourage them to communicate their feelings, what they are going through, what they are thinking, etc.
Whether you are for or against caning, there is no perfect parenting way. All parents use a multitude of approaches with their children. Not only is each child different, but children will also react to each approach differently.
* * * * *
Like what you see here? Get parenting tips and stories straight to your inbox! Join our mailing list here.
Want to be heard 👂 and seen 👀 by over 100,000 parents in Singapore? We can help! Leave your contact here and we'll be in touch.