This Mother's Day, The New Age Parents features extraordinary mothers who, against all odds, did their best to support and nurture their children in difficult circumstances.
Janice Tay is a loving mother who quit a promising career to delve headfirst into finding solutions to help Emmanuel, her son who was diagnosed with multiple conditions including apraxia, dyspraxia, and global developmental delay.
Today, she runs Bridging the Gap, an all-inclusive integrated early intervention centre that she and her husband, Max Lee, founded to provide children with special educational needs an environment they can grow and thrive in.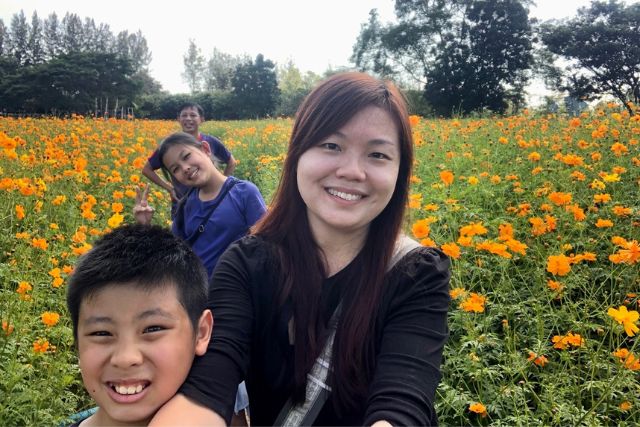 "It was a nightmare; I blamed myself"
When I was pregnant with my second child, Emmanuel, my job in the financial sector was very demanding and I was aiming for a promotion which I was given an opportunity.
But I didn't really take good care of myself and I think it complicated my pregnancy. I started having contractions when I was about 24 weeks and was already dilated. I took anti-contraction medication and thankfully managed to carry him until 32 weeks.
However, I had some side effects like heart palpitations, and I couldn't really control my fingers from trembling. The doctor had to stop the medication and shortly after, he was born prematurely. It was quite traumatising as he had low immunity and several medical conditions.
He had to go through surgery to get his tongue detached, then he caught Respiratory Syncytial Virus (a viral infection) which filled one and a half lungs with fluid and he couldn't breathe. It was a nightmare. For the first three years of life, he was in and out of hospitals so often until it came to a point that the doctors couldn't insert the intravenous drip into his hands and arms because most of his blood vessels were damaged from the previous insertions.
"I felt something was not right"
As I have an elder daughter, I noticed that Emmanuel was slower in his development compared to her. I initially thought that he needed a bit more time because he was born premature. I didn't think he had special needs then because he had quite good eye contact and responded to his name.
But he could not talk and I felt something was not right. So when he was two, I took him to a local hospital but they refused to give him a diagnosis; the doctor only recommended him to undergo speech therapy and occupational therapy (ST and OT) that took place once every 2 months. I was on the EIPIC waitlist, but no one called me.
As intervention in the first few years was very important, and the ST and OT visits were so infrequent, the doctor suggested we try private therapy.
"It took him very long to say 'Mama'"
Emmanuel has apraxia and could imitate individual sounds, but he could not combine sounds to form a word. It took him very long to say 'Mama'.
At that time, we didn't have much information on supporting children with developmental needs on the internet nor did we have online support groups. We had to learn by reading books or attending courses to understand more about developmental issues and how we could support our children as parents.
I quit my job to study more about special needs and give Emmanuel my full support, teaching him how to say sounds one by one. He would remember one sound well by the end of one week but forget it the next week, and progress was difficult.
During those two years when he was two to four years old, I had a lot of anger and self-blame – like did he have these conditions because of my pregnancy? Because I didn't take care of myself? Why can't I find the right solutions to help Emmanuel?
Because we were a single-income family paying for expensive private therapy, we downgraded a lot. The first few years were so difficult and disheartening, not just as a mother, but not knowing if the decisions to quit my job, pay for expensive therapy, and with such little progress, were the right decisions at that point of time.
"He was always hiding under the table or behind the curtain"
I had a naïve thought to put Emmanuel in childcare as I hoped he would learn social skills and mix with other children. But it almost jeopardised everything.
He could not integrate with other children, and the teachers didn't know how to support him. He developed anxiety and so he was always hiding under the table or behind the curtain. It became a serious emotional issue to the point he totally shut off and refused to speak for a long time.
Because I could not get a diagnosis of autism which I thought he had (but the doctors insisted he didn't), Emmanuel had to enroll in a mainstream school. I fought for a year's deferment where I spent that extra year on school readiness and preparing him for mainstream education.
"Even after all these efforts, he could not escape being bullied."
Emmanuel doesn't know how to express himself well, and he would not tell me specifics of what happened in school. I only came to know the extent of his suffering when I saw a heartbreaking picture that he drew one day.
When I asked him about it, he pointed to one part of the picture and said his schoolmates pushed him into the water and then they just laughed. And then he pointed to another part of the picture saying that it showed him in school, all alone, and he said sadly, "I have no friends." Even after all these efforts, he could not escape being bullied.
His anxiety became worse. He couldn't sleep well; his whole body was always itching. When he saw a dermatologist, the dermatologist said the itch was due to a psychological issue.
I really couldn't take it, so I applied for an exemption from compulsory education and put him in an international school with a smaller ratio and additional support so that he could receive more attention and assess learning at a slower pace. Because I wanted to help Emmanuel better, I also studied a master's in special education.
During the last review with KKH's Department of Child Development (DCD), Emmanuel's doctor suggested that she could officially diagnose him with autism now, but I rejected her suggestion since I had already overcome the hard times when he was younger. As a mother, it's hurting to have that label on your child even though I was fully aware that he is. But I'm keeping my options open so that if need be, in future, I will consider an official diagnosis so that he can receive the available resources.
"We founded Bridging the Gap to focus on children with developmental needs"
In 2014, my husband took over a children's indoor gym and we realised that there were a few parents who wanted to enrol their children who had developmental needs such as motor issues because movement and play helped their children learn and develop better.
We tried to have these children join our classes but then other parents started to get very concerned because they didn't want their neurotypical children learning "weird behaviour" from these children with developmental needs. At that time, the awareness was not high about inclusion and parents were not that receptive and understanding.
Because of this, we thought of starting an intervention centre, and we founded Bridging the Gap to focus on supporting children with developmental needs. Once they were more stable and prepared, then we could integrate them into different classes with neurotypical children.
"I had to go through this journey so that I could better understand what other parents were going through."
In the early years of supporting Emmanuel, I would feel frustrated that some people just could not understand what I was going through. And they would just keep telling me things I wish that they would just keep to themselves because they were not giving solutions that were helpful.
Also, there was a point in time we left the church because we felt unwelcome. Even though I had updated the church about my son's condition, he couldn't fit in. But after that, I had a strong calling to go back to church and during Bible Study, I felt God was telling me that He put me in this situation because this is what He had planned for me.
I had to go through this journey of being a special needs mum so that I could better understand what other parents were going through. So this kind of gave me my purpose in life.
Feed the hungry, and help those in trouble. Then your light will shine out from the darkness, and the darkness around you will be as bright as noon. The LORD will guide you continually, giving you water when you are dry and restoring your strength. You will be a well-watered garden, like an ever-flowing spring.
Isaiah 58:10-11
I founded Bridging the Gap because I see this as my ministry to support these children with developmental needs. I want to be in contact, to have a relationship with every single parent of these children, and to provide these families the help I wished that Emmanuel and I had access to when he was young.
In the early years when Emmanuel was young, I really felt very dejected and rejected. It was so tough. I didn't know where to seek help. None of my friends then had children with special needs.
But now, resources are much more available.
To all mothers out there, you are actually never alone. In support groups, you can find someone who can understand and support you. Parents in these groups have tried and tested different options and sometimes this can help you find what you need much quicker.
So please don't walk this journey by yourself. Join a support group, equip yourself with resources, and empower yourself to know how to advocate for your child.
Love, Janice.
About Bridging the Gap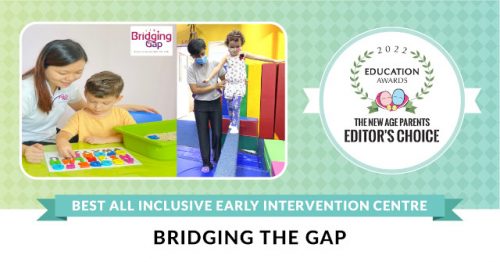 Bridging the Gap is an all-inclusive intervention centre for children with special needs in Singapore. Its team of early intervention educators uses a variety of intensive and effective early intervention programmes that progressively work with your child to overcome developmental disabilities, learning, and communication difficulties.
The integrated intervention is all-inclusive to combine our school readiness programme, child speech and language therapy, occupational therapy, educational therapy, social skills training and multi-sensory learning activities suitable for babies and toddlers. These customised intervention programmes have been developed to achieve quality learning, leisure and recreational care for students in a warm, safe and caring environment.
Learn more at bridgingthegap.com.sg.
This post is brought to you by Bridging the Gap.
By Julia Chan.
* * * * *
Like what you see here? Get parenting tips and stories straight to your inbox! Join our mailing list here.
Want to be heard 👂 and seen 👀 by over 100,000 parents in Singapore? We can help! Leave your contact here and we'll be in touch.