Inaugural Marshall Cavendish Education Parent Survey finds that most parents of pre and primary school-aged children do not turn to extra classes immediately for academic support
Marshall Cavendish Education (MCE) recently conducted an inaugural survey to better understand parents' perceptions of their child's development and how they support their children academically. A total of 655 parents of children in pre-school to upper primary levels participated in the online survey.
Tuition and enrichment centres are not parents' first choice
The survey found that most parents with children aged from 5 to 12 prefer to take a hands-on approach to help their children themselves when the latter flounder academically. They do not immediately seek support at tuition or enrichment centres.
Parents of older children are more likely to consider tuition and enrichment classes
Parents of both lower and upper primary children appear to show an equal propensity to buy assessment books to help their children in their weaker subjects. However, while parents across all levels are inclined to invest their time and effort to try helping their children first, parents of older children are more likely to enroll their children in tuition or enrichment classes than parents of children in lower primary levels.
"This is not surprising as most parents may find it easier to guide lower primary school children. With the more applied approaches required in upper primary levels, it is common for parents to seek for help so that they are able to provide adequate day-to-day guidance for their children," said Lee Fei Chen, Head of Publishing, Marshall Cavendish Education.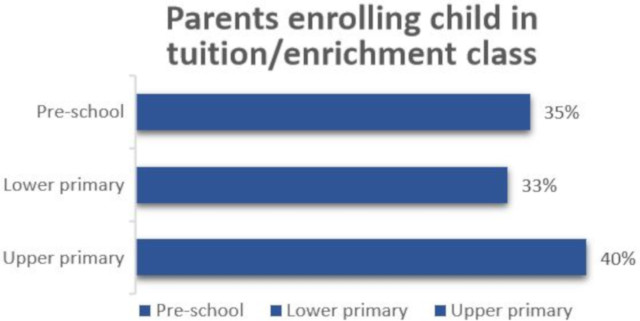 Mathematics – the subject with two faces
Across all levels, Maths was revealed as either being the child's best or worst subject. Not surprisingly, Maths was also the subject for which most parents of primary school children bought assessment books. "This was expected as many parents believe that practice makes perfect, especially when it comes to Mathematics," added Ms Lee.
Pre-school
Lower Primary
Upper Primary
Best subject

1. English

2. Mathematics

1. Mathematics

2. English

1. Mathematics

2. English

Worst subject

1. Mother Tongue (Chinese)

2. Mathematics

1. Mother Tongue (Chinese)

2. Mathematics

1. Mother Tongue (Chinese)

2. Mathematics
Soft Skills – an area of concern
The survey also gathered findings on the growing importance of soft skills. Empathy and Resilience emerged as the top soft skills that parents across all levels want their children to learn in school. Majority of the parents also believed that their children's school has provided sufficient support in their overall development. Less than half of the parents saw the need to enroll their children in external enrichment programmes to further build their soft skills. These classes ranged from the arts, soft skills to sports classes.
Pre-school
Lower Primary
Upper Primary
Most important soft skills parents want their children to learn in school

1. Empathy

2. Resilience

3. Kindness

1. Resilience

2. Empathy

3. Kindness

1. Resilience

2. Ability to think out of the box

3. Empathy
"Given that the academic year is ending and parents will be receiving the holistic assessment of their children's performance in school, this survey is timely as it gives us a better understanding of how to best support parents academically. Our company has successfully partnered parents in helping their kids with their studies and we will continue to do so," said Ms Lee. She added, "We would also like to encourage parents to make the most of the Parent Teacher Conferencing (PTC) and various parent workshops organised by their children's schools to understand specific ways to help their kids. Once parents have a better sense of their children's needs, they can tap on our resources such as the assessments books, guidebooks, workshops and our digital solutions to further boost their children's learning."
Like what you see here? Get parenting tips and stories straight to your inbox! Join our mailing list here.