Have you heard of the NTUC Warehouse Club at Joo Koon? It is well-known for being a premier wholesale marketplace. Mummy Julia actually took a day off to check out this Warehouse Club after hearing good reviews from her friends. Take a look at the wide variety of products and the great prices they offered here, bet it going to be a good shopping and eating destination where you could take your kids to (like Tampines IKEA)!
Psst! Parking was free for 2 hours (a PLUS point), so you don't have to feel rushed at all!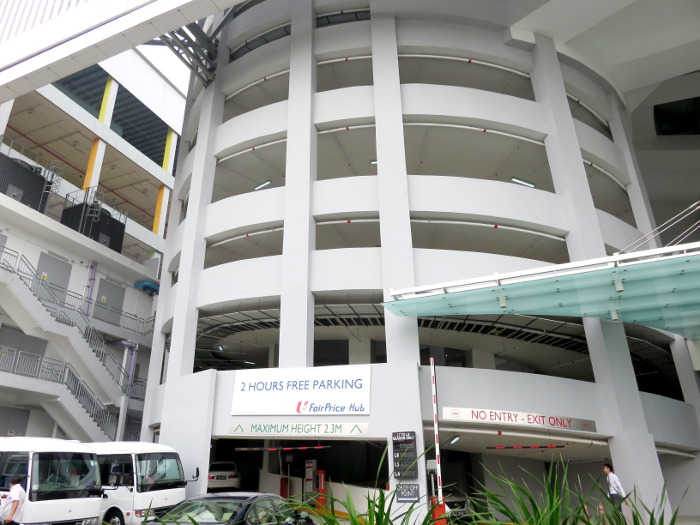 Upon parking, I took a lift to Level 2 to begin my shopping spree. Warehouse Club is located on Level 2 and 3 of the FairPrice Hub building, with restaurants and other shops on Level 1 to 3. Joo Koon MRT is just across the road and linked to the 2nd floor of FairPrice Hub via a covered linkbridge. Convenience at its best!
There were simply too many things to look out for at Warehouse Club! Please pardon us for the poor picture quality as we took a quick snap of them using a mobile. This place looks like a big warehouse mart where you can buy things in bulk, and it includes a variety of products where you can find in your typical hypermarket (including books, toys, stationery and electrical appliances).
Upon walking in, there was a central row of the latest bulk buy items. I spotted a familiar kids' favourite tidbit – Animal Crackers, selling at $5 for a huge container! But our small family wouldn't be able to finish it, so we gave it a pass. We are sure that we will be back the next time, if we throw a birthday party for our children!
I turned right towards the Diaper section to get my baby's Merries L-size pull-ups, which Kimsang doesn't stock. For 2 packs at $27.90, it was the same price as Sheng Siong and $6 cheaper than Giant ($16.95/pack).

The milk powder section was nearby, so we decided to check out the prices for Enfamil Stage 4 for my older son. Although it is slightly cheaper by a mere 20 cents compared to ordering from Kimsang Babies, I can still earn FairPrice linkpoints that can be used to offset future purchases.

We saw Campbell Soup selling for a bundle price of $6.40 for 4 cans! That's cheap. It looked tasty to us so we put it in our shopping cart. I asked my spouse if he had heard of Kirkland, and indeed he does! He said that it's a house-brand from Costco, a US Wholesale Retailer.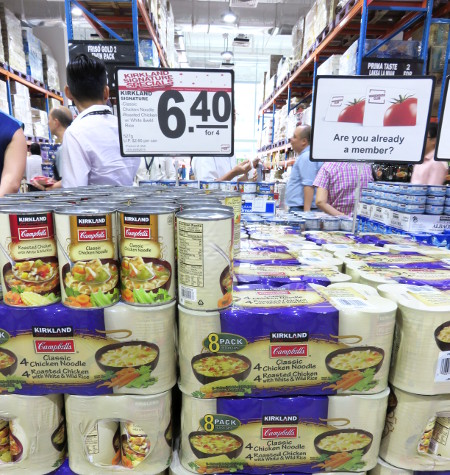 There were quite a few products under Kirkland, including this Organic Soy Milk. It costs less than $2.50 a carton. Well, we were sold.

We noticed some hubbub and to our surprise, we saw Prime Minister Lee Hsien Loong walking around the Warehouse Club. He stopped by a few promoter booths to try their products including this Nescafe Dolce Gusto coffee. We managed to snap a photo of the PM. Well, it turned out to be the official launch of FairPrice Hub.

Back to shopping! We found this huge 2.4 L bottle of Ribena Blackcurrant selling at $12.50, Naturel Premium Oil with Omega 3 & 6 on offer and a box of 20 3M N95 Masks for ONLY $38 (we tried buying on qoo10 at $45 a box but it was sold out, so we could save $7 from buying at Warehouse Club).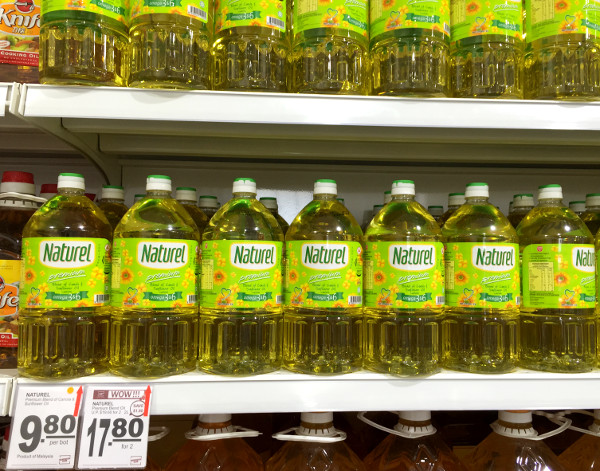 We went up to the 3rd floor by the travelator and saw our favourite Vitagen drink which had an offer of buy 10 bottles and get 2 free.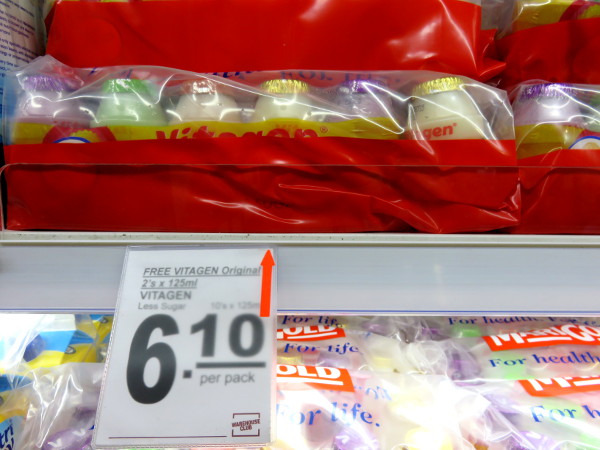 There was a fruit and vegetable section with cheap Packham Pears, Navel oranges, and our favourite Zespri Kiwi. There was even an Avocado mascot called Avochan hanging around the aisle of the fruit section.
Warehouse Club has a cold room where you can browse through their selection of mushrooms and fruits.

There were quite a few sampling booths where you could try Bobo fishballs, Cheesecake, avocado drinks, Japanese mushroom, ice cream and other types of food. Bobo Fishball was having a sale. With recommendations from the friendly promoter, we bought the $1.95 Xi Dau fishcake (a big slab of fishcake with chilli bits) and $1.70 Fried Tau Kee.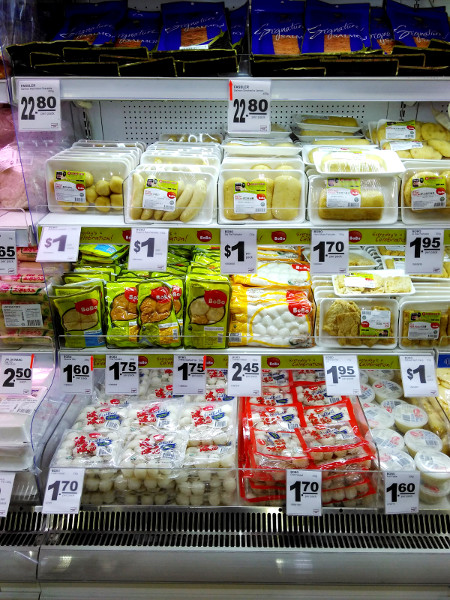 The 3rd floor has many freezers with various kinds of food from frozen pizza, fish, meat, vegetables, desserts and ice cream. There is also a big central island counter which has a berry section, rice dumpling area, sushi and sashimi, roasted meat section and a bento counter.
⇒ Related Read: Where to Buy Rice Dumplings in Singapore
My spouse was attracted by the $2.80 chicken bento and promptly ordered it. The chicken leg was bigger than expected, a good trade-off for not having any broccoli as shown in the picture.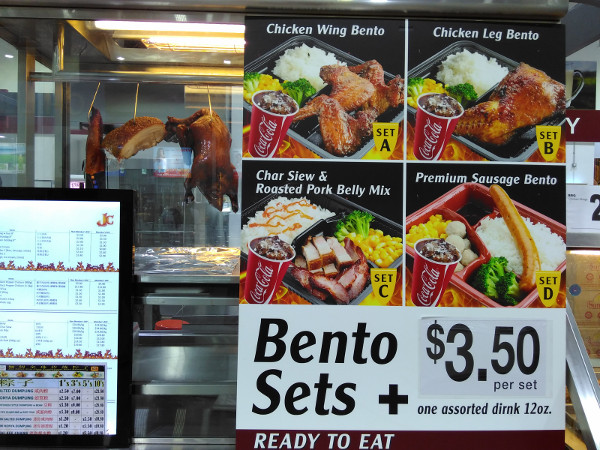 Further down from the grocery and frozen foods section, there were also aisles selling condiments, sauces, chocolates, tidbits and wine. We skipped those as we were quite tired after exploring the endless sections.
Before we left, we visited the baby items and toiletries section looking for good steals for the kids. I spotted a few good deals, a Pigeon shampoo is having 1 for 1 deal, one giant Desitin tube for nappy rashes at only $11.90, cheap Super Cool fever patches for less than $8 (16 patches) and Kirei Kirei handsoap at $3.95 (2 packets). Isn't it too good to be true?
For ourselves, we found the following deals, a 3 pack Revlon hair colour for only $13.95, 1 for 1 Pantene Shampoo, Buy 2 get 1 free Darlie Toothpaste and a big pack of Chia Seeds.

We saw a lady buying a tray of 30 eggs at $4.65, which is cheaper than what was offered at Giant and Sheng Siong. It's a stark contrast to the days when an egg costs me a dollar to add into my ban mian soup and porridge during the bird flu outbreak.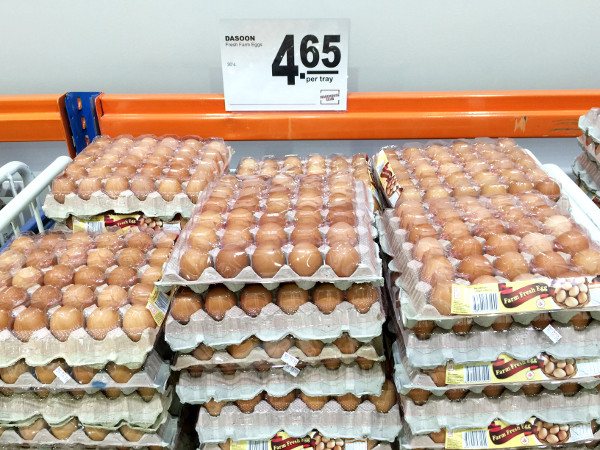 Before paying, we signed up for a Warehouse Club Membership card. As I am already an NTUC member, I only had to pay $35 for the annual Warehouse Club Membership (normal price $50).
In general, the prices for toiletries are affordable, some products, like the fever patches, are even cheaper at Warehouse Club than neighbourhood stores like Ang Mo Supermarket.
In fact, the selection at Warehouse Club is similar to Jusco and Tesco just that the products are sold in bigger quantities. There were interesting brands like Kirkland and products such as frozen Australian bread that are not commonly seen.
Comparing to Big Box in Jurong (which doesn't have a membership fee), both shopping destinations have pros and cons. I would recommend you to head down to Warehouse Club and to take a look at it yourself. One doesn't have to be a member to enter Warehouse Club. If there are good deals which you feel are worthwhile, you can consider to sign up as a member (for me the Revlon hair dye was really a steal and the savings offset a large part of the annual membership fee).
Previously I would drive to Aeon Jusco Bukit Indah to shop, but the travelling and fuel costs (even after pumping petrol in Malaysia on the way back) didn't really make shopping for groceries worthwhile. So I'm glad Warehouse Club opened so I can save that extra 50km worth of travelling.
We enjoyed taking a slow stroll through the aisles and brainstorming on how we could come back again to stock on items for children's birthday parties, family gatherings, picnics and even organising a group buying outing for our friends and families.
If you buy too much to carry home, Warehouse Club delivers your purchases to your doorstep at a small fee of $20, which is waived if you spend at least $400. We spent about $200 (even after trying to controlled our purchases of large items as we have a small boot). It is quite likely that we may spend $400 if we include purchases of milk powder and other necessities on our next visit.
We decided to eat at NTUC Foodfare which is right outside the cashier at Level 3. There are other restaurants such as House of Seafood, Xin Wang Hong Kong Café, Toast Box, Han's, Subway and even snack bar like Old Chang Kee.
There is a bus interchange within the building that isn't in operation yet. We are glad that they have included nursing/diaper changing room in the compound. It is conveniently located on Level 2 near Hans and next to the handicap toilet.
Before we left, we caught one more photo of PM Lee Hsien Loong touring the building, but sadly we didn't have a chance to take a selfie with him. Meanwhile, we are planning our next trip in December to stock up on presents, goodies and groceries for the Christmas season!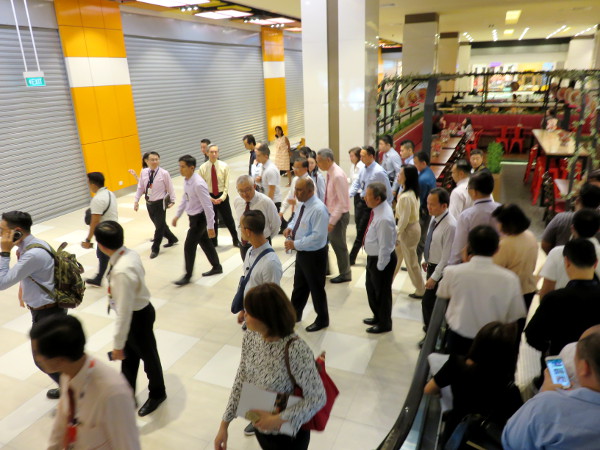 How to Get to NTUC Warehouse Joo Koon
Address: Joo Koon Circle, Levels 2 & 3 Singapore 629117
MRT: Next to Joo Koon MRT
Bus: 192

Contributed by Julia Chan