Australia's Hi-5 is back with a new a show and characters
Multiple award-winning Australian children's musical group is returning to Singapore this December with a new theatrical extravaganza, Hi-5 Fairytale! Be amongst to join the Hi-5 gang explore fairytale lands through new song and dance numbers and characters!
We are giving away tickets to the show, see end of post for details.
Hi-5 Fairytale
Expect heaps of fun, interaction, with an educational twist on traditional fairytales as Hi-5 cast members Dayen Zheng, Mary Lascaris, Tanika Anderson, Lachie Dearing and Chris White take your children and you on an adventure. Meet princesses and knights, travelling bugs, dancing dinosaurs and laugh along with the brave Prince of Knights and Sir Bucket Head, as they try to awaken the beautiful but cheeky Princess Sleepyhead.
Your children and you won't just get to interact and engage with the cast, you will be part of the fairytales too! Cheer on your favourite bugs Speedy the Ant and Slomo the Snail as they race off to vie for first place. Chatterbox, the loveable Hi-5 puppet, will bring each story alive as she reads to the audience from her magical Hi-5 book of Sharing Stories.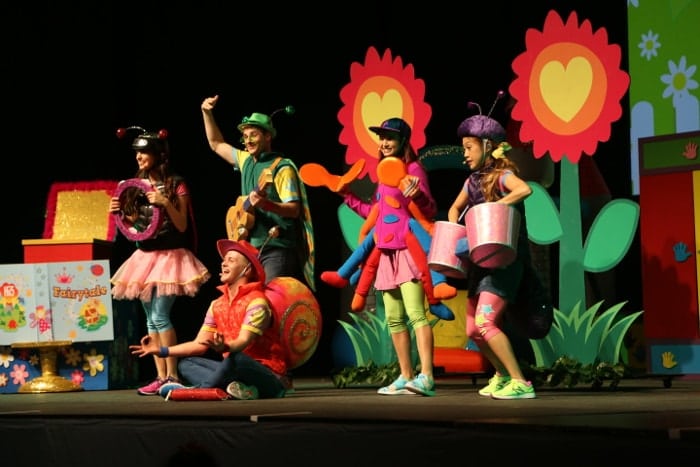 Catch Jup Jup, the ever-adorable alien who spontaneously appears in Hi-5 television shows in one of the tales. For the very first time, Hi-5 fans will get to meet his family members and find out what extraordinary powers each of them hold.
Familiar Elements With New Items Added
Besides belting out to their favourite hits such as L.O.V.E, Wish Upon a Star and Living in a Fairytale and keeping to the signature Hi-5 elements of imagination, problem-solving and positive play, the group will be presenting a new repertoire of songs and dance.
Hi-5 Creative Director Julie Greene explains, "We are taking fairytales and Hi-5'ing them so the stories will have their own narratives. Parents who know the traditional fairytales are in for a good laugh and for children, they are going to see some great characters in the television show come to life on stage."
Focusing on edutainment for children 2 to 6, one of the leading Australian pre-school edutainment television series and musical group continues to push boundaries to enhance children's logical thinking, coordination, vocabulary and visual awareness through their shows.
The Special Hi-5 Touch
"What makes the Hi-5 shows a huge success is that we incorporate elements from the television series encompassing Howard Gardner's and Jean Piaget's theories of child development and put it on stage," says Hi-5 Tour Director, Greg Suzuki.
"Hi-5 Fairytale will focus on specific Hi-5 movement songs, dances, finger plays, games and rhymes to help children explore nature's wonders, build team skills, use their imaginations and learn about the world through play." adds Mr Suzuki.
With over a dozen of unique costumes, life-size set changes and state-of-the-art projection and lighting, audiences are in for a visual treat. A fun-filled adventure awaits your family and you this December.
Show Information
Date: 2 to 4 December 2016
Venue: MasterCard Theatres at Marina Bay Sands
Performance Times: Friday – Sunday: 10:30am and 2:30pm
Extra show added due to popular demand on Saturday at 6:30pm
Ticket Price
$125 VVIP (Sold Out) / $115 VIP (Selling Fast) / $105 A-res / $65 B-res / $45 C-res (Excludes the booking fee of SGD$4 per ticket)
*Special Promotion for readers*: Enjoy 15% savings off A,B,C-reserve tickets when you book using "15% Bookworm" discount.
Enter code SAVE15BW. Limited to the first 200 tickets!
Book your tickets today!
Online: www.MarinaBaySands.com/ticketing or www.sistic.com.sg
Call: 6688 8826
In person: Marina Bay Sands Box Offices (Museum, Theatres, SkyPark, Retail Mall and Hotel Tower 1 Lobby).
Hi-5 was launched in Australia in 1998.
It has total of more than 650 half hour episodes featuring the Australian cast as well as a huge range of DVD releases, specials and one-off musicals.
It has reached an estimated global audience of more than 10,000,000 children across Europe, North America, Asia and Latin America with its tours, music and over 16 successful television series to date.
Winning the Best Pre-school Show at the 20th Asian Television Awards, its television series has consistently been one of the top three most successful pre-school television shows in Australia.
Hi-5 opened its first pre-school in Singapore, Hi-5 House of Learning (HOL). Through a unique education model, the school enables children to learn and sustain their joy of learning through music and movement.
---
TNAP is giving away 45 tickets to our lucky readers for 4 December 2016, Sunday 2.30pm show.
To take part in the giveaway, follow the steps below:
1. Like us on Facebook.
2. Fill in the form below.
The giveaway has ended.
3. Like and Share on this facebook post for bonus chance to win.
Contest ends 24 November 2016.
Important notes:
Winners will be notified via phone and email.
Winners will have to self collect the tickets on 4 December 2016 at the MasterCard Theatres Box Office from 1pm to 2:15pm.
Winners will have to bring along their NRIC for verification purposes.
The date and time cannot be changed.
For more contests and giveaways, go to The New Age Parents Contest Page
Terms and Conditions apply. Please also read our Privacy Policy.
goo.gl/0xzPEH