"Hear the sounds of the jungle and the creatures,
They are the sweetest sounds you will ever hear,
Hear the sounds of the living breathing world…"
Who is the Little Mouse Deer?
In the classic Malay Folklore story, Sang Kancil (in Malay, 'Sang' means reverend and 'Kancil' means mouse deer) is clever, brave and quick-witted. In the play, you will also be introduced to his other forest friends.
First we have the big, strong but not so wise 'King of the Forest' Harimau the Tiger. Next, we have the friendly and helpful Monyet Kecil ('Monyet' means monkey and 'Kecil' means small), and the wise but not so small Monyet Besar ('Besar' means large). Last but not least, we have Cicak, the tiny and polite lizard.
Unfortunately for Kancil, he does not put his cleverness to good use as he is always out tricking his other animal friends in the forest to get what he wants. One day, his friends could no longer tolerate his mischievous and selfish ways. So they decided to teach him a lesson…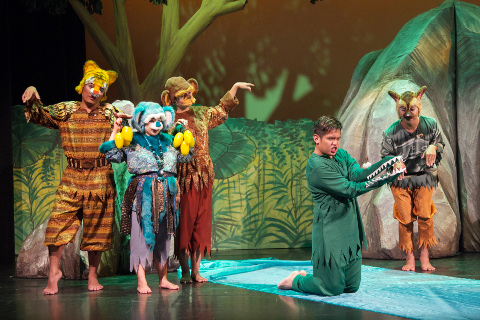 Besides the catchy and soothing musical tunes, we liked the various forms of puppetry during the show. The use of toy puppetry for the character of Cicak, was deftly executed by Windson Liong. The use of shadow puppetry was used to portray the scene where forests being chopped down by humans and later engulfed in flames.
A play children and adults can identify with, Hey Little Mouse Deer teaches children the values of honesty, bravery, and being responsible to one's own actions.  It ends with an important take home message surrounding the theme of environment conservation; where children will learn how the selfish actions of deforestation can lead to the deaths of many other creatures. As Harimau the Tiger puts is aptly, we need to be careful of the red monster, but most of all, also be wary of "the monster of greed and selfishness", with reference to man's evil actions.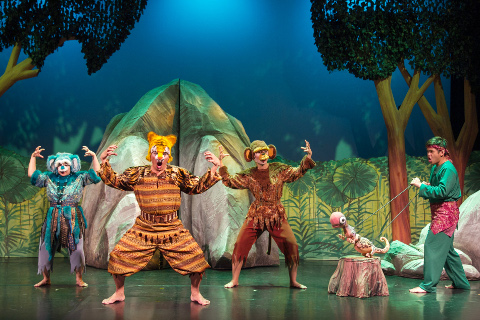 Packed with a vibrant wardrobe set against a lush jungle backdrop accompanied by catchy tunes, come sing along and explore the colourful  folk tale of Sang Kancil, the clever little mouse deer.
Hey Little Mouse Deer by ITheatre is now showing from 18 Jul – 6 Aug 2013
Hurry grab your tickets today!
Time:
Mon – Fri, 9.30am
Sat, 10.00am
Mon – Fri, 10.30am
Tue – Fri, 2.30pm
Duration:
Approx 50 minutes
*no interval
Venue:
Alliance Francaise Theatre
Ticket Price (excluding booking fee):
Standard: S$28
FREE Mouse Deer books up for grabs!
Proudly sponsored by READ! Singapore, an initiative platform from The National Library Board. The book collection will be at Alliance Francaise Theatre upon presentation of valid ticket for the correct date and time.
Note:
*Not applicable for different day and time
**ONE book per valid ticket whilst stocks last
***Limited edition based on first come first serve basis
Written by Michelle Ang