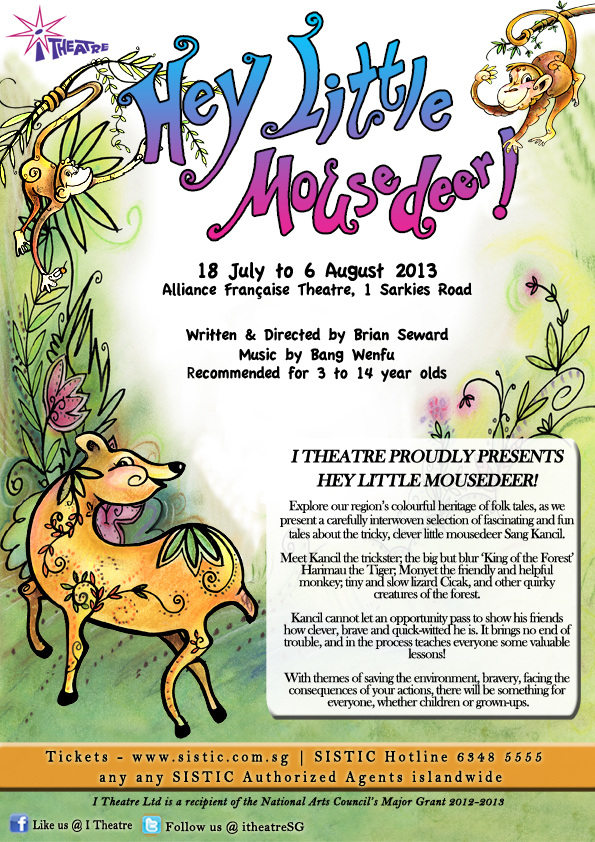 Click here for the larger view.
---
I Theatre presents
Hey Little Mousedeer!
18 July to 6 August 2013
Alliance Francaise Theatre, 1 Sarkies Road
Written and directed by Brian Seward
Music by Bang Wenfu
Recommended for 3 to 14 year olds
Explore our region's colourful heritage of folk tales, and at the same time learn to look after our environment as we present a carefully interwoven selection of fascinating and fun tales about the tricky, clever little mouse deer Sang Kancil.
Meet Kancil the trickster; the big but blur 'King of the Forest' Harimau the Tiger; Monyet the friendly and helpful monkey; the tiny and slow lizard Cicak. And watch out for other quirky creatures of the forest!
Kancil cannot let an opportunity pass to show how clever, brave and quick-witted he is; but always seems to tangle his friends in his crazy schemes. It brings no end of trouble, and in the process teaches Kancil – and the audience some valuable lessons!
With themes of saving the environment, bravery, and facing the consequences of your actions, there will be something for everyone, whether children or grown-ups.
Tickets on SALE 18 April 2013.
Get the tickets at any SISTIC Authorised Agents islandwide or call SISTIC Hotline: 6348 5555. Website www.sistic.com.sg.