Santa's helpers are putting the final touches on presents as a young bird named Max and his family head south for the winter. When Max gets blown off course during a snowstorm, he ends up alone and lost at the North Pole. Will Max be able to ever make his way home?
Performed in complete darkness, be captivated by the magical tale of family, friendship and hope and watch in awe as the creatures light up the stage. Listen out for timeless holiday tunes from Nat King Cole, Mariah Carey and Tchaikovsky. The most popular US touring Christmas show since 2014, Lightwire Theater's A Very Electric Christmas promises to be an unforgettable festive treat for the entire family.
Venue: Victoria Theatre, 9 Empress Place, Singapore 179556
Date: Fri, 9 – Sun, 11 Dec 2016 | Fri 9 Dec: 7.30pm | Sat 10 Dec: 10.30am, 3pm, 7.30pm | Sun 11 Dec: 11am, 3.30pm
Price: $95, $75, $55
Hi-5 Fairytale
A theatrical extravaganza full of your favourite fairytale stories with special twists, go on an amazing adventure with Hi-5! See how the Brave Prince of Knights and Sir Bucket Head try to awaken the cheeky Princess Sleepyhead, and be enchanted by stories of dragons, dinosaurs and pirates!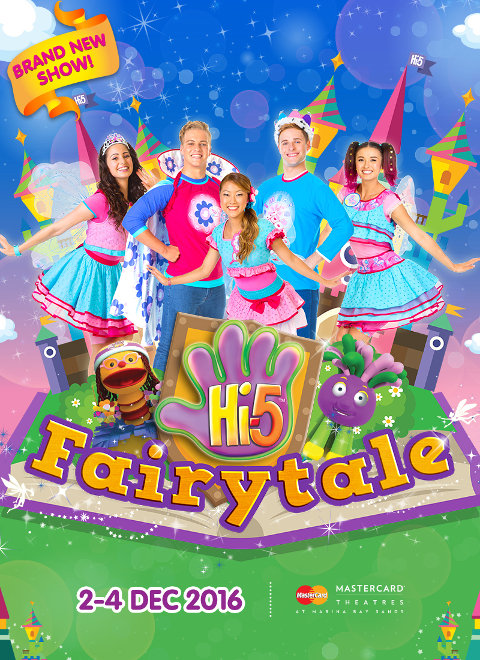 Venue: Sands Theatre, Marina Bay Sands, 10 Bayfront Avenue, Singapore 018956
Date: 2 – 4 Dec
Price: $45 – $125
Singapore Symphony Orchestra (SSO) Babies Proms
Hop on a musical sojourn with Uncle Peter and the SSO to discover the fun and fantastic world of the orchestra, and listen to the colourful tunes of different instruments. There will also be pre-concert activities held half an hour before each show. Suitable for children aged 6 and below. Tickets are required for children aged 2 and above.
Venue: Victoria Concert Hall, 9 Empress Place, Singapore 179556
Date: 19 – 20 Nov
Price: $30, $40
SSO Concerts for Children: Carnival of the Animals
Watch animals come to life through the use of marionettes and music. Meet lions, kangaroos, turtles and other furry friends in the Carnival of the Animals by Camille Saint-Saëns with Octave and Mandoline. Suitable for ages 4 to 14. No admission for infants-in-arms.
Venue: Victoria Concert Hall, 9 Empress Place, Singapore 179556
Date: 25 – 26 Nov
Price: $24 – $36
Charlotte's Web
Possibly the best American children's book, join Wilbur the pig and his friend the barn spider named Charlotte in the enchanting story that spins a positive message about friendship.
Venue: KC Arts Centre – Home of SRT, 20 Merbau Rd, Singapore 239035
Date: 28 Oct – 11 Dec 2016
Price: $25 – $48
My Little Pony Musical Rainbow Rocks
Shake your tail down to Canterlot High School, and learn how the rainbow rocks! The funny and fabulous Equestria Girls are getting ready to enter their band, the Rainbooms, in the Canterlot High musical showcase. But there's trouble brewing. Will their friendship be tested? Find out how the band resolves their conflicts and restore harmony in the group again.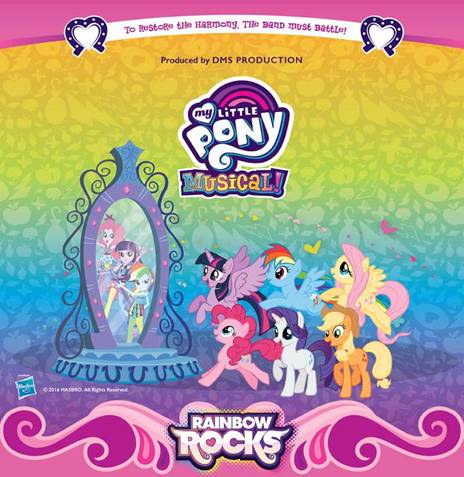 Venue: Resorts World Theatre, 8 Sentosa Gateway, Singapore 098269
Date: 24, 25, 27 Nov
Price: $48 – $148
The Magic Paintbrush
Adapted from a Chinese folk tale, The Magic Paint brush tells the story of Toni Lee, a youngster from present-day Singapore, struggling with the pressures and stress of schoolwork and parental expectations. With an accidental wish, Toni unexpectedly meets a Magical Paintbrush and is transported back in time to a Southern Province of China. This family musical brings a clear and strong moral message about the value of creativity, friendship, and the dangers of abusing power. Suitable for children 3 years and above.
Venue: Drama Centre Theatre, 100 Victoria St, #05-01 National Library Building, Singapore 188064
Date: 27 Oct – 12 Nov
Price: $32
Monkey Goes West
When orphan Ah Tang runs away from home after quarrelling with his adoptive family, he finds himself transported to a new, strange land. There, he befriends a trio of fellow travellers: Wukong, Pigsy, and Sandy. Together, the fearless foursome embarks on the adventure of a lifetime. An affectionate and cheeky retelling of the beloved Chinese fantasy classic, Monkey Go West will take you from Haw Par Villa to Jurong West – by way of a colourful world filled with mythical monsters and naughty fairies.
Venue: Drama Centre Theatre, 100 Victoria St, #05-01 National Library Building, 188064
Date: 18 Nov – 17 Dec
Price: $45 – $80
Father Christmas
The night before Christmas is the busiest night for Father Christmas, with so many presents to deliver but will he be able to finish before sunrise? Will there be any hiccups along the way? Find out in this musical family adventure. Suitable for children 2 years and above.
Venue: SOTA Drama Theatre, 1 Zubir Said Drive, Singapore 227968
Date: 25 – 27 Nov
Price: $58, $48, $38
BOOK IT: Tickets to the above performances can be purchased at authorised SISTIC outlets or online at www.sistic.com.sg


Performing Arts
Crash-A-Course
Let children explore their environment and take ownership of their character development to the fullest in this Child-oriented Arts Education. Courses are conducted in Mandarin.
Venue: The Theatre Practice, 54 Waterloo Street, Singapore 187953
Date: 20 Nov, 11 am – 12 pm (Play in Arts, for 4 – 6 years old) | 11am – 12pm (Drama Class, for 10 – 12 years old)
Price: Free
Basic Indian Dance
In this introductory workshop, discover the rich heritage of Indian dance. Learn about the animals, bird postures and hand gestures representing different elements of nature. Suitable for children ages 5 and up.
Venue: Esplanade Rehearsal Studio, 1 Esplanade Dr, Singapore 038981
Date: 19 Nov, 10am (1 hr 15min with break)
Price: $24 (1 Parent + 1 Child)
398.2 Storytelling Festival
The 398.2 Storytelling Festival is an independent, non-profit community initiative founded by Roger Jenkins, supported by the National Library Board. It will be presented by 15 tellers and musicians. There will also be thirteen 60-minute taster sessions in libraries across the island from now till 19 Nov.
Venue: Woodlands Regional Library, 900 S Woodlands Dr, #01-03, Woodlands Civic Centre, Singapore 730900, Asian Civilisations Museum (ACM), 1 Empress Place, Singapore 179555
Date: 26 Nov (Woodlands Regional Library), 3 Dec (ACM)
Price: Free


Visual Arts
Playeum: Children's Centre for Creativity
NEW! A World Full of Stories
Specifically designed for children aged 1-12, 'A World Full of Stories' offers a series of interactive and open-ended spaces for young minds to feed their creative imagination through role play, story- making, illustration, writing, drama and puppetry.
Price: $22 per child with one accompanying adult, additional adults $10
Opening Times: Tuesday – Sunday, 10am – 6pm
Lights, Camera, Action!
Watch your kids make their own film as they learn how to create their own script, movie stunts, choreograph camera tricks and edit their own film.
Age: 6 – 12 years old
Date: 22 – 25 Nov, 10am – 1pm| 6 – 9 Dec, 2pm – 5pm
Price: $300 per child (includes all-day admission to the Children's Centre for Creativity)
Tinker With Stories
From sand doodling to coding, kids will explore four very different ways of telling a story.
Age: 6 – 12 years old
Date: 22 – 25 Nov, 2pm – 5pm | 6 – 9 Dec, 10am – 1pm
Price: $300 per child (includes all-day admission to the Children's Centre for Creativity)
Tales of Time
Discover how time is perceived in books in this drama camp. Kids learn how characters in books use time to go about their daily activities and delve into their own time warp by creating their own clock.
Age: 6 – 12 years old
Date: 29 Nov – 2 Dec, 10am – 1pm | 3 – 6 Jan 2017, 10am – 1pm
Price: $300 per child
Stories from Outer Space
Kids can choose from a range of artistic mediums such as comics and diorama-building to invent and develop their very own galactic universe.
Age: 5 – 12 years old
Date: 13 – 16 Dec, 10am – 1pm
Price: $300 per child
Venue: The Children's Centre for Creativity, Block 47 Malan Road, #01-23 Gillman Barracks, Singapore 109444
Bring Home A Piece of PS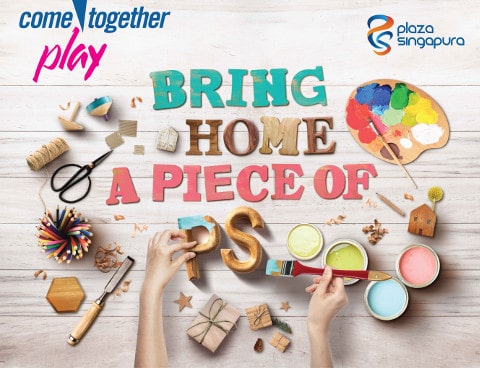 This November, Plaza Singapura is organizing special craft workshops for shoppers to embrace their creative side and create handmade trinkets such as coasters and brooches using recycled wood railings from the mall's refurbished efforts. With both workshops for adults and children, shoppers will be able to take home a personalized memento of the mall's heritage as a nostalgic keepsake. To register, shoppers can head to the mall's Family Lounge on Level 4. Registration opens from Friday, 18 November 2016 onwards.
Date: 21 Nov – 27 Nov
Time: Adult Workshops: 3pm to 5pm and 7pm to 9pm daily | Children Workshops: 12pm to 9pm daily
Price: Spend a minimum of S$30 in a single receipt (valid between 18 and 27 Nov 2016) | Children: Free-of-charge for those aged 12 and below
IKEA Soft Toys Drawing Competition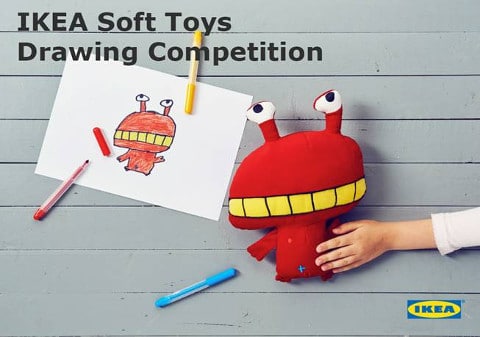 For the third time this November, join children from all over the world in creating next year's SAGOSKATT – a limited edition collection where we turn kids' drawings into real soft toys. Kids 12 and under are invited to unleash their imagination and draw their dream soft toys at the IKEA stores. 10 lucky global winners will see their drawings transformed into real soft toys and sold in IKEA stores during late-2017, to support the IKEA Good Cause campaign for Children's rights to play and develop.
Date: 3 – 17 Nov
Visit your nearest IKEA store or www.IKEA.sg to find out more details.


FAMILY FUN
Avengers S.T.A.T.I.O.N.
Calling all Avengers fans! Learn more about the Marvel heroes in the Avengers team. The exhibition feature original sets, props, costumes, interactive and special effects from the movie.
Venue: Science Centre, Annex Hall, 15 Science Centre Rd, Singapore 609081
Date: Now till 5 Mar 2017, 1pm – 5pm
Price: $18 – $30
Tech Jam 2016
Develop your child's interest in science through a series of hands-on experiments and the use of Let's Explore Kits during the November Holiday Workshops. Registration is now open. All activities are free (Admission to Science Centre applies for non-members).
Venue: Science Centre Singapore, various galleries
Date: 5 – 10 December 2016
Time: 10am – 5pm
Price: Free* Admission charges to Science Centre Singapore apply
For more information, click here.
Tinker Fest
Tinker Fest, organised by Imagin8ors and Science Centre Singapore, connects children, parents, educators and makers during a week-long celebration that highlights the Joy of Learning through play, exploration and experimentation.
Venue: Science Centre Singapore, Hall E, The Tinkering Studio
Date: 10 – 18 December 2016
Time: 10am – 6pm
Price: Free * Admission charges to Science Centre Singapore apply
For more information, visit www.science.edu.sg/events/Pages/Tinkerfest.aspx.
The Pokémon Research Exhibition
Calling all aspiring Pokémon Trainers! Take on the role as scientific researchers to study Pokémon and choose a real-life PokéBall to accomplish a mission.
Venue: S.E.A. Aquarium in Resorts World Sentosa,
Date: Now till 2 Jan 2017, 10 am – 7pm
Price: $23 – $42, inclusive of admission to S.E.A. Aquarium
Kids Eat Free@ IKEA
Flash your IKEA FAMILY member card at the IKEA restaurant check-outs between 21 and 26 November and your kids get to eat for free! If you are not an IKEA FAMILY member, simply sign up for free at IKEA.sg/FAMILY or at our in-store kiosks. Choose from meatballs, pasta or chicken nuggets children's meal. Valid for children below 12 years old. Child must be present at the check-out counter.
Venue: IKEA Tampines and IKEA Alexandra
Date: 21 – 26 Nov
Price: Free 
MAKE + PLAY
MINT Museum of Toys' series of workshops and tours, MAKE + PLAY, is back, promising more fun and nostalgia for families. This edition is themed after the museum's Outerspace collection, and will feature a line-up of programmes showcasing an array of rich and colourful vintage toys, from robots and spaceships to astronauts and aliens.
Date: 19 Nov – 18 Dec 2016
Venue: MINT Museum of Toys, 26 Seah Street, Singapore 188382
Opening Hours: Daily, 9:30am – 6:30pm
For full line-up of programmes, visit www.emint.com
Note: All details are correct as at time of publish. Readers are advised to check with the various event organisers for the most updated schedules.
For other up coming events, visit Events in Singapore.
---
For more things to watch, do and play, download and read our holiday e-guide!
Find this article useful? Do share it with your friends by clicking "Share" below, thank you.