HIGH DAILY UV INDEX IN SINGAPORE
Did you know? Singapore has one of the highest UV indexes in the world, reaching "very high" or "extreme" levels every day.
EARLY CHILDHOOD EXPOSURE TO SUN
Your child is exposed to around half of their lifetime's UV radiation by the time they hit 20. That's why it's important to start them early in cultivating proper sun protection habits!
DANGERS OF EXCESSIVE SUN EXPOSURE
Letting your child spend time outdoors under the sun is healthy as long as they're properly protected. Otherwise, overexposure can increase the risk of health conditions later in life, such as:
Pigmentation & premature aging of the skin
Skin cancer
Cataract
Severe sunburns
FUN FACT!
Sunburns are a lot more severe than we think. Getting a blistering sunburn even once can double the risk of skin cancer later in life!
Parents play a vital role in cultivating habits of their children from young! Together, we can educate and start building proper sun protection behaviour early.
---
EASY SUN PROTECTION TIPS FOR THE FAMILY!
There are two kinds of harmful UV rays: UVA and UVB.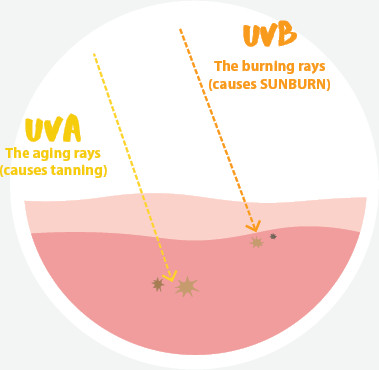 To protect our skin from both types of UV rays, we need to apply the right sunscreen in the right way. Here are some tips!
CHOOSING THE RIGHT SUNSCREEN
PA+++
PA indicates the level of protection against UVA rays
Look out for sunscreens with the PA+++ sign!
SPF
SPF (Sun Protection Factor) indicates the level of protection against UVB rays
Not more for better! Any increase above SPF 50 has negligible additional effect! Sunscreens with SPF 30 is sufficient for use in Singapore
WATERPROOF
No sunscreen is entirely waterproof, but many sunscreens are water-resistant
For extended outdoor activities, look out for water-resistant sunscreens
You can get sunscreen via Shopee.
WHAT TYPE?
Children's skin is more sensitive than adult skin, so lotion or cream types of sunscreen may feel more comfortable or irritate their skin less compared to gels, fluids or sprays that could be drying.
For very young kids, choose a formulation with either zinc oxide or titanium dioxide, as these are largely inert, non-irritating chemicals that provide good broad-spectrum protection.
APPLYING SUNSCREEN THE RIGHT WAY!
DAILY
Whether it is rainy or cloudy outside
ON ALL AREAS OF EXPOSED SKIN
Not only your face!
15 MIN BEFORE LEAVING HOME
For maximum effectiveness
REAPPLY EVERY 2 HOURS
Make sure your skin is always protected!
---
NOT TO FORGET PHYSICAL PROTECTION!
#1 WEARING UV-PROTECTION GLASSES
Look for sunglasses that wrap around and block as close to 100% of both UVA and UVB rays as possible
You can get kid's sunglasses via Shopee.
#2 WEARING A HAT OR CAP
Hats protect your child's face and eyes, and are a perfect complement to sunscreen and sunglasses
If your child chooses a cap, make sure to protect exposed areas of their skin with sunscreen
You can get kid's hat or cap via Shopee.
#3 PLAYING IN THE SHADE
Encourage your children to play in the shade when the sun is at its strongest, usually from 11am to 3pm
---
The text is printed below for easy reading:
4 COMMON SUN PROTECTION MYTHS DEBUNKED BY MEDICAL EXPERTS
In a quest to clarify common misconceptions about proper sun protection habits, we gathered dermatology experts' views from Dr. Colin Theng (The Skin Specialists & Laser Clinic) and Dr Cheong Lai Leng (LL Cheong Skin & Laser Clinic).
#1: My kid won't get skin cancer easily.
DR CHEONG: While melanoma skin cancer is less seen among Asians, non-melanoma skin cancer is still common in Singapore. While kids are still too young to think about developing cancer, unless they take care of their skin, accumulating all that photodamage over time puts your children at risk in the future.
#2: Getting some Vitamin D is good for my kid so I can let them play outdoors without proper protection.
DR CHEONG: While getting enough Vitamin D for your kid is vital, try bringing your kid outdoors earlier in the morning rather than at 12 noon when the sun is really hot.
#3: It's okay for my kid to get sunburnt occasionally. It doesn't have much lasting effect on their health.
DR THENG: There are studies to show that increased risk of melanoma is related to childhood sunburns, so that can be a risk for children later on. So, it is best that children are properly protected.
#4: The higher the SPF, the better protection it offers my kid.
DR CHEONG: As the SPF increases from 0, the degree of protection increases, but it will reach a certain point where the protection levels off, at around SPF 15 to 30. Therefore, the difference in protection between an SPF 50 and an SPF 100 sunscreen is negligible. The latter gives people a false sense of security so they spend more time in the sun. So even if your child uses a sunscreen of SPF 130, you still have to do it properly.
Contributed by SunWise.
* * * * *
Like what you see here? Get parenting tips and stories straight to your inbox! Join our mailing list here.
Want to be heard 👂 and seen 👀 by over 100,000 parents in Singapore? We can help! Leave your contact here and we'll be in touch.