It's less than one more week to Christmas! Haven't done your Christmas shopping yet? No worries, The New Age Parents 12 Days of Christmas Gift Wish List might just come in handy!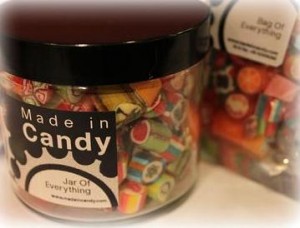 Day 1: Made in Candy Christmas candies
An assortment of Christmas themed candies, all nicely packed into a glass bottle, Made in Candy has concocted the perfect Christmas treats! With the bright pastel colours and sweet scent of the candies, you just have to pop one into your mouth! For more information, log on to their www.madeincandy.com, or email to enquiries@madeincandy.com  for order details.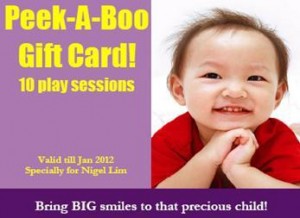 Day 2: Peek-A-Boo Gift Cards
"Tis the season to be jolly!" Bring BIG smiles to a child today with our new Peek-A-Boo gift card! Available in 5, 10 and 20 play sessions with picture and personal message customization! Stop fretting over Christmas gifts and birthday gifts for the lil ones! To see a sample of the gift cards, click here.
For more information, email info@peekaboo.com.sg.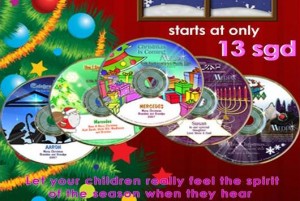 Day 3: Music and I Personalized Music CDs and DVDs Ever heard a song with your name in it? As if it was just made for you? Now you can! Music and I is a place to personalize your own Music CDs and DVDs. Unique and timeless, these customized CDs and DVDs will make wonderful gifts for children. Log on to their website for more information, or email them at inquiry@music-and-i.com. For sales enquiry, contact Gladys at 9009 3884 or sales@music-and-i.com.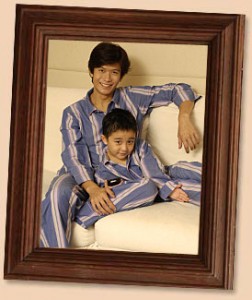 Day 4: Beautiful Bedtime with Libella
Libella Bedwear was created as there was a lack of fine quality pyjamas for children. It has recently started producing an adult line of sleepwear to complement the existing children's collection. Libella believes that wearing similar sleepwear would enhance family unity, and make the bedtime ritual a more wholesome experience for the family. Libella is having a special promotion now! To view all the special priced Libella pyjamas for the whole family, click here.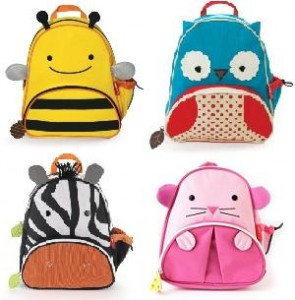 Day 5: Skip Hop Zoo Pack From Lamkins
The Zoo Pack is the little kid backpack where "fun meets function!" Whimsical details and durable materials make this the perfect on-the-go pack for kids on-the-go! For more details, click here.
Day 6: World Map Floor Puzzle From Lamkins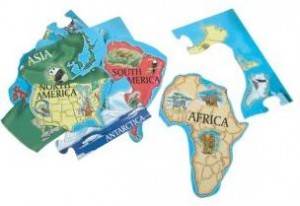 Explore the world with this jumbo-sized; colorful floor puzzle; featuring 33 heavy-grade shape-cut cardboard pieces that are coated on both sides for added durability. Kids will have fun learning world geography on this detailed; educational map puzzle.
Day 7: Pandabo From Toys World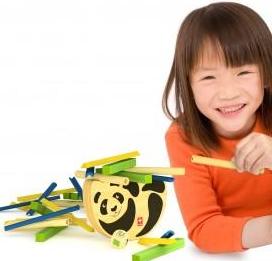 A cute and interactive board game for children 3 years and above, your child will develop concentration and eye-hand coordination skills while trying to help Jing Jing, the panda, from losing his balance! Toys World is now having a Christmas Promotion! For more details, click here.
Day 8: Super Finger Colours From GIOTTO Be-bè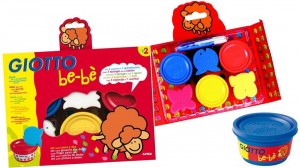 This paint set includes 3 basic colours of paint which children can play around with and explore by mixing the colours together. The texture of the paint is gel-like, different from the usual paint so children can spread it more easily unleash their creativity. Fuss free and washable, parents can sit back and relax while their children unleash their inner Da Vinci. Click here for more info on other GIOTTO Be-bè products. For the list of locations carrying GIOTTO Be-bè products, please click here.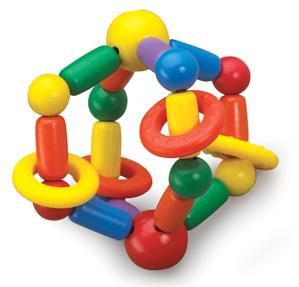 Day 9: Twist and Roll From The Nurture Seeds
The bright colours and interesting structure form the Twist and Roll encourage your baby's curiosity and inquisitive as they explore the toy. It also helps to develop and improve your baby's hand eye coordination skills and strengthens their finger and eye muscles. For babies aged three months and above. Log on to their website for more details.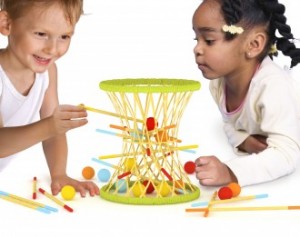 Day 10: Pallina From Toys World
Be careful when pulling out these sticks! With Pallina, one needs a very sensitive touch and thoughtful strategy. Each person selects a colour and pulls out the sticks strategically so that the other teams' coloured balls fall. Excitement and challenge awaits the players as they try to outdo each other! Toys World is now having a Christmas Promotion!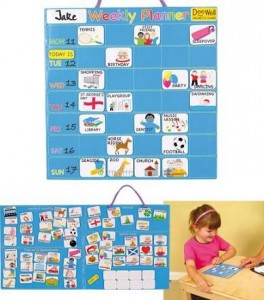 Day 11: Fiesta Doowell Weekly Planner From Not in the Malls
It's never too young to start planning. This magnetic first diary by Fiesta helps children to learn about the days of the week and to look forward to upcoming activities and special events in their calendar. Colourful and attractive activity pieces to place on the planner helps children to keep track of their activities. More details can be found here. Get 10 % off Unique Christmas Gifts for your little ones! Just use this Coupon Code TMH1210, at Checkout.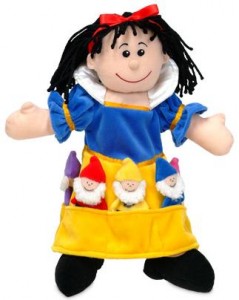 Day 12: Fiesta Crafts Snow White & Seven Dwarfs Hand Puppet From Not in the Malls
This hand puppet won the "Top 10 toys for Xmas" under the Toy Shop UK Independent toy awards 2009. Stories can be made up, told and retold using these 30cm soft to the touch hand puppets, keeping lively minds enthralled for hours.
Written by Michelle