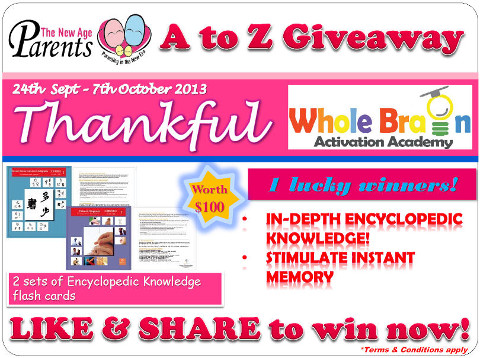 A-Z Giveaway T for Thankful by Whole Brain Activation Academy (24th September to 7th October 2013):
This fortnight's Giveaway 2 sets of Encyclopedic Knowledge flash cards worth $100. Total 1 winner.
About Encyclopedic Knowledge Flash Cards
The Encyclopedic Knowledge cards are specially designed to give the little ones more in-depth encyclopedic knowledge. Showing flash cards is not intended to give mere knowledge to children, it has important functions such as activating their right brain by flashing cards at high speed, giving the little ones instant memory, connecting the left and right brain (left brain captures the words, while right brain captures the images) and as a result, activating the whole brain.
About Whole Brain Activation Academy
Whole Brain Activation Academy was set up to provide specific whole brain activation for kids aged 5 to 12 years old. Through hemispheric synchronisation of the brain, your child's natural ability to achieve peak performance can be activated.
Website: www.wba.com.sg
To take part in this A-Z giveaway, just do the following
1. Like Whole Brain Activation Academy Page
2. Fill in your particulars via http://woobox.com/7gtj2o. Enter the email you used to join our mailing list. (On our mailing list means receiving and reading our newsletters and electronic direct mailers.)
3. Comment on this post on why you like to win.
Hurry, giveaway for Thankful ends 7 October 2013.
Terms and conditions apply.
---
One Year of Fortnightly Giveaways 2013!
To thank our fans for your fantastic support, The New Age Parents will be having an entire year of fortnightly giveaways – TNAP A-Z Giveaway. Each letter stands for a word representing the giveaway for the fortnight.
All you have to do is be a Fan on our Facebook www.facebook.com/newageparents and watch out for our status updates and you could be one of the lucky winners!