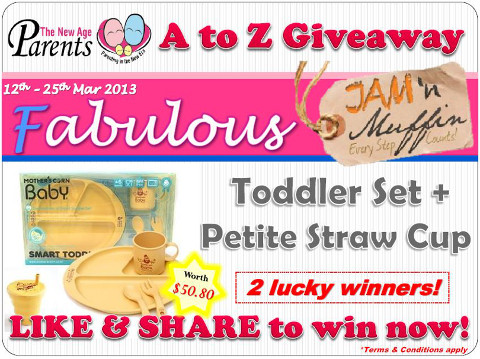 A-Z Giveaway F for Fabulous by Jam 'n Muffin (12th to 25th March 2013):
This fortnight's Giveaway Toddler Set + Petite Straw Cup worth $50.80 each. 2 lucky winners
About Jam 'n Muffin
Jam 'n Muffin!, was created from a love for educational and unique baby and kids products. We have scouted the world to find innovative, practical and entertaining products that will benefit our little ones.
Website: www.jamandmuffin.com
To take part in this A-Z giveaway, just do the following
1. Like Jam 'n Muffin Page
2. Fill in your particulars via http://woobox.com/ug62tu
Get 3 extra entries when you share this with your friends.
Hurry, giveaway for Fabulous ends 25 Mar 2013.
Terms and conditions apply.
---
One Year of Fortnightly Giveaways 2013!
To thank our fans for your fantastic support, The New Age Parents will be having an entire year of fortnightly giveaways – TNAP A-Z Giveaway. Each letter stands for a word representing the giveaway for the fortnight.
All you have to do is be a Fan on our Facebook www.facebook.com/newageparents and watch out for our status updates and you could be one of the lucky winners!