Sureclean is the trusted brand and leading hygiene supplier for over two-thirds of Singapore's local childcare industry, protecting children and families from infectious diseases such as HFMD.
Their SANIHANDS is a foamy hand sanitizer that is alcohol-free and gentle to the skin while keeping hands clean from 99.99% germs, bacteria and viruses. SANIHANDS does not dry the skin, and is effective and safe for use among children. Their GERMCLEAN is the first surface disinfectant from Singapore to be tested effective to kill SARS-CoV-2, the virus that causes COVID-19. This surface disinfectant lasts for up to 30 days with one single application. It can be safely used on children toys, furniture, kitchen areas, and more to protect families and homes from viruses and bacteria.
Sureclean also provides home cleaning and disinfection services, of which the disinfection service uses their GERMCLEAN disinfectant, which protects surfaces at home for up to 30 days.
For more information, visit here.
---
TNAP X Sureclean Bundle Giveaway
We are giving away 7 x Sureclean Bundle worth $71.40 (inclusive of 1x Germclean 250ml, 1x Germclean 60ml, 1x Sanihands 180ml, 1x Sanihands 50ml) to our lucky readers.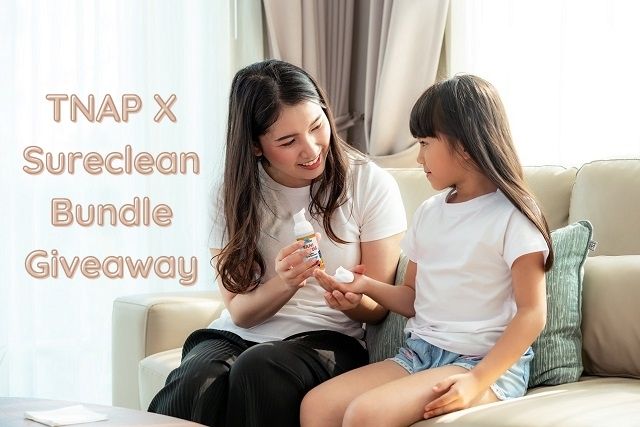 ✅ How to participate:
1️⃣ Like and Follow The New Age Parents Facebook Page and Sureclean Facebook Page.
2️⃣ Fill in this form:
The giveaway has ended.
3️⃣ Share this post and comment why you'd like to win the products.
The giveaway ends on 3 December 2020.
✔️ Important notes:
Valid for readers residing in Singapore 🇸🇬 only.
By participating in the giveaway, it means you agree to the terms and conditions.
Winners have to self-collect at New Age Consulting office (18 Boon Lay Way, Tradehub 21 Singapore 609966)
Proof of identity will be required during prize collection.
* * * * *
Terms and conditions apply. Please also read our Privacy Policy.
For more contests and giveaways, go to The New Age Parents Contest Page.