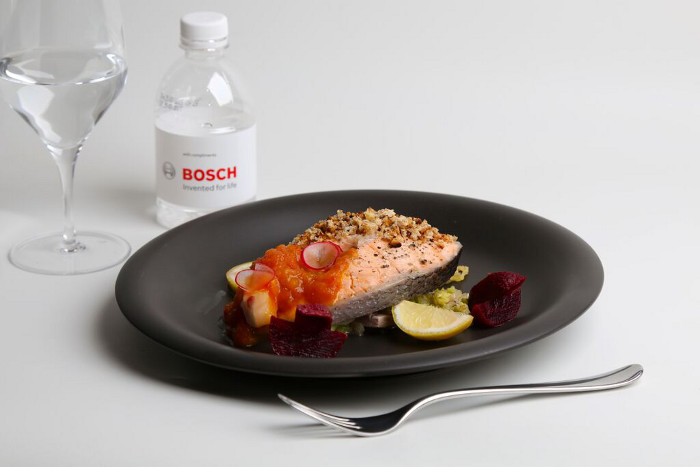 "This flavorful dish boasts a plethora of superfood ingredients that tastes great and makes you look great. The combination of flavors capitalizes on a unique blend of nuts and jam that lifts the food experience."
– Chef John See, Bosch's culinary ambassador
Preparation time: 10 minutes
Cooking Time: 15-20 minutes
Ingredients:
4 nos Deboned and skinned salmon fillet
2 tbsp Olive oil
1 pinch Freshly cracked salt and black pepper
8 slices Lemon slices
2 nos Cooked beetroot (peeled, cut and diced)
1 tbsp Honey
Flaxseed and Walnut Crust:
3 tbsp Toasted flaxseed
½ cup Toasted walnut
2 slices Toasted wholemeal fibre bread (cut into cubes)
Tomato Jam:
3 cups Quartered fresh tomatoes
2 tbsp Apple cider vinegar
4 tbsp Brown sugar
½ nos Diced white onion
Kale in Soya Milk:
1 tbsp Olive oil
2 nos Smashed whole garlic
pinch Freshly cracked salt and pepper
300 gm Fresh kale leaf (cut to strips)
1 nos Bean curd (cut to strips)
½ cup Soya milk
Instructions:
Heat up a pot over a Bosch stove and add all the ingredients for the tomato jam. Allow it to simmer to a boil, keeping it at a low heat while stirring occasionally for 15 minutes.
 Pour the tomato jam into a Bosch hand blender to create a fine puree and add in the cooked beetroot cubes. Set aside.
Combine the flaxseed mix ingredients into a Bosch Mighty Mix Blender. After blending, add in the honey and then set it as a crust for the salmon.
Place the 4 pieces of salmon on a tray. Season with salt, pepper, lemon and olive oil.
Place into the Bosch series 8 steam oven for 5 to 6 minutes. Remove the salmon and dip it in the flaxseed and walnut crust.
Lightly sauté the garlic to golden brown and add in the kale and bean curd. Fry for 2 min, before adding in the soya milk to soak the kale for 3 minutes
Serve with beetroot-tomato jam.
Serves: 4
About the Key Ingredients
Salmon: Rich in omega-3 fatty acids to protect the heart, reduce inflammation and blood clots
Beancurd and Soy Milk: Rich in soy protein to prevent heart attack and a protein substitute
Tomatoes: Rich in vitamins to reduce risk of heart disease
Olive Oil: Reduces risk of heart disease and lowers cholesterol mark.
If you find this article useful, do click Like and Share at the bottom of the post, thank you.
Want more comprehensive info? Check out our e-guides here.