We all know that a teacher's job is to nurture and educate a child.
But what happens when a teacher steps out of line and makes one grave mistake?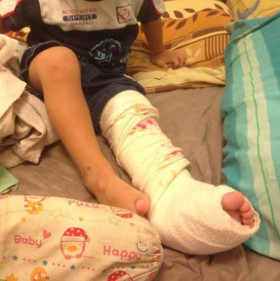 On 5 July 2013, an incident took place at a NTUC My First Skool centre in Toa Payoh. A video clip has been circulating and going viral online, showing how a 51 year old-part-time childcare teacher mishandling a three year-old-boy. In the video, she was seen dragging the boy and later shoving him to sit down on the floor. As a result of the above incident, the boy sustained a hairline fracture on one of his legs.
This incident has caused a media frenzy, online and offline in Singapore.
Concerned parents and fellow citizens raised issues on why such treatment and behaviour was allowed in the preschools.
Some of the issues raised were:
Relooking and downsizing the staff-child ratio in childcare/preschool centres. As of 18 April 2013, the staff-child ratio are as followed:

Source
If the installation of CCTVs should be a compulsory requisite for all childcare centres and preschools
Calling for a more stringent and thorough selection of preschool/childcare teachers
Indeed, what the teacher did was inappropriate and wrong. And no matter what valid reasons the teacher may have, whether it's due to stress, family or personal problems, the physical and emotional damage has already been inflicted. Raising a child in today's era is not a simple task. And as parents, we all know the trials and tribulations of being one.
Although it is hard to not allow our emotions to come into play, in the midst of all the negativity and harsh speech, let us take a moment to step back and reflect.
Let us try to move beyond the criticism.
Instead of lashing out, wallowing and adding on to the sea of criticisms, is there a better and more constructive way for us to respond to this matter?
Before we step out to comment, let us pause for a moment to think about the following questions:
Was the teacher heavily stressed? Was she going through a difficult time in her own life? If the school had known about this, what support could they have provided to help her cope?
Going forward, is there any post-support for the injured child and his parents? What are the school's strategies and measures to prevent such child abuse cases in Singapore?
As parents, do we have a part to play as well? If so, what can parents do to support or prevent such incidents?
Lastly, let us not forget the most basic and important thing all of us have the capacity to feel and show – compassion.
Compassion not just to the little boy who is in pain, not just to the parents of the boy, but also to the teacher; for she too, is suffering in her own ways.
Every human makes mistakes, regardless of profession, race, colour, gender, age or religion.
As Alexander Pope once said, "To err is human; to forgive, divine."
What is your view and say in this? Share with us your comments below.
Related reads:
www.thenewageparents.com/protecting-our-children-from-abuse
www.thenewageparents.com/child-abuse-in-singapore
www.thenewageparents.com/preventing-child-abuse
Links to video
www.youtube.com/watch?v=JOplUQM-xB4
www.youtube.com/watch?v=Nm0pGgeluXA
Photo source: www.mrbrown.com
* * * * *
Like what you see here? Get parenting tips and stories straight to your inbox! Join our mailing list here.
Want to be heard 👂 and seen 👀 by over 100,000 parents in Singapore? We can help! Leave your contact here and we'll be in touch.