This Holiday, The LEGO Group is ringing the festive season in by encouraging the gifting of superpowers one can obtain through LEGO Play. From November till December, The LEGO Group will be bringing The LEGO Santa's Superpower Christmas Cove across three malls. Families can look forward to fun-filled adventures as they experience the gift of superpowers through LEGO Play at Parkway Parade from 20 November to 31 December, Jem from 11 to 31 December and 313@somerset from 18 to 31 December. The LEGO Santa's Superpower Christmas Cove at all three locations will be open to the public from 12pm on the first day, and in accordance with mall operating hours for subsequent days. From 1 November, shoppers can also enjoy exclusive discounts on selected LEGO sets in-store and online, to encourage shoppers to give the gift of superpowers this Holiday through LEGO Play.
Play experts have found that play is a fundamental aspect of every child's development, allowing them to develop crucial 'superpowers' and cognitive skills that benefit them both now and in the future. The focus on the superpower of play this Christmas is driven by insights from new research by The LEGO Group conducted across 22 markets in August 2023, which found that 32% of children globally spend less than three hours a week enjoying play, while an average adult spends 26 hours a week scrolling on their smartphone. This global deficit in play has strengthened The LEGO Group's emphasis on the importance of sufficient play time for children, inspiring activities and experiences that gift children with these 'superpowers' or skills that carry them through life. With a series of activities touching on the benefits of play, The LEGO Santa's Superpower Christmas Cove offers an immersive yet powerful opportunity for all to experience the superpower of LEGO Play this festive season.
Rohan Mathur, Marketing Director, Southeast Asia, The LEGO Group said, "At The LEGO Group, we have always been a strong believer of play as a core facet of a child's development, and we believe that it is an essential skill that should be nurtured from a young age. This Christmas, we are excited to be sharing the gift of play with more children and empower them with skills that will go on to inspire them to explore limitless possibilities of their imaginations and in life through LEGO play. By experiencing the superpower of play with us this holiday, we hope to empower more children to create lasting memories, and take away superpower skills that will carry them through life."
Experience the superpower of play at The LEGO Santa's Superpower Christmas Cove
In partnership with Lendlease, the mall will be transformed into a Christmas superpower cove with countless opportunities and activities for children to discover a myriad of superpowers.
To kickstart their adventure, each participant will be given a mission card to complete a series of activity stations and help Santa and his Elves get supercharged for Christmas to locate the missing presents. From saving Santa's falling presents with the superpower of agility to putting your superpower of sharpness to the test in the Christmas Village diorama, families can come together to complete themed challenges and redeem a exclusive Santa Minifigure, while stocks last. With the range of engaging activities, participants can put a series of superpowers to the test and discover how LEGO Play can enhance these skills, such as coordination, concentration, and their attention to detail.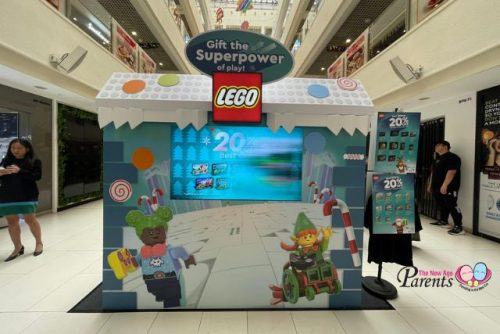 To soak in the full Christmas spirit, visitors can catch special appearances and take photos with LEGO Santa Mascots at selected times over the weekend. For a spot on Santa's Nice list this year, children can share the joy of giving by participating in the Build to Give initiative to gift a LEGO set to children in need of play, spreading the joy of Christmas and sharing the gift of superpowers with them. To share the joy, each child will be encouraged to build a heart out of LEGO bricks. For every heart built, The LEGO Group will donate a set of LEGO to a child in need of play from our charity partners.
Calling all LEGO fans – step up to the challenge and score free LEGO sets
Visitors can also put their superpowers to the test and stand a chance to win attractive prizes with the LEGO Superpower of Speed Challenge happening every weekend from 20 November to 24 December at Parkway Parade. Participants will have to build the designated build-of-the-week as fast as they can to be on the leaderboard, and the top 5 fastest builders of the day will receive one of the Top 10 LEGO sets of 2023, such as the crowd favourite 43217 'Up' House (worth SGD 89.90) and 10317 Land Rover Classic Defender 90 (worth SGD 369.90).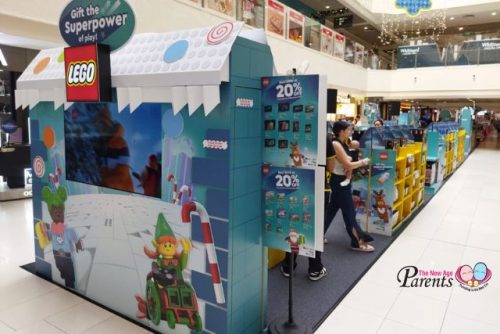 Joey Teng, General Manager at Parkway Parade said, "We are excited to partner with The LEGO Group and to be able to share the joy of play through the festive events happening at Lendlease malls including Parkway Parade this holiday. At Lendlease, we are always looking for the next exceptional experience to bring to our shoppers, and we are proud to be part of such a meaningful event that helps to equip children with essential skills and build their confidence to support their growth as individuals."
Give the gift of superpower with these LEGO sets
For a meaningful Christmas gifting experience, The LEGO Group has put together the top 10 LEGO sets across themes like LEGO City, LEGO Disney and LEGO Friends to help children discover the superpower of play this Christmas.
For those who wish to exercise their superpower of creativity, they can let their imagination run free with 60389 Custom Car Garage, which allows children to take their imagination up a gear by creating their custom car workshop and building their dream cars; or discover their superpower of speed while riding in 42161 Lamborghini Huracán Tecnica; or exercise their superpowers by building their own Marvel Studios' Avengers: Infinity War superhero with 76247 The Hulkbuster: The Battle of Wakanda, a versatile play set that allows your child to live their superhero dreams.
For those who wish to train their superpower of storytelling, they can venture into the dream world with Mrs Castillo, Mateo and Zoey in 71456 Mrs. Castillo's Turtle Van to put their creative brain juices to the test and decide if they want to play in party mode or flying submarine mode; for the Disney fans, go on an adventure with 43216 Princess Enchanted Journey to build confidence and train their storytelling skills as one embarks on a journey with Princess Jasmine, Cinderella and Rapunzel. They can also share their love for all things nature in 41757 Botanical Garden while designing their dream greenhouse with a wide range of plant and butterfly species.
Other crowd favourites for this year also include the 43217 LEGO 'Up' House, 10313 LEGO Wildflower Bouquet, 41736 LEGO Friends Sea Rescue Center, and the 42154 2022 Ford GT. To celebrate the season of giving, The LEGO Group will be offering a 20% discount for the Top 10 Christmas Sets for adults across all retail channels, and a 20% discount for the Top 10 Christmas Sets for children across selected retail channels from 1 November to 31 December.
Families can bask in the Holiday spirit together in the 10325 Alpine Lodge, where they can craft a cozy, snow-topped getaway. Full list of the LEGO sets can be found in the annex.
Additionally, you can also do your Christmas shopping at Lendlease during the event dates to receive an exclusive 4-in-1 Christmas Ornament with a minimum purchase of $89, while stocks last.
Share the gift of superpowers with your loved ones this Christmas through LEGO play! Visit LEGO Singapore, LEGO Singapore Facebook, Bricks World, Bricks World Facebook, Bricks World Instagram for more information, as well as the latest offerings and promotions. Shop LEGO sets at all LEGO Certified Stores.
---
🎨🎳🎯 Year-End School Holidays 2023 🧩🎭🎪
It is the year-end November & December holidays. We have compiled a list of November-December School Holidays Activities for Kids. Click on the image below to find out more.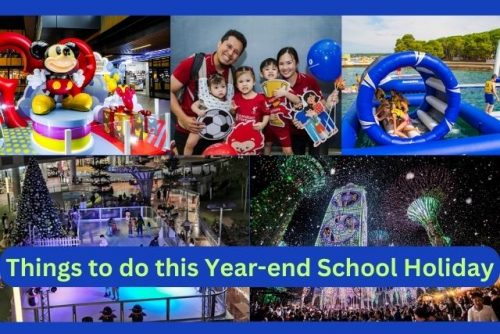 ---
☃️❄️ CHRISTMAS ❄️⛄️
From Christmas markets to carolling sessions to "snow fall", here's a list of Christmas Events & Activities where you and your family can soak up the X'mas spirit in Singapore! Don't forget to check What's Happening at the Shopping Malls this Christmas.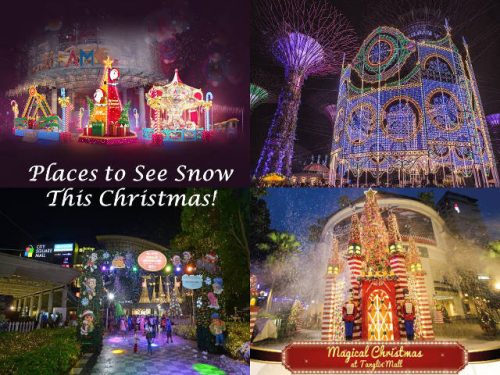 Looking a Christmas tree to decorate your home or office? Remember to read this post where to buy christmas trees in Singapore.
* * * * *
Like what you see here? Get parenting tips and stories straight to your inbox! Join our mailing list here.
Want to be heard 👂 and seen 👀 by over 100,000 parents in Singapore? We can help! Leave your contact here and we'll be in touch.