Meet Adeline Foo and Stephanie Wong, creators of The Diary of Amos Lee books!
Unsure of what books to choose for reluctant readers? Author Adeline will share her tips how to choose books for your children, especially boys. On top of this, join the illustrator, Stephanie, in a fun hands-on drawing session. Bring out your inner artist as you sketch your family's most memorable travel experiences!
Sounds like a good way to spend your Saturday afternoon before school reopens? Come down to Isetan Orchard, Wisma Atria B1 on 27 June 2pm, at the event space of Celebrate Singapore Books fair. Complimentary tea and coffee will be served.
Date: 27 Jun 2015
Tine: 2pm
Venue: Isetan Orchard, Wisma Atria Basement 1
Book two in the series, The Travel Diary of Amos Lee: Monkeying in Malaysia, shortlisted for the 2015 HABA – Hedwig Anuar Book Award. More than 220,000 copies sold in Singapore, Malaysia, Hong Kong, China, India, Indonesia and Slovakia.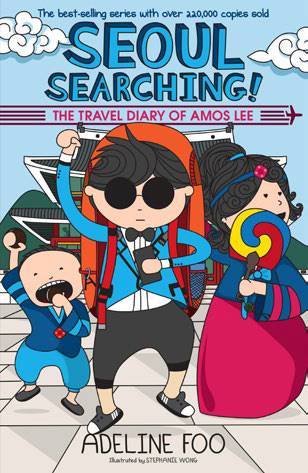 THE TRAVEL DIARY OF AMOS LEE 3
Seoul Searching!
AUTHOR Adeline Foo
ILLUSTRATOR Stephanie Wong
RRP SGD $12.90
Amos Lee and family were off on their first family holiday ever, to Seoul, South Korea! But everyone was caught up in their own thing: Dad kept checking his work emails. Mum and Grandma were chasing down K-pop stars. Whoopie only cared about growing long eyelashes. And Everest was set to win a Choco Pie eating contest.
As for Amos, he just wanted to win the Instagram Prize for Popular Youth! But when Grandpa went missing, the family holiday became a living nightmare. Grandpa was lost in a city of TEN MILLION people—how were they going to find him?
---
PRAISE FOR THE DIARY OF AMOS LEE SERIES
"The diary becomes in many ways a peep into Singapore." – The Indian Express
"What started as random rants in a toilet has now become the inspiration for a new children's book." – The Straits Times
"From school to market, everything is familiar but fresher from a precocious child's point of view, and the illustrations are quirky and cute. A clever idea and a pleasurable read." – Lifestyle
"It has delightful local flavour, humour, sketches and even unwanted comments from Mom (who corrects his spelling,
of course) and Dad. It introduces uniquely Singaporean sights and sounds like the kopi lingo used at coffeeshops…" – Young Parents