Located in Plaza Singapura Mall, Huawei Solutions is not your normal phone service centre. From work, your personal life and play, it's all about providing solutions.
#1 Solutions for Work
How can you keep track of your sales team's production efficiently?
Are you always working on-the-go?
Huawei's range of tablets allows you to work efficiently, and stay connected with wherever you are.
What caught our eye: Huawei Ascend Mate 7
Don't like to mix work and your personal life? The phone allows you to customize and set different profiles according to your needs. You can use up to five fingerprints to create into two different profiles. Or if you are a mother, you can create one profile for yourself and another for your child.
Need for speed? When it comes down to network speed, Huawei Ascend Mate 7 is the phone to go for. Huawei's latest Octa-core smartphone with lightning-fast 4G CAT6 capabilities, 6-inch Full HD display, powerful 13-megapixel camera and massive 4100mAh battery.
Retail price: S$749.00
Available at vmall.sg
#2 Solutions for Home
Want an easier way to monitor your baby when you at work?
Now, you can control everything from your smartphone wherever you are.
Huawei has a range of devices that allow you to connect to your home appliances to your phone directly. Not sure how to do that? Just approach their staff at what are the devices you need.
What caught our eye: Mobile Wi-Fi (MiFI) device E5786
Wouldn't it be great if the whole family can enjoy ultra-fast mobile speeds at home? Huawei's mobile Wi-Fi (MiFI) device LTE CAT6 technology lets you enjoy speeds of up to 300Mpbs with a battery that lasts more than 10 hours on a single charge. Plus, it also doubles as a power bank to let you charge other mobile devices. Now that's killing two birds with one stone.
Retail price: S$399
Available at Sim Lim Square (Global It Mart Pte Ltd, Fuwell International Pte Ltd, A Genuine Technology) and Funan IT Mall (Inforcom Technology Pte Ltd, Makefine Computer(S) Pte Ltd)
Extra Tech Tips From Huawei
Looking for a router to buy for you home? Here are three things to look out for:
Wi-Fi Range – With everyone using their smartphones or tablets, there is a need for coverage at every inch of your house. Look for a router with a range that suits the size of your house to make sure every device is seamless connected.
USB Ports – Better routers let you plug in a mass-storage device such as a hard drive to allow every device on your network access to that storage. This is known as Network-attached storage (NAS).
Wireless Data Security – Make sure that the router you buy supports at least WPA2 (Wi-Fi Protected Access protocol) to prevent strangers from accessing your connection and the files stored on your computer.
#3 Solutions for Play
One band with four different functions? Stream and download your favourite TV series or movies on the go? You definitely can with these devices.
What caught our eye: Huawei TalkBand B1
Say hello to the world's first hybrid smart band. This arm candy caters to your different lifestyles. A sleep tracker, an alarm clock, a health recorder and Bluetooth device, this water and dust resistant band allows you to keep track of your active life and stay updated with all the information you need at a glance.
Retail price: S$249.00
Available at vmall.sg
What caught our eye: Huawei MediaPad X1
The new ultra-slim 7.18 mm body makes it convenient and portable to bring around. Whether you're playing, sharing, watching, or surfing the internet, this tablet provides the ultimate multimedia experience for you and your kids, because of its fast LTE connectivity, advanced quad-core chip and FHD screen. Plus you don't have to worry about charging this tablet frequently. Armed with a 5000 mAh battery inside, you also get to enjoy more hours to enjoy your MediaPad X1.
Retail price: S$599.00
Available at vmall.sg
It's not just about promoting each of their products, customers are encouraged to come down and try items.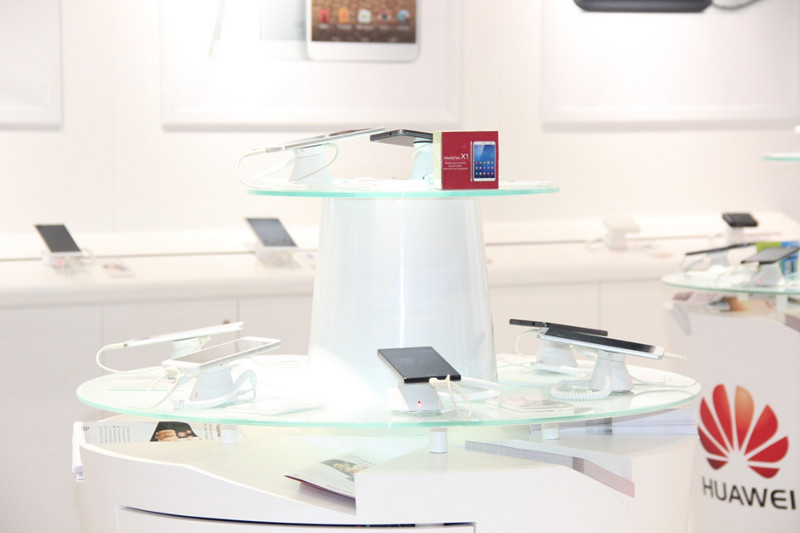 Huawei's promise to customers:
• Guaranteed replacement if repair exceeds 3 days
• 2 hour express software services
• Service Drop-Off Point
• Upgrade Pone Program
• Loan Phone Program
Visit the Huawei Flagship Store @ Plaza Singapura #03-78 to try their wide selection of products to suite your needs or visit Huawei Facebook page.
Official Huawei Online Store at www.vmall.sg
Text and photos: TNAP