Date: 25 May to 3 June
Time: 10am to 9pm daily
Venue: Marina Square Central Atrium
Admission: Free; individual workshop prices apply
In its continued efforts to promote art for all ages, Faber-Castell Singapore will be holding its second annual art exhibition from 25th May to 3rd June 2018, at the Marina Square Central Atrium. Over a period of 10 days, Faber-Castell, one of the world's leading manufacturer of high-quality writing, colouring and creative design products, will be showcasing the versatility of its product range through various art forms.
With ongoing workshops throughout the year and the annual art exhibition – the Faber-Castell team is on a mission to make art accessible to all ages – from children to teenagers, adults and the elderly. "Art is beneficial to all – for children, it enhances creativity, imagination and non-verbal communication skills. For teenagers, art is an avenue for expressing their thoughts and feelings. On the other hand, art is relaxing
for adults, and it is the perfect family bonding activity. For seniors, art keeps their mind engaged and strong," says Mr. Yandramin Halim, Managing Director at A.W. Faber-Castell (S) Pte Ltd.
Festival Highlights
– Art Exhibits and 'Live' Demonstrations
Bigger and better the second time round, there is much to see and do at the Faber- Castell Art Festival 2018. Visitors are in for a visual treat with one-of-a-kind artwork displays and live demonstrations by the line-up of 26 local and international artists. Key highlights include eye-catching sculptures made entirely from Faber-Castell pencils by artist Kerstin Schulz from Germany, and miniature sculptures of Singapore's iconic landmarks by Indonesian artist, Muhamad Taufik. Using Faber- Castell Acrylic Colours, corrugated paper and PVC boards, Muhamad Taufik has skilfully handcrafted miniatures of buildings such as the Capitol Building, The Cathay, and MICA Building. There's nothing quite like watching an artist at work – in showcasing their respective art forms and unique styles, a selection of artists will be demonstrating their craft, live, during the weekends.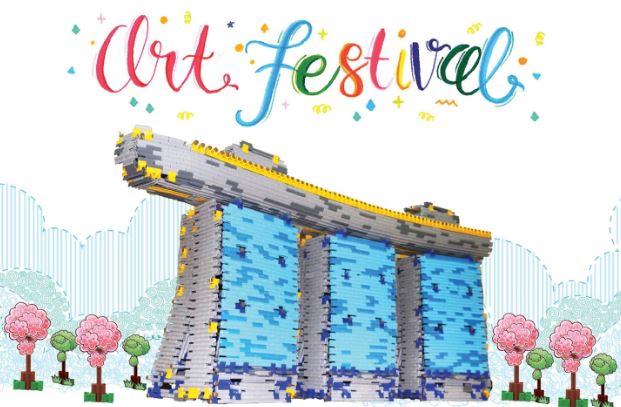 – Hands-on Classes
Those who are keen to participate in art classes to pick up a new skill or two can choose from the 33 classes conducted by 20 visual artists specialising in various art forms such as watercolouring, caricature, sketching, abstract art, doodling, lettering, calligraphy, drawing and colouring. Due to the limited number of seats available per workshop, participants would have to register online via this link




– Trick-Eye Stations, Caricature for Charity & Portrait Painting
Free-and-easy activities await the entire family. Visitors can also look forward to taking fun photos at two TrickEye Stations designed by Singaporean artist, Clarence Ho. Clarence will also be on hand to draw caricature sketches for a nominal fee, which will be donated to charity organisation, Club Rainbow. Family, couples and individuals could also have their portraits painted by artist, Ismail from Faber-Castell
Indonesia.
– New 'Colour To Life'; AR Experience by Faber Castell
Yet another festival highlight is the new Faber Castell 'Colour To Life' experience, which combines pencil colouring with an Augmented Reality (AR) based application. Watch a child's face light up in wonder as his/her personal creation comes to life. 'Colour to Life' is packed with a set of colouring book, consisting of five different characters over 15 pages, and Faber-Castell Connector Pens. After colouring the characters, the pages are scanned via a QR code into the free downloaded app. Five different games can also be played based on these characters.
– Competitions with Prizes to be Won
On-site gaming competitions based on the 'Colour to Life' characters will be held at specific hours during the weekends for kids below 12 years of age. Prizes with a total value of S$600 will be awarded to the top three scores.
In addition, families can purchase the Colour To Life' pack at the Art Festival to participate in a competition. Colour the characters, bring it to life and take a selfie with the coloured character. Three winners will be awarded prizes with a total value of S$600 for the most creative photos uploaded onto the Faber-Castell Singapore Facebook Page. The closing date for participation is on 2nd June 2018 at 23:59.
– Faber-Castell Colouring Competitions
In the month leading up to the Faber-Castell Art Festival, families can submit their colourings made with Faber-Castell products. The Parent & Child colouring competition is open for children aged 4 to 12 yeas old, with an artwork to be downloaded from the Faber-Castel Facebook Event page.
Entries are to be submitted via the user's Facebook or Instagram page showcasing the drawing and the parent and child using Faber-Castell products. Tag Faber-Castell Singapore on Facebook or Instagram and hashtag #fccolouringcompetition and #art4all in the post. Three winners will be awarded a product hamper each with a value of S$60 to S$100. Closing date for participation is on 21st May 2018 at 23:59. The winners will be selected on 22nd May 2018, with the prize presentation held on 25th May 2018 at 5pm, at the Faber-Castell Art Festival.
For details, please visit here
Want to be heard and seen by over 100,000 parents in Singapore? We can help! Leave your contact here and we'll be in touch.