Nine days of artistic adventures featuring record-breaking events, inspiring workshops and a local art exhibition
Date: 27 May to 4 June 2017
Time: 11am to 9pm daily
Venue: Marina Square Central Atrium
Admission: Free; individual workshop prices apply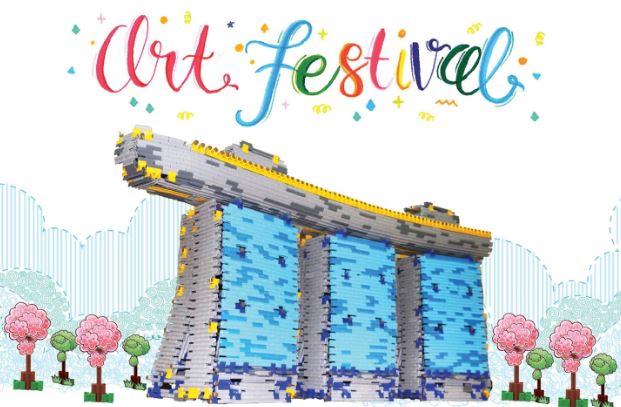 Faber-Castell, one of the world's leading manufacturers of high-quality products for writing, colouring and creative designs, is proud to present the inaugural 'Faber-Castell Art Festival' taking place from 27 May to 4 June 2017 at the Marina Square Central Atrium. Held on a grand scale in a 'castle' setting and encompassing 4758 square feet of space, the festival welcomes all to be inspired by the possibilities of art in its many facets, and even try their hand at creating a form of art – regardless of age or experience.
Over nine days that include two weekends, the public can look forward to a wide variety of activities that revolve around the brand's quality products – ranging from two Singapore record-breaking events, interactive workshops with local and overseas art makers, an art exhibition by local emerging artists and a colouring competition for families. Most of the activities will be held on the weekend.
In addition, a portion of the proceeds from the sale of artworks will be donated to Children's Cancer Foundation in Singapore. There will also be a wide selection of Faber-Castell products that range from materials for artists, hobby artists, kids, the office, technical drawings and even writing implements on sale, to complement the store on level 2 of Marina Square. For more information, the public can refer to https://www.facebook.com/FaberCastell.Sg/
Founded in Germany in 1761, this industry stalwart has been the top-of-mind choice for many consumers in Singapore since its establishment here in 2000. Elaborates Mr Yandramin Halim, Managing Director of Faber-Castell Singapore: "In our 17 years here, we are heartened to have garnered loyal fans who have made a heritage brand such as Faber-Castell a part of their creative journeys; and look forward to engaging the public during our very first festival."




Something for everyone – from beginners to enthusiasts
'Singapore Book of Records' milestones
Biggest Mosaic by Colour Markers
The festival will open with a proud moment as Faber-Castell will aim for the 'Biggest Mosaic by Colour Markers' accolade with a gorgeous installation depicting the Singapore skyline that spans 5 metres in length, 1.5 metres in width and 85 cm in height. To be constructed by hand over two days by a Faber-Castell artist, this multi-coloured structure will be made entirely with an estimated number of 25,000 Faber-Castell Connector Pens. Requiring approximately two months of planning, this feat will mark the brand's first entry into the Singapore Book of Records. The award ceremony is scheduled to take place on 27 May, Saturday at 11am.
Longest Banner of Human Figurine Sketches
Faber-Castell will aim to complete another feat by the end of the festival that will feature a 10-metre long canvas of sketches made with the brand's iconic Castell 9000 pencils. The sketching will begin on 27 May, Saturday at 12.30pm.
Creative workshops by local and overseas artists
Encompassing a wide range of genres from brush lettering, watercolour painting, fashion illustration to botanical illustration, the workshops are a wonderland of discovery. They are led by passionate art makers who encourage all to release their inhibitions through creating and let the process guide one through the moment. Faber-Castell products will be used in all workshops and beginners are welcome.
Creative Drawing with Peter Draw, Singapore
3 June, Saturday, 11am to 12pm, free
Peter Draw, born Peter Zhuo Ying Wei, is a Singaporean artist who uses his first love – drawing – to remind the world to "First, Love" (begin with love). He is also a four-time Guinness World Record holder – Largest Caricature (2007), Largest Art Lesson (2010), Longest Drawing (2014) and Longest Drawing by Individual (2014). He will be using Connector Pens for this workshop.
www.peterdraw.com | @peterdraw
Art Experiences with The Lettering Workbook, Singapore
Taught by Kai Yun, these fun and breezy workshops encompass a variety of styles and media. Brush Lettering and Watercolor workshops are priced at $85 each, with a special price of $150 if participants sign up for both. Sticker making is priced at $50 per person.
@theletteringworkbook
Fashion Illustration with Clayrene, Singapore
28 May, Sunday, 1pm to 3pm, $130 per person
Chan Clayrene is a Singapore-based fashion artist and illustrator. Also the founder of Artclaytion, she is best known for illustrating her works with nail polish. With a background in fine arts, Clayrene's works are delicately artistic and have made waves in the art circuit with features on designtaxi.com; and mymodernmet.com to name a few. She has also collaborated with renowned brands such as Christian Louboutin, Carolina Herrera, Longchamp, Harper's Bazaar, Diane von Furstenberg and Clinique. In this exclusive session, she will be using Faber-Castell's watercolour pencils and nail polish.
www.artclaytion.com | @artclaytion




Colour Pencil Illustration with Tiffany Yao, Singapore
28 May, Sunday, 11am to 1pm, $30 per person
Artist, designer and illustrator Tiffany gained attention with her last solo art show – 行Yao – held at Detention Barracks in February 2017, where her coloured pencil drawings of Singapore, Hong Kong and Swatow showcased a mix of contemporary and tradition; realism and surrealism. For this workshop, she will be working around the subject of 'Cupcake Fantasy', allowing participants to learn basic drawing and colouring skills, while letting their creativity go wild as they decorate the pastry of their dreams.
www.facebook.com/tiffyyao.art | @tiffanyyaoqi
Art Experiences with Neh Oh Mee, Singapore
Participants will explore the art of brush calligraphy and discover how therapeutic the writing of 'abc' can be!
3 June, Saturday
Brush Calligraphy
4.30pm to 7.30pm, $100 per person
The class includes three hours of hands-on practice and is prefect for beginners. Participants will be armed with the basic techniques, and thereafter a brush pen and one's imagination is all that is needed.
Let's Foil!
8pm to 9pm, $70 per person
The visual appeal of foiling and understated beauty of watercolours will be the focus of this workshop. Each participant will take home at least four foiled and watercoloured pieces as well as inspiration for future gifting or personal scrapbooking.
www.nehohmee.com | @nehohmee
Creative Classes with Abbey Sy, Philippines
An artist, designer and author based in the Philippines, Abbey also manages her own brand Abbey Sy as freelance artist and designer, workshop instructor and creative entrepreneur.
Passionate about both art and travel, she is best known for her hand-lettering work and travel illustrations. She has written books on lettering and journaling, and continues to explore ways to make art and share stories through her own eyes. Working as a full-time creative entrepreneur, Abbey manages freelance work, writes and illustrates books, conducts art classes and produces her own merchandise —all this while discovering herself on #theroadtoabc. In turn, she hopes to inspire others to chase their dreams, to make things happen, and to Always Be Creating.
www.artistic-dreams.com | @abbeysy
3 June, Saturday
Watercolour Lettering
1pm to 4pm, $120 per person
4 June, Sunday
Creative Journaling
1pm to 4pm, $120 per person
Floral & Foliage Illustration & Mixed Media Workshop with Lucinda Law, Brand Ambassador of Faber-Castell, Singapore
4 June, Sunday, 10.30am to 12.30pm, $85 per person
Partake in the wonder of nature on the canvas, as Lucinda introduces the beauty of watercolours in this flora and foliage-inspired session. A watercolour artist and teacher who has had more than 13 years of experience, she has also accomplished commissioned works and designed bespoke natureled creative workshops for clients such as Chanel, Bentley, Ministry of Foreign Affairs, Harper's Bazaar Singapore and India, Kate Spade, Melissa, Uniqlo and Clinique. In 2017, she became the first artist in Singapore to be appointed as the Faber-Castell Singapore Art & Graphic Ambassador.
www.lucindalaw.co | @lucinda.law
Free activities
Family Bonding Art Competition with Hans Art
27 May, Saturday 1.30pm and 3 June, Saturday 11.30am
Open to families and free to enter (with any purchase of colouring materials), contestants with the use of Faber-Castell products will engage in a friendly competition to create a unique masterpiece in a bid to win attractive prizes. It is the perfect opportunity for bonding over a hands-on activity.
Participants who pre-register at workshops@faber-castell.com.sg will receive extra perks.
Badge Making with Puffingmuffin
27 May, Saturday, 12pm-3pm, free with purchase of any Faber-Castell products
Candice Phang, better known as Puffingmuffin, is an illustrator and character designer based in Singapore. She expresses through her work, which is characterised by cheerful characters clad in pop colours and textures from various media, both digital and traditional. For this session, participants will have the opportunity take home a badge of her work, or design their own badge.
www.puffingmuffin.com | @puffingmuffin
From 28 May to 4 June, the public can design their own badge with any purchase of $30 and above in a single receipt.
Creative Mind Mapping by Mr Thum Cheng Cheong
28 May, Sunday, 11am to 1pm
Using the brand's versatile PITT Artist Pens, the public will be treated to a demonstration of how to represent ideas and concepts in a 'mind map'. Mr Thum is currently teaching at the Singapore Institute of Management and has conducted Mind Mapping and Visual Thinking workshops for a diverse group of professionals in Singapore and overseas.
Art Exhibition
24 works by local artists such as Aaron Gan, Artclaytion, Limzy, Joseph Ng, Julie Zhu, Lucinda Law, KY Huang, Tee Bee Tin, and Tiffany Yao will also be exhibited throughout the festival. 5-100% of the proceeds from the sale of artworks will be donated to Children's Cancer Foundation in Singapore.
Visit Faber-Castell Singapore's Facebook page