Reckitt Benckiser, the global leader in health and hygiene, and Shopee, the leading e-commerce platform in Southeast Asia and Taiwan, join hands to provide easy access to popular hygiene products.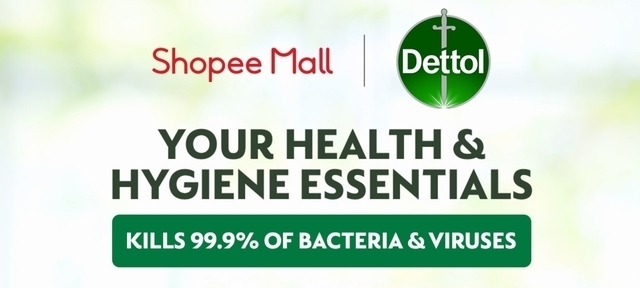 With the ongoing circuit breaker measures in Singapore, it is important to have seamless access to home cleaning and hygiene products to maintain high standards of personal hygiene and clean home environments.
⇒ Related Read: Get Your Groceries on Shopee This Stay Home Season! #COVID19
Zhou Junjie, Chief Commercial Officer, Shopee, said, "With a greater emphasis on health and hygiene during this period, consumer demand for personal hygiene and household cleaning products have seen a sharp increase. At Shopee, we are committed to ensuring all our users have access to an ample supply of these essential items.
We have chosen to partner with Reckitt Benckiser, a global leader in health and hygiene, to make essential items easily accessible via our platform. The well-being of our users remains our top priority. This partnership reaffirms our continued effort in ensuring consumer demand for important and essential items are met amidst this unprecedented situation."
In partnership with Reckitt Benckiser, Shopee will be launching the Dettol Super Brand Day on 16 April. As part of this Super Brand Day, Shopee users can ensure that their loved ones and themselves remain protected. Users can look forward to Dettol's new range of Japanese-inspired Onzen Body Wash, as well as a new supply of antiseptic liquids, handwashes and sanitisers.
In light of significant global media attention on the spread of coronavirus, Reckitt Benckiser has launched the Mythbuster website featuring a compilation of the latest COVID-19 updates and facts from trusted expert sources. As part of the partnership, Shopee will share content from this website with users via Shopee Feed, ensuring they remain well informed and safe.
Benny Zhu, Country Manager, RB Health Singapore, said "As a global leader in health and hygiene, we are committed to being part of the solution. Many of our products play an important role to help prevent the spread of COVID-19, particularly those that are used daily for cleaning and sanitising homes.
We have a responsibility to help make hygiene products more readily available for the masses as well as to use our expertise to teach people on how to maintain a high standard of hygiene. Our partnership with Shopee, the leading e-commerce platform, allows us to tap into their extensive user base and reach a wide audience."
All Dettol Products can be found via the Dettol Official Store on Shopee Mall. Products on Shopee Mall come with 15-days free returns, 100% authenticity, and free shipping. Shop for all your health and hygiene essentials now at: here.
Find out more about the Dettol Super Brand Day at: shopee.sg/m/dettol-sbd-2020
* * * * *
Stay in touch! Subscribe to our Telegram here for all our latest updates.
Like what you see here? Get parenting tips and stories straight to your inbox! Join our mailing list here.