Directed by: Brenda Chapman
Starring: David Oyelowo, Angelina Jolie, Reece Yates, Anna Chancellor, Michael Caine
Genre: Adventure, Drama, Fantasy
Rating: PG
Runtime: 94 minutes
Language: English Language
Chinese Title: 爱丽丝与梦幻岛
Come Away Opens in Cinemas on 7 Jan 2021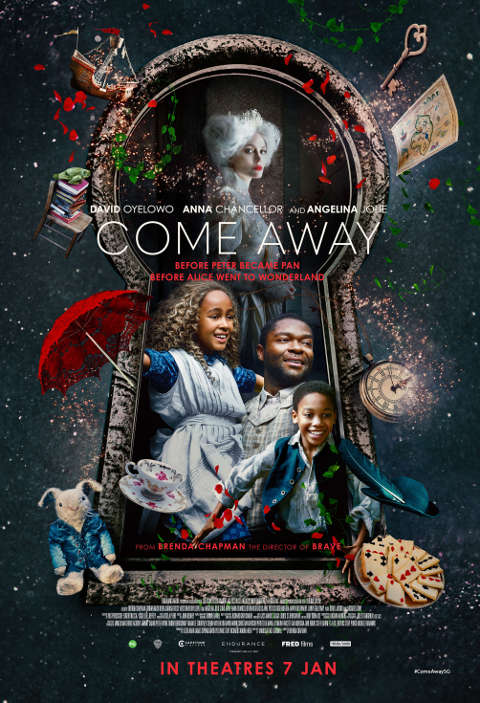 Before Peter became Pan and Alice visited Wonderland, they were siblings (Jordan Nash and Keira Chansa) living in an idyllic country home with their parents (David Oyelowo and Angelina Jolie) and their older brother, David (Reece Yates). In this magical place, they are free to play and let their imaginations run wild as they romp around the nearby forest. However, change is in the air as their priggish aunt, Eleanor (Anna Chancellor), who is extremely critical of how the children are being raised, has arranged for David to attend a prestigious boarding school.
As the family strives to accept David's imminent departure, a deadly accident shatters their wondrous lives. With their family falling apart both emotionally and financially, Alice and Peter decide to find a solution. They travel to London to sell a family heirloom and soon find themselves in a dark, mysterious, and dangerous underworld that propels them on an adventure that will change the course of their lives.
Featuring terrific performances and storytelling, Come Away is a delightful origin story for two of the most beloved characters in literature.
---
Come Away Movie Complimentary Passes Giveaway. 3 sets of 4 complimentary passes to be won.
To take part in the giveaway, follow the steps below:
1. Like and Follow us on Facebook and Follow us on Telegram.
2. Fill in the form below:
The giveaway has ended.
3. Like and Share on this Facebook post (Set to Public). Readers with 'Top Fan' badge get an additional chance.
Giveaway ends on 5 January 2021.
Important notes:
Winners will be notified via phone / email.
Winners will have to self-collect the complimentry passes from 7 January 2021 at New Age Consulting office Tradehub 21.
Proof of identity will be required during prize collection.
Winners can begin using complimentary passes for Come Away from 14 January 2021.
Terms and conditions apply. Please also read our Privacy Policy.
For more contests and giveaways, go to The New Age Parents Contest Page.
---
It's the weekend and are you looking for things / activities to do? Check out our weekly roundup of Things To Do This Weekend In Singapore.
* * * * *
Stay in touch! Subscribe to our Telegram here for our latest updates.
Like what you see here? Get parenting tips and stories straight to your inbox! Join our mailing list here.