When the pandemic struck close to two years ago, many Singaporeans struggled to adjust to the new normal of working from home. Parents of young children had even more to get used to – they had to juggle working from home with kids.
It's a tough job, having to manage Zoom meetings, be on the lookout if your child is safe, keep your child entertained, soothe the baby when he or she is crying… the list is endless.
We've heard of one too many parents who are searching high and low for ways to work conveniently, safely, and comfortably with a baby or toddler at home. If that sounds familiar to you, we've got just the tool for you – COMBI parenting stations.
With a full understanding that parents love (and need) multi-functional products, COMBI developed popular parenting stations that do more. Before you write this off as just another baby high chair, we're here to tell you that unlike conventional parenting stations out there, COMBI parenting stations are more than meets the eye. Here's why!

COMBI parenting stations: Baby will always be around
No matter how safe or secure a high chair or parenting station is, your baby should never be left unattended or unsupervised. That is why all COMBI parenting stations are equipped with four swivel automatic rubber wheels for convenient mobility.
That's right, whether you buy the COMBI Joy, COMBI Dreamy, COMBI Fealetto, or COMBI BEDi Long, you will easily be able to maneuver your baby around your home. Say goodbye to aching arms from carrying your baby around all day.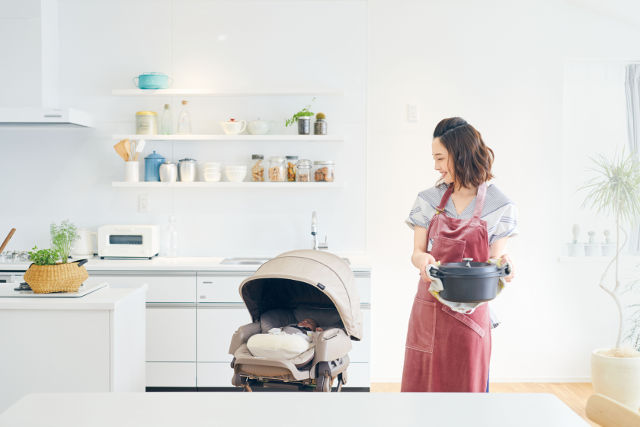 Place your child at your workstation while you're working hard, in the kitchen while you're meal-prepping, or in the restroom while you're doing laundry. Your baby is never far from your sight.
The wheels can also be locked to keep the parenting station securely in place, which is a major safety benefit. Did we mention that these wheels are built to be silent? Save yourself the embarrassment of having to explain the sounds of squeaky wheels during your daily Zoom meetings.

COMBI parenting stations: Soothe baby to sleep
Parents who have little ones who have trouble falling asleep have probably bought various baby rockers or baby bouncers in a bid to help soothe the baby to sleep. Instead of creating more clutter at home or turning your living room into a baby product showroom, COMBI parenting stations can help!
COMBI parenting stations feature comfortable cushions that are soft to touch and made to cradle your baby in the most relaxed and cosy position. If that's not enough, COMBI parenting stations double as a baby rocker to help soothe your baby to sleep. In fact, the stations are clinically designed to do just that!
Simply switch the parenting station into its day bed and swing bed mode to turn it into a rocker. Then, you can watch your baby fall comfortably asleep. The swing mode is developed to move in a gentle swinging motion that imitates a loving mother's heartbeat so that baby can fall asleep quickly in the rocker.
If the baby is still unable to fall asleep in the rocker, it's time for some lullabies! Don't worry, there isn't a need for you to scramble through YouTube to find a suitable playlist. COMBI Fealetto parenting station is not just a rocker – it comes packed with 7 lullabies in 4 volumes for you to comfort baby to sleep in the rocker.
COMBI Joy and COMBI Dreamy are suitable for babies 0 to 6 months old. If you'd love for a baby rocker or bouncer that can accommodate a baby beyond 6 months, COMBI BEDi Long is that way to go. This parenting station features an adjustable footrest that you can pull out to accommodate your baby's growth. What that means is you get a rocker that lasts for a longer time!

COMBI parenting stations: Grow along with baby
Typically, baby high chairs, baby bouncers, and baby rockers are designed to last only for a year or two, depending on how fast your little one grows. Here's where COMBI is different. As mentioned, the COMBI BEDi Long's adjustable footrest can accommodate your baby's growth. But that's not all: All COMBI parenting stations are designed to grow along with your baby!
With 5 adjustable seat heights, the parenting stations can "grow" along with your baby from birth to 4 years old. That also means your older (and taller) child does not have to be jealous of his or her younger sibling's comfortable station – COMBI's parenting station can accommodate a taller child!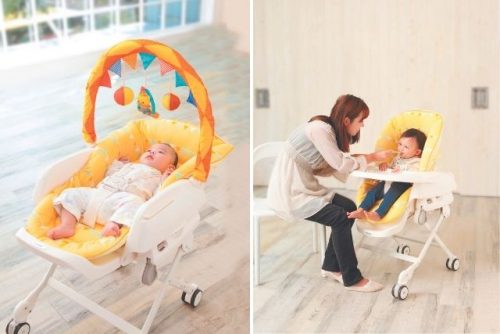 Seat height isn't the only thing that can be adjustable. COMBI parenting stations come with 5 adjustable backrest angles. Additionally, COMBI Joy, COMBI Dreamy, and COMBI Fealetto each come with a food/activities tray that can be adjustable on 3 levels.
With COMBI, you never have to worry about products with short "expiry dates". These parenting stations grow with your baby through the years. If you're planning to have another baby in the future, these parenting stations are great investments for you and your family.

COMBI parenting stations: Acts as a diaper change station
Oops! Did baby poop? Normally, you'd hurry to take your baby out of a high chair and into the washroom or a diaper changing station. But let's face it. We've all been there. When toddlers decide to express their independence during diaper changes, anything may happen: wriggling, kicking, crying.
Diaper changing is often a nightmare for many parents. Not with COMBI parenting stations. Just adjust the height and watch it transform into a convenient diaper change table. And when you're done, just adjust the angle and height back to what it was!
Should any accidents cause any mess while changing your baby's diapers, you'd be glad to know that COMBI parenting stations are fitted with machine-washable and waterproof fabric that's easy to clean and dry.

COMBI parenting stations: Still functions as a high chair
We've covered that the multi-functional COMBI parenting station is at once a day bed, a diaper change table, and a baby rocker or swing bed that can grow with your baby. Beyond these fancy features, however, the COMBI parenting station still functions remarkably as a high chair.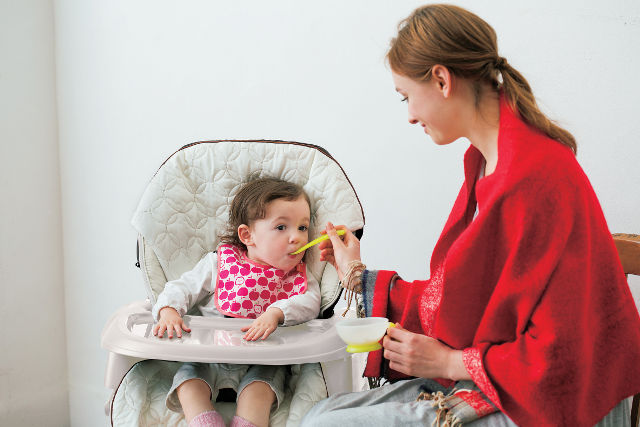 When your baby is ready and can sit up to eat, you should consider adding a high chair to your kitchen set-up. However, more often than not, getting a toddler to sit comfortably (and willingly) in a high chair is a chore and a whole workout.
With COMBI at home, your child would have been accustomed to the parenting station since they were a newborn. From diaper changes to naptimes, your baby will be familiar with the comfortable baby station.
When it is eventually time to transition your baby to be placed in the high chair for feeding, it will be easier for him or her to associate the high chair with meal times. Think about all the time you'll save and all the fuss that you could avoid!

BONUS: Baby gets beauty sleep at any time of day
We already mentioned that COMBI parenting stations can help to soothe your baby to sleep. But what if we tell you that your baby can get quality sleep even when the sun is up bright and shining?
The COMBI BEDi Long comes with a unique sleep shell that blocks out any glare which makes your little one struggle to fall asleep. By blocking out 99.9% of UVA and UVB, the cover creates a dim and comfortable environment for your baby. The shell even comes with 380 air holes for greater ventilation.
Couple this with its adjustable footrest and little baby is in for a quality naptime that will make all of us green with envy.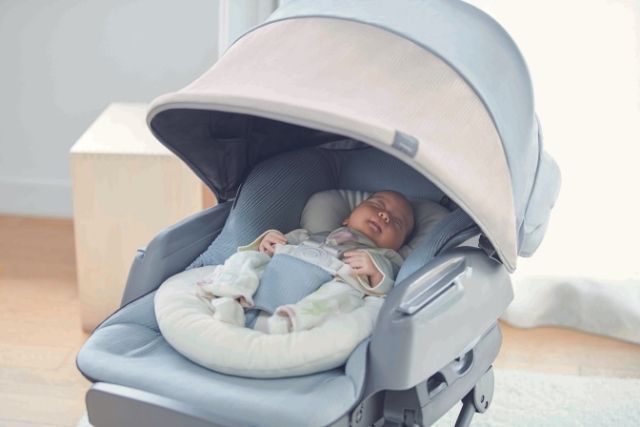 COMBI parenting stations: Not just a high chair
Let's cut to the chase: if a high chair is what you're looking for, why not get one that could transform into something else depending on your baby's growth and needs?
As a truly multi-functional product, COMBI parenting stations can work in multiple ways. A single parenting station is at once a high chair, day bed, a diaper change table, a baby rocker, and a swing bed. Talk about wearing many hats.
In a world that's always changing, COMBI parenting stations adapt to your baby's changing needs as they grow. So, if anyone tells you that COMBI parenting stations are just another high chair, share this article with them to tell them why they're wrong!
Where to find Combi high chair: Online at Lazada or Shopee.
For more information on Combi products, visit Combi Singapore Facebook or combi.com.sg.
Founded in 1957, Combi has been manufacturing baby products for over 60 years. Combi's mission is to be your helping hands, assisting parents in bringing up their babies by developing and providing quality products and services.
This post is brought to you by Combi Singapore.
By Joanne Heng.
* * * * *
Like what you see here? Get parenting tips and stories straight to your inbox! Join our mailing list here.
Want to be heard 👂 and seen 👀 by over 100,000 parents in Singapore? We can help! Leave your contact here and we'll be in touch.