Winter Solstice
A meaningful and educational reunion event awaits at Chinatown Food Street!
Located on Smith Street in the heart of Chinatown, Chinatown Food Street is celebrating Winter Solstice 2015 "Dong Zhi" in a meaningful way this year. In collaboration with Chinatown Business Association, fun-filled activities for the whole family awaits over the weekend before Winter Solstice which falls on 22 December.
On 19 & 20 December 2015, Chinatown Food Street will offer an array of "Dong Zhi" related activities and offerings to revisit the importance of this Chinese festival.
Tang Yuan Bar
Singapore's 1st Tang Yuan bar is specially presented at Chinatown Food Street.
For the unique dining experience, diners can have the opportunity to create-their-own Tang Yuan bowl. A single or family-sized Tang Yuan bowl will start with moichi-textured tang yuan and allows diners to build it to their liking with 14 toppings to pick from.
Pricing:
Single serving bowl – $4
Family serving bowl – $10
Signature Tang Yuan plate – $4 (Chinatown Food Street's very own concoction comes with eight peanut-coated tang yuan topped with peach slices, Atap seeds, red beans and longan drizzled with thick Gula Melaka sauce.)
Limited Winter Solstice Family Set Meal which comes with 10-head Abalone Chicken & Chinese Sausage Claypot Rice. Served with one mini bowl of plain tang yuan.
U.P $18 . Public : $10.
*New Age Parents' Facebook fans can purchase our Limited Winter Solstice Family Set Meal at $9 when they flash their mobile with our Winter Solstice Event poster (see picture below).
Winter Solstice Reunion
Enjoy a specially-created Family Dining set meal featuring 10-head Abalone, Chicken and Chinese Sausage Claypot Rice at only $10 (U.P. $18). To sweeten the "Dong Zhi" reunion, every claypot rice purchase will be served with a bowl of mini tang yuan.
To commemorate the Winter Solstice celebration, diners will also be entitled to a free instant photo print out at Chinatown Food Street's specially-designed nostalgic photo booth. The photo souvenir would be a great to remember the fun-filled day spent at Chinatown Food Street during this heritage occasion.
Last but not least, there will be entertainment by our engaging emcee, Tang Yuan making workshop and a host of other activities for the whole family to enjoy. Coupled with the street hawker stalls, shophouse restaurants and adhoc street kiosks, complete with the al-fresco dining style along the street, be sure to make a visit Chinatown Food Street on 19 & 20 December.
About Chinatown Food Street
The refreshed Chinatown Food Street (CFS), designed and managed by Select Group, celebrates the assembly of specialty dishes from main Chinese dialects and the different races in Singapore, all under one roof. Located on Smith Street in the heart of Chinatown, the revitalised CFS seeks to create the most authentic Singapore dining experience for locals and tourists alike. From a tantalising plate of Char Kway Teow, to sticks of mouthwatering Satays, CFS offers a diverse spread of local delights, with iconic food from local cultures all represented on one street.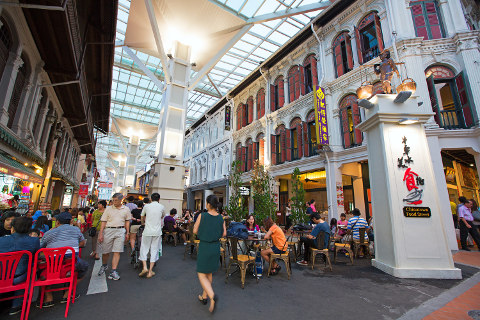 Newly constructed high-ceiling glass canopy shelter and internal spot cooling system allow diners to indulge in culinary pleasures regardless of rain or shine. Now fully pedestrianised, visitors can dine in comfort along Smith Street from day to night. Chinatown Food Street is available for adhoc collaborations, be it for celebration of various Chinese festivals or any other private functions.
If you find this article useful, do click Like and Share at the bottom of the post, thank you.