With an integrated curriculum and varied learning approach based on the integrated Multiple Intelligences (MI) approach by Howard Gardner, learning is multifaceted and never a chore at Carpe Diem Starlets Sparkle.
Discover the Multiple Intelligences Approach in our upcoming Open House!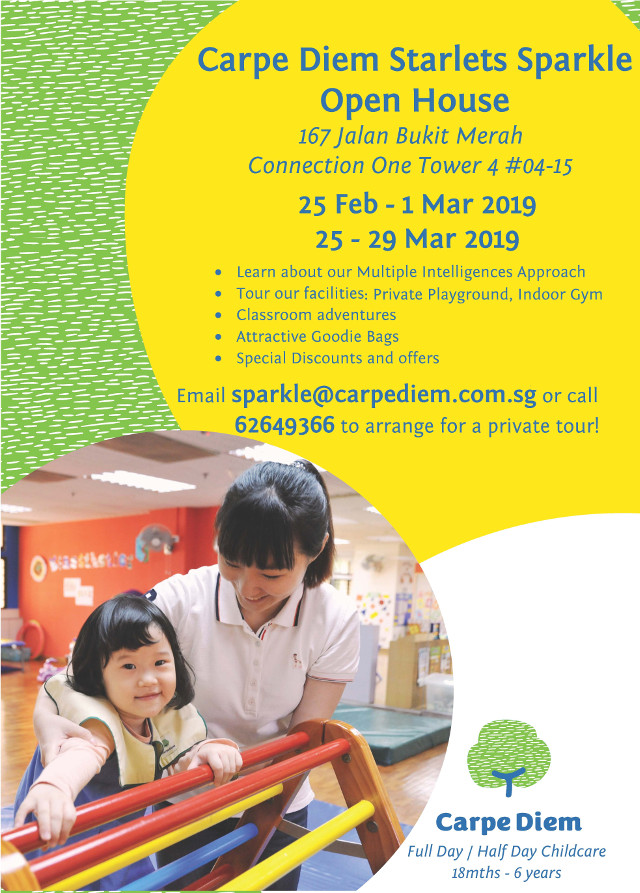 Date: 25 Feb – 1 March | 25 to 29 March 2019
Time: 9am – 5pm
Venue: 167 Jalan Bukit Merah, Connection One Tower 4 #04-15
Tour our facilities: Private Playground, Indoor Gym
Classroom adventures
Attractive Goodie Bags
Special Discounts and offers
Carpe Diem Starlets Sparkle offers Full Day / Half Day Childcare from 18 months – 6 years.
For more information and registration, email sparkle@carpediem.com.sg or call 62649366 to arrange for a private tour!
Like what you see here? Get parenting tips and stories straight to your inbox! Join our mailing list here.