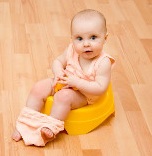 Far from just being useless waste your baby expels; your baby's urine may provide vital insight into his or her health. By knowing the normal and abnormal appearances of these substances, you can better monitor your baby's well being and seek medical attention appropriately.
URINE
Urine varies in appearance according to the child's state of hydration, food or drugs eaten and presence of disease. Normal urine is a transparent liquid ranging from colorless to yellow, but is usually a pale yellow.
Colour
Colourless to pale yellow

Normal, adequate hydration
Dark yellow
Dehydration

Pink

Haematuria (blood in urine) from several medical conditions, especially that of the kidneys.
Myoglobinuria from breakdown of muscle tissue in viral infections, muscle injury or rare muscle diseases.
Haemoglobinuria from breakdown of red blood cells in the body (e.g. in G6PD-deficient individuals exposed to certain drugs or food).
Foods such as blackberries, beets and artificial colouring.
Medications such as phenytoin (for treating epilepsy), rifampicin (for treating tuberculosis) and nitrofurantoin (an antibiotic).
Orange to brown
Jaundice (from liver disease), myoglobinuria (see above), medications like rifampicin (see above) or porphyria.

Brown to black

Haematuria (see above), severe jaundice, medications like metronidazole (an antibiotic) or in the condition alkaptonuria.

Green

Consumption of asparagus, food colouring or in certain urinary tract infections (Pseudomonas aeruginosa).

Blue

Consumption of methylene blue, rare diseases of tryptophan absorption or familial hypercalcaemia.
Odour
Eating food like asparagus, saffron, tuna and onion may impart, in normal urine, an odour reminiscent of the food.
Turbidity
Turbid or cloudy urine would commonly indicate a urinary tract infection, but may also be caused by crystallization of salts such as calcium phosphate.
Volume
Average daily urine production in children is around 24ml per kilogram bodyweight. For example, a 10kg child should pass around 240ml of urine a day.  This is dependent on the child's state of hydration, activity level, environmental factors and health.  Over-production (>120ml per kilogram bodyweight per day) or under-production (<12ml per kilogram bodyweight per day) may indicate serious illness.
With a better understanding of what is normal and abnormal in your baby's urine, you can be more confident in caring for your precious one. If you detect any abnormalities as described above, a paediatrician should be consulted promptly so that a thorough evaluation can be made and appropriate treatment is given.
By Dr Eugene Han, Paediatrician, SBCC Baby & Child Clinic
Dr Han obtained his medical degree from the National University of Singapore.  He is a member of the Royal College of Paediatrics and Child Health (UK) and an accredited Paediatric Medicine Specialist by the Singapore Medical Council. He was formerly a Paediatrician at NUH and a Clinical Tutor at the Yong Loo Lin School of Medicine, NUS.
Practice Address
SBCC Baby & Child Clinic
Blk 726 Ang Mo Kio Ave 6
#01-4154
Singapore 560726
Tel: 6456 8874
Email: info@sbcc.sg
This article was first published in The New Age Parents e-magazine.
* * * * *
Like what you see here? Get parenting tips and stories straight to your inbox! Join our mailing list here.
Want to be heard 👂 and seen 👀 by over 100,000 parents in Singapore? We can help! Leave your contact here and we'll be in touch.