As busy parents balancing both work and family, many of us don't have time to properly care for our hair and scalp.
This can result in issues such as dandruff, a dry scalp and even an itchy scalp with inflammation. Circumstances like a demanding work schedule, stress from raising kids, poor nutrition or even genetics can also result in hair loss, in turn affecting our body image and self-esteem.
If you can relate to any of the above, it's time to give your hair and scalp some tender loving care! I visited TK TrichoKare, a multi-award-winning hair and scalp treatment centre, to find out more about their treatment options.
With over 19 years of experience in providing targeted hair solutions, the treatment centre combines cutting-edge technology with carefully formulated treatments and products, made with premium-grade European herbs. Upon consultation, treatments at Trichokare are customisable to one's hair and scalp condition.
Personally, my scalp tends to be oily and flaky at times, with dry hair, especially at the ends. I do observe my hair falling more than usual during periods of stress too. During these periods, I would often see chunks of hair pooled together at the drainage area in my toilet after showers – it was definitely a distressing sight. I was really looking forward to visiting TrichoKare and seeing how their solutions could help tackle my specific problems.
The treatment process at TrichoKare
Upon arriving at TrichoKare, the registration process first involved filling out a form where I shared about my life stage, hair concerns, past allergies, and daily hair care regimen.
Step 1: Hair and scalp analysis
After which, a TrichoKare consultant did a hair and scalp analysis to determine the treatment I required. The Tricho-Scan, a lens that magnifies up to 200 times on the scalp, was used to analyse my scalp condition and snap super magnified photos of my scalp.
After the scan, it was revealed that my scalp was really oily, and had numerous clogged pores as gleaned from the top two photos. The bottom right photo also revealed larger patches of flaky skin on my scalp, likely caused by excess cells clumping and falling off from my oily scalp.
As such, I was recommended to do the Scalp Purifying Therapy to alleviate my scalp issues.
Step 2: Customised premium European Herbal Scalp Masque
I was then ushered to the treatment room, with large, very comfortable chairs in a classy, modern design. A cup of warm Rose tea was also given to me, along with a towel and a small packet of healthy nuts rich in Vitamin E (with antioxidants that are great for hair and scalp!)
Here, my friendly Trichologist proceeded to apply a customised herbal scalp masque throughout my scalp. The masque helps to detox the scalp, removing impurities and excess sebum.
Step 3: Nourishing Hair Bath
After about 18 minutes of letting my scalp fully soak up the nutrients from the masque, I was led to the hair wash area. Here, my hair was shampoo-ed and conditioned to restore its sebum balance and keep it refreshed. I also enjoyed a relaxing head massage thereafter.
Step 4: Customised Ampoule (MaxiKare Ampoule)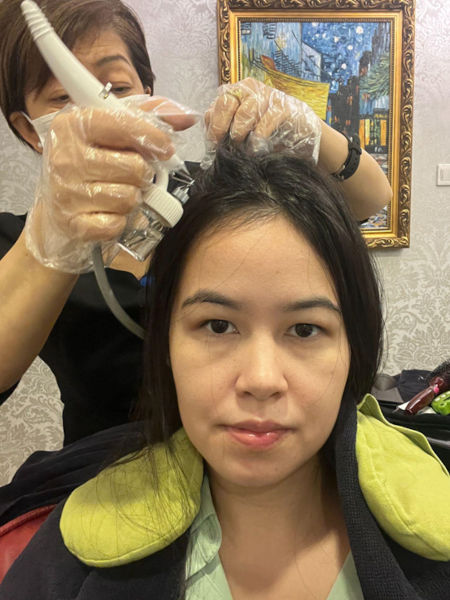 I was then led back to the treatment area, where I was given heated shoulder pads for added comfort, as well as a complimentary shoulder massage.
My trichologist then blew dry my hair and applied a customised ampoule called MaxiKare. The ampoule helps to increase hair growth and thickness, reduce inflammation on the scalp as well as alleviate scalp damage from the environment. It was sprayed onto my scalp using their Oxyjet, and this made sure that the essence penetrated my pores well to sufficiently hydrate my scalp.
Here's an extra treat for us! When I told my trichologist how my ends tended to get dry too, she added in a leave-in moisturising lotion to ensure my hair remained soft and smooth, and did some light styling to give me pretty curls at the end. I loved how my hair looked afterward!
Step 5: Photodynamic Therapy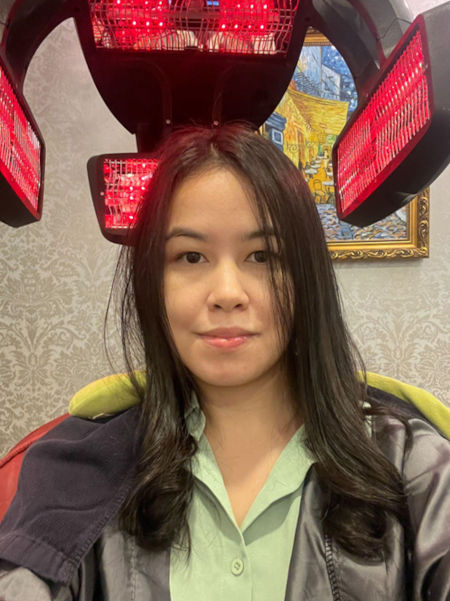 After the Ampoule application, the Photodynamic Therapy was the final touch of the treatment. The laser light technology supports hair regeneration and helps accelerate healing.
Post-treatment analysis
Post-treatment, another hair and scalp scan was done. Four photos of my scalp were taken for comparison. As you can see from all 4 photos, my scalp appeared much healthier than before, with less oil clogs. Gone were the clogged pores and thick dry flakes seen from the previous scalp scan photo as well!
I was thoroughly impressed by how much my scalp condition improved after the two hour process. I also loved how meticulous and gentle my trichologist was with my hair and scalp during the whole process – she definitely made me feel cared for and pampered! This treatment is definitely recommended for anyone facing hair and scalp issues.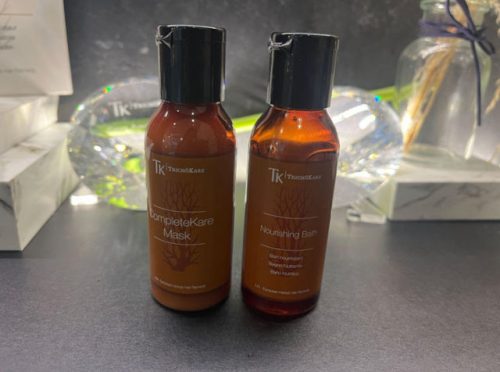 Nourishing Hair Bath and CompleteKare Mask (take home gifts)
MaxiKare Ampoule (applied during treatment)
I was also given free gifts like a MaxiKare Ampoule (applied during treatment), Nourishing Hair Bath (shampoo) and CompleteKare Mask (conditioner) – the joy of being able to continue my hair and scalp maintenance conveniently at home!
Keen to address your hair and scalp concerns? Try out TK TrichoKare's award-winning Scalp Purifying Therapy at $40 nett. It comes with a FREE MaxiKare Ampoule (applied during treatment), as well as a Nourishing Hair Bath and CompleteKare Mask.
Sign up now at this link or WhatsApp 9150 8891 and quote <TNAP> – our exclusive promotion code! – to enjoy this time-limited offer. Promotion is applicable from now till 7 May 2023!
TK TrichoKare outlets islandwide
Clementi Mall #05-11
NEX #02-24
Ngee Ann City #05-22A
Velocity@Novena Square #03-19
Jurong Point#B1-62
This post is brought to you by TK TrichoKare.
By Rebecca Wong.
* * * * *
Like what you see here? Get parenting tips and stories straight to your inbox! Join our mailing list here.
Want to be heard 👂 and seen 👀 by over 100,000 parents in Singapore? We can help! Leave your contact here and we'll be in touch.