Dear parents, we are soooo excited to launch our MEGA GIVEAWAY 2022!
We would like to thank the following sponsors for their kind sponsorship of the attractive prizes for The New Age Parents Mega Giveaway 2022.
Find out how to take part in the contest at the end of this post.
*******************************
Allswell Asian Beverages
Produced in Yilan, Taiwan, homegrown brand Allswell Asian Beverages takes pride in its proprietary "double-boiling" manufacturing process. They focus on extracting and retaining the maximum natural goodness and flavours of the fruit so you can enjoy all the benefits of the fruit while the taste is not compromised. Allswell contains no artificial flavourings, colouring or preservatives so you can rest assured that you are giving the best to your family.
Now till 21 May 2022, enjoy $3 off with minimum purchase of $10 on any Allswell Products via shopee.sg/allswellsg by using ALLSTNAP Shopee Voucher Code.
*******************************
HoneyDay.SG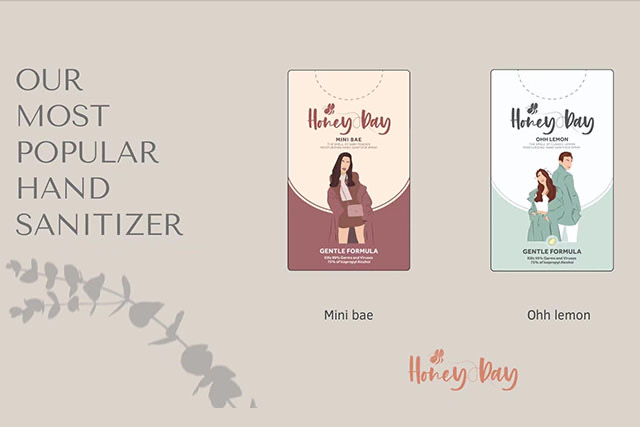 Singapore first compact size Hand Sanitizer Spray from @honeyday.sg!
Comes in 2 scents #Minibae (Baby Powder) & #OHHLemon (Lemon)
Kills 99% Germs and Virus
Non Sticky
Kids & Pets Friendly
Spray up to 300 times
Contains natural Aloe Vera that helps in moisturising your skin
Fits perfectly into a hand clutch for Women while for Men it fits perfectly into their pocket! Perfect for gifts or even own use!
Promo Code: Freehoney
Now till 21 May 2022, enjoy free courier with a minimum purchase of 3pcs and above.
Grab yours today via our website: honeyday.sg
*******************************
I Love Reading
iLoveReading.SG produces educational content suitable for children of various age groups!
▪ The iLoveReading Series, for children aged 4 and above, seeks to develop the joy of reading in children and to complement their learning through a series of well thought out stories and activities.
▪ Storytime Magazine, designed for children aged 6 and above, contains famous fairytales and fables, along with games and word banks to keep your children engaged in learning always!
▪ i Magazine, for children aged 9 and above, will help your child expand their vocabulary, improve their writing ability, and get stronger in reading comprehension all while learning more about trendy topics that are relevant! Each issue also comes with worksheets, and even audio clips modelling accurate enunciation.
From now till 30 June 2022, get 10% off when you checkout with ilovereading.sg.
*******************************
BioDrop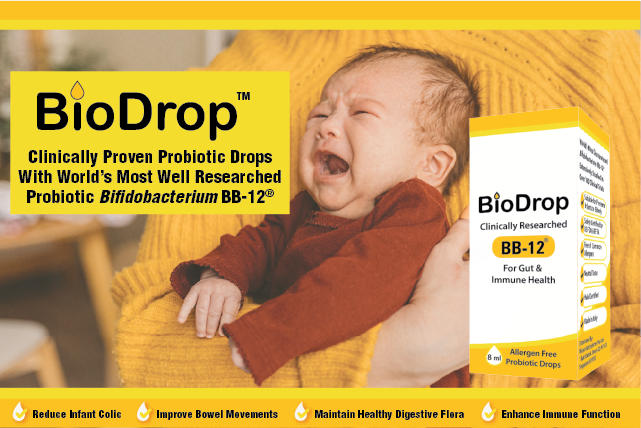 Has your baby or child ever cried non-stop without an identifiable cause? He or she may be suffering from infant colic!
Infant colic refers to excessive crying or fussing in otherwise healthy babies. This may create a stressful situation for parents & caregivers.
Fret not! BioDrop is a clinically proven probiotic drop containing the world's most well-researched probiotic Bifidobacterium BB-12® shown to help manage infant colic effectively. BB-12® has been shown to reduce crying duration & number of crying episodes in babies with infant colic.
You can rest assured that your baby is in good hands as BioDrop containing BB-12® is widely used by Paediatricians & has received safety accreditations from US FDA & European Food Safety Authority. BB-12® has also been extensively studied in ~400 scientific papers with over 200 human clinical trials. BioDrop is a quality product made in a GMP-certified facility in Italy, is allergen-free & Halal-certified.
Apart from being useful for babies, BB-12® is indicated for the management of gut & immune health in patients across all ages, from pre-term infants to elderly patients. Try BioDrop today!
You can find BioDrop at pharmacies in Ng Teng Fong General Hospital, Raffles Hospital & selected clinics. You may also speak to your doctor or pharmacists about BioDrop.
Find out more: BioDrop | Miraco Nutripharm
*******************************
Pro-Uro™
Have you ever had excessive vaginal discharge, fishy smell or itchiness in your intimate area? These symptoms could be signs of an imbalanced vaginal flora!
Pro-Uro™ contains world's most documented probiotic combination GR-1® & RC-14® for women's urogenital health. GR-1® & RC-14® have been clinically proven to maintain a healthy balance of vaginal microflora & help manage common urogenital infections such as bacterial, yeast or Urinary Tract Infections (UTI).
GR-1® & RC-14® probiotics have been shown in clinical trials to prevent recurrence of these common infections & support women's intimate health.
Pro-Uro™ is made in a GMP certified facility in Denmark, ensuring its high quality & safety. Pro-Uro™ is suitable for vegetarians, vegans & is Halal certified. It also does not contain any common food allergens & has been widely used by O&G specialists for over 15 years. Achieve your best self with Pro-Uro™ today!
Pro-Uro™ can be found at pharmacies in KK Women's and Children's Hospital, Ng Teng Fong General Hospital, Singapore General Hospital, selected clinics & Guardian (Simply follow the link: Pro-Uro Probiotics for Women's Health 28s | Guardian Singapore)
You may also speak to your doctor or pharmacists about Pro-Uro™.
Find out more: Pro-Uro™ | Clinically Proven Probiotics for Women's Urogenital Health
*******************************
MoriOfficial
Twinning your little one with Mori's one-of-a-kind creations handmade by mothers for sustainable livelihoods is now made possible with our signature 4-Way Washable Bags. Our washable pouch is a good replacement for single-use plastics to pack your items on the go. Mori's Emotions Flashcards help you start your kids on learning and exploring the various feelings they feel. Your little one can also learn to write, and conversation starter questions and activities are provided to give you more fun ways to engage with your kid on emotions.
We are a woman-run business with a mission to bring purpose and joy to our customers and markers, through our functional and inspirational creations. Our one-of-a-kind creations are handmade by mothers in their homes for sustainable livelihoods while taking care of their children. Our makers include urban poor mothers in the Philippines and also Singapore-based mothers (i.e. mother with special needs son) for various projects taking care of their children.
Use promotion code TNPMORI10 for 10% for all products except sales items until 31 March 2022 via moriofficial.com.
*******************************
Sweety (Diaper Pants)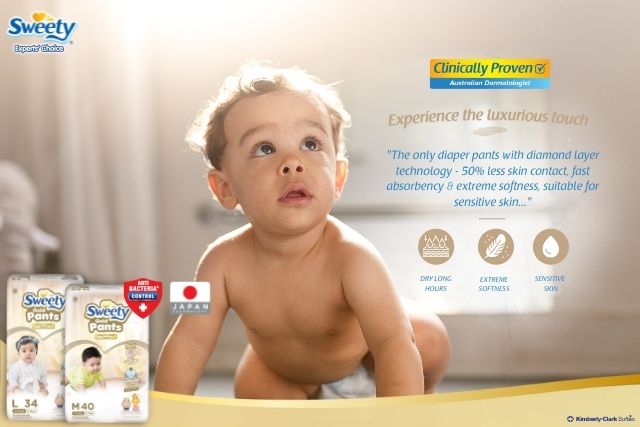 Inspired by babies and developed for babies, Sweety introduces Sweety Gold in their pants version, providing the ultimate comfort for the little ones. Sweety Gold Pants version is available in sizes ranging from S to XXL, and they are clinically proven by Australian Dermatologists, made from Japan technology, is Halal certified – they do not use anything derived from any animal or banned source, making it safe for use and free from BPA and chlorine, making it the experts' choices for mothers and babies.
Sweety Gold Pants is the only overnight pants diaper in the series, which also prevents leaks and ensures the baby is comfortable all night, providing the little ones with a deep restful sleep.
They are available for purchase at:
*******************************
Want to win these attractive prizes worth more than S$2000 in total? Don't wait any longer!
1. Fill in the form below:
The giveaway has ended.
2. ❤️Like and bookmark this IG post.
3. Follow us and our brand partners:
@thenewageparents , @ilovereading.sg , @prouro.sg , @sweetycaresg , @mori.miniofficial , @allswellsg , @honeyday.sg
Share your post on your IG stories and tag us @thenewageparents and our brand sponsors for a higher chance of winning!
4. Tag your family and friends in the comments (one tag per comment).
👉 Remember to set your IG profile to public so that we are able to see your story share.
⏳ Giveaway period: 21 Feb to 20 March 2022 (2359hrs).
🇸🇬 Valid for participants residing in Singapore only.
Prize collection will be at NAC office at Tradehub21.
#thenewageparents #tnapgiveaway #TNAPMegaGiveaway #TNAPMegaGiveaway2022 #biodrop #prouro #miraconutripharm #sweetycare #morimini #allswell #honeydaysg #ilovereadingsg
Terms and conditions apply. Please also read our Privacy Policy.
For more contests and giveaways, go to The New Age Parents Contest Page.
---
Breakdown of Hamper Prizes
Prize Hamper A
– 4 bottles (500ml) of Allswell beverages (1 flavour each)
– 4pcs x Honey Day Pocket Hand Sanitizers
– 1 set x I Love Reading magazines series (age 4 and above)
– Pro-Uro and Bio-Drop x 1 set
– Sweety Pants x 1 e-voucher (worth $63)
– Mori Mini's Washable Pouch x 1
Prize Hamper B
– 4 bottles (500ml) of Allswell beverages (1 flavour each)
– 4pcs x Honey Day Pocket Hand Sanitizers
– 1 set x I Love Reading magazines series (age 4 and above)
– Pro-Uro and Bio-Drop x 1 set
– Sweety Pants x 1 e-voucher (worth $63)
– Mori Mini's Kids Emotions Flashcards x 1 set
Prize Hamper C
– 4 bottles (500ml) of Allswell beverages (1 flavour each)
– 4pcs x Honey Day Pocket Hand Sanitizers
– 1 set x I Love Reading magazines series (age 4 and above)
– Pro-Uro and Bio-Drop x 1 set
– Sweety Pants x 1 e-voucher (worth $63)
– Mori Mini's Twinning Bags (1 adult and 1 child)
Prize Hamper D
– 4 bottles (500ml) of Allswell beverages (1 flavour each)
– 4pcs x Honey Day Pocket Hand Sanitizers
– 1 set x I Love Reading magazines series (age 4 and above)
– Pro-Uro and Bio-Drop x 1 set
– Sweety Pants x 1 e-voucher (worth $63)
Prize Hamper E
– 4 bottles (500ml) of Allswell beverages (1 flavour each)
– 4pcs x Honey Day Pocket Hand Sanitizers
– 1 set x I Love Reading magazines series (age 4 and above)
– Pro-Uro and Bio-Drop x 1 set
Prize Hamper F
– 4 bottles (500ml) of Allswell beverages (1 flavour each)
– 4pcs x Honey Day Pocket Hand Sanitizers
– 1 set x I Love Reading magazines series (age 4 and above)
Prize Hamper G
– 4 bottles (500ml) of Allswell beverages (1 flavour each)
– 1 set x I Love Reading magazines series (age 4 and above)