Our children's bodies depend on a regular supply of vitamins, minerals and other nutrients to function well. Nutrients support our little ones' immune system and boost their mental and physical development.
While a balanced diet is key in providing essential nutrients, it may be challenging for kids to obtain all the nutrients they need from food alone. This is especially so if your child is a picky eater, or has a chronic medical condition like digestive problems and isn't able to eat well.
As such, a dietary supplement can benefit your child by providing adequate amounts of essential nutrients. Clinical studies have also shown that multivitamin and mineral supplementation helps boost immunity and support the body against infection.
How to pick the right supplement
With so many health supplements on the market targeted at children, how do you pick the best product?
Start by knowing all the essential vitamins and minerals your child requires, and how exactly they support growth and development. Important ones include:
Vitamin A: Promotes growth and development of eyes, bones, teeth & gums.
B Vitamins: The family of B vitamins – B2, B3, B6 and B12 – supports cells, organs, immunity, the digestive tract and energy metabolism. Also supports growth of nerve tissues and blood.
Vitamin C: Protects against free radical damage. It is necessary for the growth, development and repair of all body tissues and is involved in many body functions like the formation of collagen, absorption of iron, proper functioning of the immune system, wound healing and the maintenance of cartilage, bones, and teeth.
Vitamin D3: Helps the body absorb calcium and phosphorus. Builds bones, teeth and immune system.
Vitamin E: Promotes a health digestive and immune system, and stimulates growth of friendly bacteria.
Magnesium: Maintains muscle and nerve functions, and supports bone health and immune system.
Iron: Builds muscle and is essential to the formation of healthy red blood cells.
Probiotics: Protects against infections and increase antibodies for natural healing.
Zinc: Increases immunity and helps maintain heart health.
When on the hunt for the right supplement, be sure to choose one that contains all these essential nutrients.
Of course, you also want to pick one that's from a reputable brand backed by strong research, for assurance that the supplement is safe and effective for your child.
A supplement that's tasty for children is a definite plus. After all, you want your child to actually look forward to taking it. It's no fun forcing them to eat something they dislike every single day!
Why StrongImmune Kids is a great choice for parents
If you've yet to find a supplement that fits all these criteria (no easy task, we know!), consider StrongImmune Kids by US Clinicals. The natural chewable table is specially formulated to provide advanced support for your child's growth and development.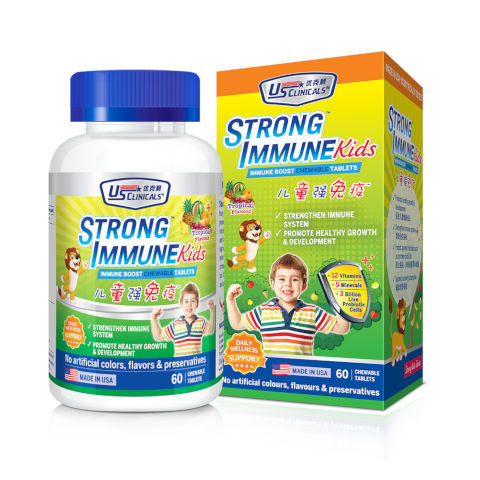 It features strong antioxidants and immune-boosting nutrients including 12 vitamin, 5 minerals and 3 billion live probiotic cells. Benefits include supporting nutrients absorption, improving your child's nutritional status and strengthening their body against infections.
The tablet features a fruity taste as well, and parents have reviewed how easy it is to get their kids to chew it – especially picky eaters and those who have difficulty swallowing pills or capsules. And unlike many gummy supplements, StrongImmune Kids is low in sugar and does not contain any artificial flavours or colours. The product also does not contain hormones, with all ingredients tested and approved to ensure safety, purity and efficacy. As such, parents can rest assured that the tablet is safe for long term consumption at the recommended dosage.
US Clinicals, the award-winning brand behind StrongImmune Kids, is also well-regarded in the industry. The brand pride itself on its strict internal quality standards, and has at least 3 supporting clinical studies per ingredient used.
Besides StrongImmune Kids, the StrongKids range encompasses other beneficial supplements like:
StrongEye Kids: An antioxidant-rich and delicious fruity chewable tablet that provides essential nutrients for your child to develop healthy and good eyesight.
StrongBrain Kids: A natural omega-3 chewable burstlet, with highly concentrated and purified deep sea fish oil rich in Eicosapentaenoic Acid (EPA) and Docosahexaenoic Acid (DHA). Both nutrients support cognitive development and learning, visual development, immunity and overall brain health.
StrongBone Kids: A chewable milk-flavoured burstlet loaded with calcium, which is crucial for the proper growth and formation of bone.
StrongBiotics Kids: A quick-melt synbiotics powder that is enriched with probiotics and prebiotics to help strengthen your child's digestive system and immunity.
So whether you're looking to help your child develop strong bones, good eyesight or a healthy gut, you're guaranteed to find a tasty chewable supplement with the right vitamins and minerals.
For more information about StrongImmune Kids and to purchase supplements, visit this website.
This post is brought to you by US Clinicals®.
By Rebecca Wong.
* * * * *
Like what you see here? Get parenting tips and stories straight to your inbox! Join our mailing list here.
Want to be heard 👂 and seen 👀 by over 100,000 parents in Singapore? We can help! Leave your contact here and we'll be in touch.