Looking for a non-invasive and safe method to lose some flab?
Here's a cool way to rid of your unwanted and stubborn fats.
Introducing Fat Freeze – the coolest and latest state of the art technology from Slimming 101. Clinically proven and FDA-cleared, this treatment is an entirely non-surgical procedure that removes stubborn fat from stubborn areas such as the thighs, love handles, tummy and arms.
Weight loss couldn't get any cooler.
How Fat Freeze Works
Fat Freeze zooms right in to target and crystalize fat cells through the use of precise and controlled cooling. What's so special and unique about this new technology is, unlike other treatments that simply reduce one's fat cells, Fat Freeze also eliminates them. For each treatment, about 22%-25% of the fat cells in the targeted area will be reduced and eliminated. What's more, it also helps to improve one's metabolic rate. Who knew freezing your fats could help you burn calories faster over time?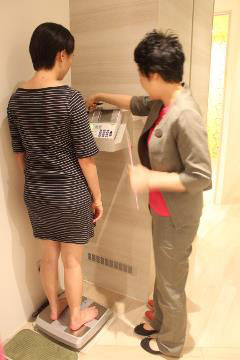 Let The Freezing Begin
As a person who is rather afraid of the cold, I was a little apprehensive at first when I heard the name. Would I be placed in an icy cold room? Would I be feeling extra cold after the treatment? On the contrary, the entire process was very normal and fuss free, nothing out of the blue.
Before the start of the session, Ivy, who was my consultant, took my weight and height on a machine to measure my BMI, water retention, and fat mass. She explained to me about my body statistics and gave me a low down of how Fat Freeze technology works, and what the process would be like.
I also asked a few questions such as:
"Can I do vigorous exercise after this?"
"Yes, sure."
"Can I eat normally after this? Do I have to go on a crash diet?"
"Yes, you may eat your normal intake of food and no, you don't have to go through a crash die."
The only caution for this treatment is to not sun tan, go to any hot saunas/body steams, or for any activities that would cause the treated area to be exposed to heat for the next 3 days. "This is to let the area recover for a while, as it has been subjected to a highly targeted and strong freezing." Ivy shared.
I chose to try the treatment on my tummy area (lower abdomen). Yulita, the staff who was with me, first took three measurements of my lower abdomen. After pressing two points on my abdomen to help stimulate the lymph nodes, she then applied a cold sheet over the area. She warned me gently that it might be a little uncomfortable in the beginning due to the suction power of the machine.
True enough, the area that was 'freezed' felt very tight at first. It's as if there was a mini vacuum tugging and pulling at your skin, sucking at it. However, after a while, my body adjusted to this sensation and the discomfort slowly eased away.
Not to worry, if it gets really too uncomfortable to bear, there is a button located next to you to buzz for the staff. Yulita also came in every 10 minutes to check on me if I was doing fine. For someone with a relatively medium level of pain threshold, on a scale of 1 – 10 with 1 being the least pain, I would rate the fat freeze treatment a low 3.
Frozen fats in my tummy!
After everything was over, the area felt cold to touch and a little numb, with a tingling sensation. It's the same feeling you get when you place an ice pack over your skin for a while; after the cold sensation, it feels abit numb. This is due to the cold but this doesn't last beyond a few hours. Other than that, everything else was constant. Because this treatment is considered to be more intensive as it involves freezing and crystallization at a cellular level, there needs to be a grace period of 1 month in between each session.
The Moment of Truth
When Yulita took my measurements immediately after the treatment, my lower abdomen and waist showed a decrease of 0.5cm. She later shared with me that the results will probably be more prominent within 3 weeks to 1 month, depending on the individual.
All in all, the entire experience was bearable. No major side effects, only cold tummy.
The overall ambiance of the place was really neat, organized and welcoming. I really appreciated the fact that there was a television set in each room, to keep me occupied during my session. There are lockers for you to put your bags and even shower facilities for you to use after your treatment.
Freeze Your Fats Goodbye
For those who find the hot wrap/sauna treatments too much of discomfort, this new Fat Freeze treatment is the perfect alternative.
Plagued by flabby arms, thunder thighs, a bugling belly and heavy bottom?
Seeing an increase in your weight due to the nature of your office job?
For the hard-working mummies and white collared or office ladies, sitting in the office during longs hours can cause some unwanted bulges here and there. Fat Freeze will help you to keep your excess fats at bay. This treatment is also suitable for mummies who would like to get rid of their post-pregnancy fats. But a word of caution for mothers who went for caesarean, it would be better to not target the tummy areas until the wound has been fully recovered.
This post is brought to you by Slimming 101.
Want to be heard and seen by over 100,000 parents in Singapore? We can help! Leave your contact here and we'll be in touch.