In this review of Wink To Learn DVD, I will be dissecting the program of Wink To Learn and the usefulness of it, rather than describing how much my children love it.
How do we parents evaluate educational products? If I am to answer it from my own point of view, it will be how well is the tool able to engage my children. My children have been using Sing to Learn and Wink to Learn for quite some time. It works perfectly well for them, though my husband is not really impressed with the graphics.
What is Wink To Learn?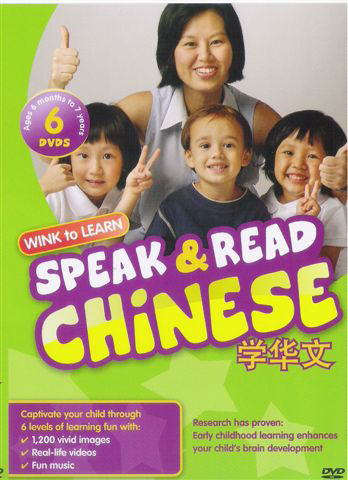 Wink To Learn DVDs does not only help children develop interest in languages and words recognition, it also adopts the concept of the Shichida method and Glenn Doman flash cards methodology of right brain training. It is the "modern" flashcards method in DVD format.
There are 6 DVDs within the package. Each individual DVD is structured with 6 lessons and 4 different revision methods, which are Pictures and Words, Words Only, Pictures Only and High Speed (which is use for right brain training).
Each lesson is a 2-minute slide show with different themes such as Animals, Fruits, Things in the House etc. which is closely related to the daily life of the children. At the end of every lesson, there will be music and pictures of a certain topic like France (which shows beautiful scenery of France). This is meant for the children to relax after a lesson and parents can use this chance to bond with the children by engaging in related topics.
How to optimize the usage of Wink to Learn (Speak and Read Chinese)?
1. Follow the parents' guide that comes with the DVD. The developer of the program will have the best idea of how to use the program.
2. There are 2 very important rules inside the guidebook that I have followed dutifully. That is:
a) Stop before your child wants to stop.
b) Repetition is needed for reinforcement. Reinforcement is critical for word recognition.
3. Do not leave your child alone with the program. Watch it with them. I always sit down with my children when they watch it. Though I am not the one who did the talking, but my silent companionship is gold to them.
Who should buy Wink To Learn?
If you are looking to enhance the Chinese language ability of your children. Wink To Learn will be a good option to consider. The Chinese words are distinguished and clearly defined. My children who are 3 and 2 respectively tried it and they love it. It works well for them and they always request for a second disc. However, I stick closely to the guidelines and make sure that I stop before they get bored. :)
Despite all the controversy, I personally think that Wink to Learn is a useful program if you use it consistently and patiently over a period of time. It might not be the best educational program in the eyes of the parents, but certainly an engaging one for the kids with topics relating to their daily life.
Read also : Sing to Learn DVD Review
* * * * *
Came by any interesting educational program that you would like to recommend or comment about? Feel free to write in to us!
Want to be heard 👂 and seen 👀 by over 100,000 parents in Singapore? We can help! Leave your contact here and we'll be in touch.