Gymboree Play & Learn is the centre's most popular class and it's easy to see why! In this adult accompanied programme, children are encouraged to learn at their own pace and play to their heart's content through a range of activities.
To the obstacle course we go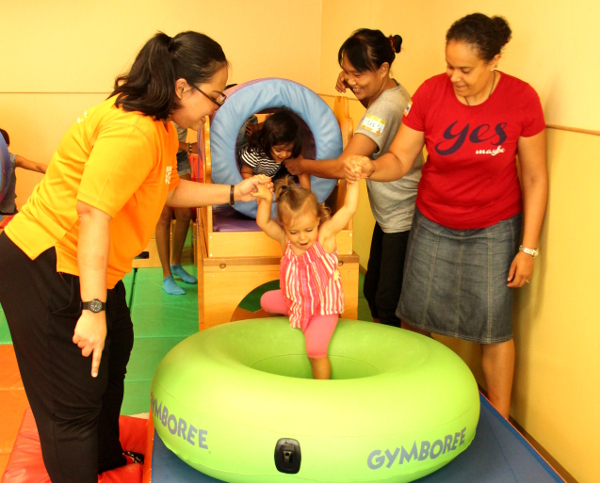 "Today we are going to learn about circles and we are going to the circle obstacle course!" says Teacher Janna. She walks around to observe and assist parents as they help their child through the obstacles. As children jump into hoops and crawl through tunnels, they not only build their motor skills, they are also developing their spatial and body awareness.
Can you touch your toes?
Through a repertoire of music and original Gymboree songs, each activity performed by the trainer focuses on certain movements, building up on their milestones as they progress.
Bubble time
Big bubbles, small bubbles; this activity is hot favourite with the little ones. To work on their hand-eye coordination, Teacher Janna sings the bubble song and encourages each child to pop them in the air.
Air and freeze
One of the signature Gymboree activities and another hot favourite, parents and toddlers tap to the beat of the song on an air log (large cylinder gym equipment). As Teacher Janna shouts 'Freeze', all tapping stops, as the little ones wait in anticipation for her cue to begin tapping again. Teacher Janna sings all the songs melodiously, with clarity and confidence.
Together we can move BIG things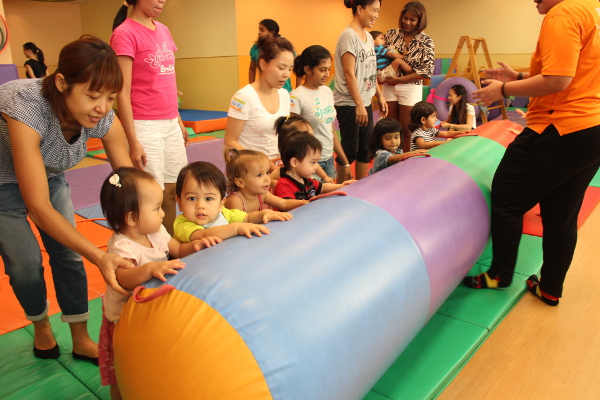 At Gymboree, children not only build creativity and confidence, they build friendships too. Working together as one, the toddlers roll the air log from one end of the mat to the other. Being in class with same age peers encourage children to do more and play more, shares Teacher Janna.
Up and down, in and out
Children learn about cause and effect, and build their strength through play with ramps, slides and climbers.
You can do it!
Initially hesitant at first, this little girl manage to balance and walk across the cylindrical float with a little help from mum at the side. Along the way, Teacher Stefan compliments her and asks her to try and pick up a scarf along the way. Sometimes, all children need is a positive nudge, says Teacher Stefan.
Warm and positive teachers
The warm and caring staff at Gymboree is one reason why parents keep coming back. Besides finding the classes highly interactive, Samantha Fernando adds, "The teachers are all nice and know how to handle kids. Sabrina has never had a bad experience here which is why she enjoys coming back." Besides finding the lessons extremely enjoyable and enriching, Karin Wong appreciates the positivity and passion the teachers show in their work. Karin sends her three kids to Gymboree.
Plenty of play space
With its brightly lit indoor play space at Tanglin Mall and Harbourfront Centre, Gymboree's play equipment are custom made in the USA and designed to ensure children can move and explore safely.
For over 30 years, Gymboree has been fostering creativity and confidence in children ages from 0 to 5 years old. The programmes are specially designed to help young children learn and develop as they play. Call now to find out more about their class schedules.
Tanglin Mall
163 Tanglin Road #03-21 Tanglin Mall
Singapore 247933
Tel: 6735 5290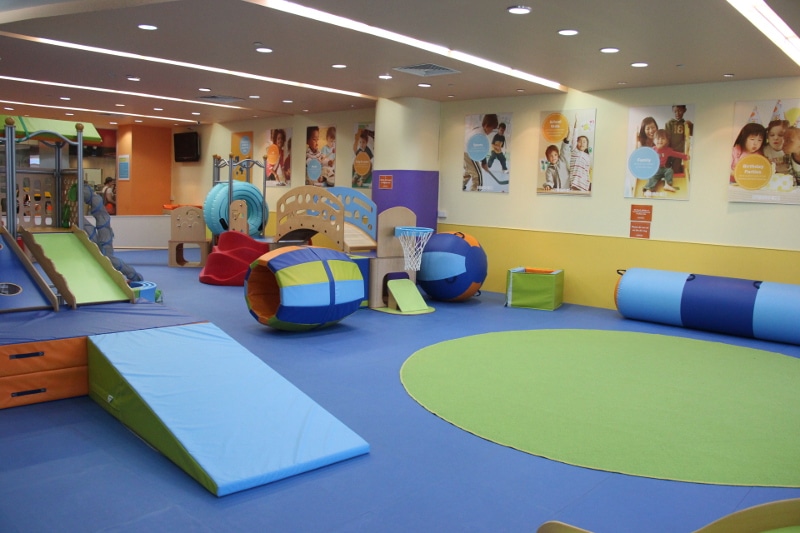 Website: www.gymboree.com.sg
Email: gymboree_singapore@yahoo.com.sg
Read our Enrichment and Preschool Guide to learn about other enrichment programmes for your toddler or preschooler.
If you find this article useful, do click Like and Share at the bottom of the post, thank you.
Want to be heard and seen by over 100,000 parents in Singapore? We can help! Leave your contact here and we'll be in touch.