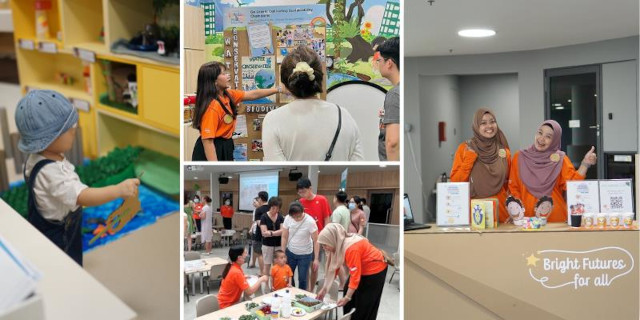 My First Skool had their first islandwide centre showcase on the 29th of April where parents visited 10 centres across Singapore. This was a great opportunity for parents to have an exclusive look at the various facilities, meet and chat with the dedicated teachers as well as uncover what makes the My First Skool curriculum so unique. If you did not get the chance to drop by one of the centres, read on as we share more about our visit to one of the top preschools in Singapore and what you missed.
Thoughtfully designed spaces and facilities to encourage exploration and bonding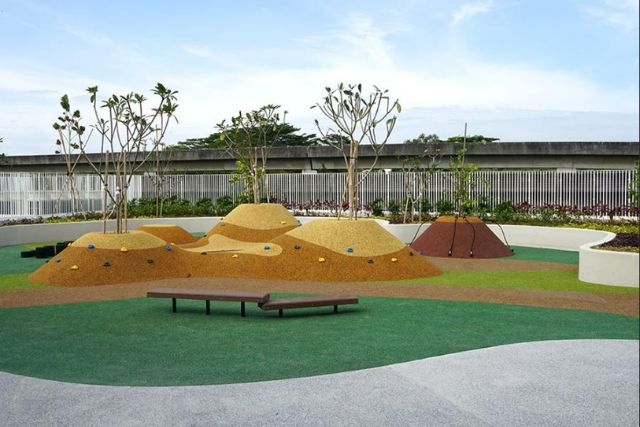 TNAP visited one of My First Skool's biggest centres – the Early Years Centre (EYC) situated at 2 Punggol Drive, a new preschool model specially curated for children aged between 2 months to 4 years that guarantees a Kindergarten 1 placement in a nearby MOE Kindergarten when children turn 5. The EYC that we visited has partnerships with 3 nearby MOE Kindergartens (Punggol Cove, Punggol View, and Valour), with an opportunity for priority admissions into these primary schools. What struck us was how well-designed the space is such that it adequately caters for the learning and development needs of over 25 classes. The Punggol centre incorporates multiple outdoor play areas and playscapes so that the children have ample opportunities to explore and engage in different types of play in the 4 various zones – Water Zone, Forest Zone, Mountain Zone and Land Zone.
Parents were given a tour of all the various classrooms where teachers explained how various sections of the classrooms were carved out for different purposes. The children in the Nursery classes had their own library spaces and art corners that encouraged them to be independent and discover things on their own. Those in the Playgroup had their own relaxing corner with sensory toys and access to a small outdoor garden where activities such as picnics and outdoors games are held.
All classrooms have a Dramatic Learning Corner that helps children develop relational and social skills that will be useful in the real world through a blend of pretend play, role-playing and hands-on activities. These Dramatic Learning Corners are theme-based – for example, the Playgroup level children at the Punggol centre have a party corner with gifts, party hats, pizza making and even a 3-tier cardboard cake!
We love how My First Skool creates nurturing and secure environments where children can learn, play and make meaningful discoveries.
Relationships-First Approach
My First Skool's emphasis on relationships and relational skills is what sets them apart from other early education providers. The first few years of a child's life is a critical period to lay solid foundations for health, growth and neuro-development. This Relationships-Based Curriculum fosters a sense of trust and security between the children and their teachers, enabling effective learning experiences for these young minds to maximise their potential during this "golden window" for development.
My First Skool's relationships-first approach utilises experiential learning activities that extend beyond the classroom, helping children better learn empathy, understand the diverse cultures within Singapore and building their confidence so they can interact with people from all walks of life. When visiting the Centre, there were areas decorated with various things associated with Hari Raya and boards explaining the festival to the children.This blend of play-based, hands-on and exploratory activities is designed to ignite the curiosity of the children while making learning memorable and enjoyable. The different themed Dramatic Learning Corners further help children in their formative years to develop relational and social skills, hone their communication skills and foster emotional confidence that will be useful in their lifetime.
Showcase Booths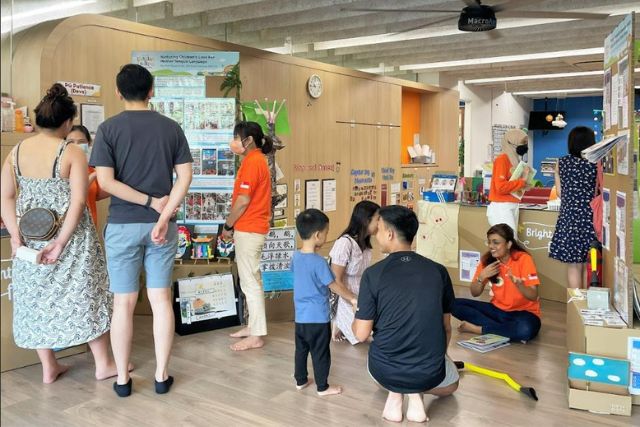 There were several showcase booths that were prepared by teachers to let parents have a deeper insight into the various activities that children partake in at school. One was a Stop Motion Studio showcase where children make their own props and use a camera to snap pictures in succession for their storytelling. Children hone their creativity through discussing plots, characters and settings with their peers while teachers facilitate the process. For slightly older children – they are introduced to age-appropriate apps such as Toontastic, a creative storytelling app that allows children to draw their own graphics, animate them and narrate the story using the app. Children get to learn the basics of a story arc through the app and they also become more familiar with using digital devices.
With sustainability being such a big area of concern, it's increasingly important to teach children how to protect the environment. One of the showcases had various crafts that children made together with their parents where they had to utilise recycled materials to make these vehicles. By roping in parents for this joint craft, it is also a great opportunity for parent-child bonding and for parents to be involved in their child's learning. In this manner, the concept of recycling is reinforced throughout the whole family and fosters a greater community spirit and pride.
Experience The My First Skool Difference
With over 45 years of experience in the early childhood industry, My First Skool combines their unique relationships-first approach with conducive environments and innovative learning activities to empower children in an ever-evolving world.
If you are keen to start your child's learning journey at one of the best preschools in Singapore – enroll your child in one of the 150+ My First Skool centres today! Click here to register!
By Jasmine Chua.
This post is in collaboration with My First Skool.
* * * * *
Like what you see here? Get parenting tips and stories straight to your inbox! Join our mailing list here.
Want to be heard 👂 and seen 👀 by over 100,000 parents in Singapore? We can help! Leave your contact here and we'll be in touch.