Your child is all smiles and running around the house.
By the end of the night, he starts to look listless.
You check and find that his temperature is rising fast.
Your little one starts to wail while you do your best to remain calm, comfort him and figure out what could be wrong?
Did he catch HFMD from his classmates? Or could it be dengue fever? Every second matters when it comes to emergencies.
Should you a) bring him to a clinic near your home or b) send him to Accident and Emergency (A & E)?
When To Send Your Child To The A & E?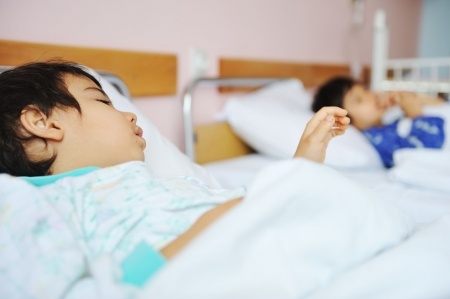 Critical situations that require immediate attention include high fever, choking, muscle and bone trauma, just to name a few.
However, there are non-critical conditions that warrant a visit to the doctor, such as cold and flu, cuts and bruises, mild burns and scalds, and nosebleeds.
To seek treatment for all these conditions, especially in the middle of the night, you can count on Mount Elizabeth Hospitals' A & E department and 24-hour clinics, where there are paediatricians on-call when you need them.
Speed Saves Lives: Doctor For A Day 2018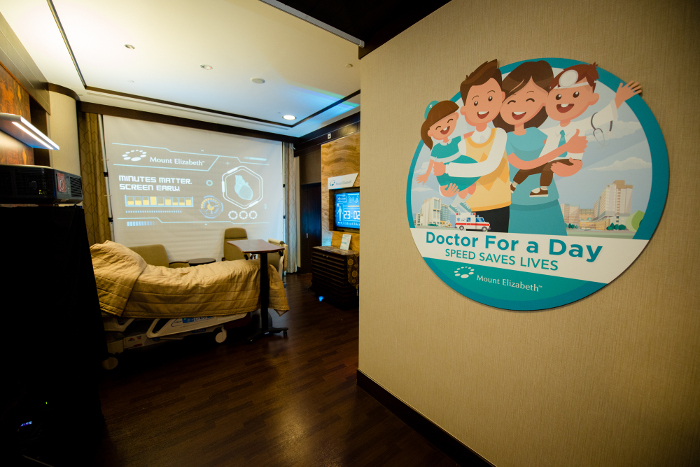 To allow children to have a taste of what it takes to be an doctor, Mount Elizabeth Hospitals' highly popular and successful event series "Doctor For A Day" is back again this year.
This year's "Doctor For A Day – Speed Saves Lives" features an escape room format game where adults and children form groups of 6 – 8.
Parents, You're Involved Too!
Make use of this opportunity to bond and know your child better as you work hand-in-hand to solve multiple puzzles and overcome obstacles to save a patient in the quickest time possible. From diagnosis to treatment, this immersive and role-play experience allows children to discover why time is of the essence in A & E situations.
Interactive, Fun and Once In A Life Time Experience
One exciting highlight of the event is the use of iPads and VR goggles, where teams transmit their answers on the spot using the smart devices. The hospital crew replies with 'live feedback', before teams can move on to the next level.
Another notable mention is how the mission is split into two parts, where teams will be ushered in a 'Travel Pod' and continue part 2 of the mission at Mount Elizabeth Novena Hospital.
Let your little docs put on their thinking hats, exercise their problem-solving skills, and work co-operatively with others.
Event date: 7 & 8 April 2018
Venue: Mount Elizabeth Hospital (Starting point), Mount Elizabeth Novena Hospital (Ending point)
Cost: $50 per session
Age of child: 6 to 12 years old
---
The New Age Parents Doctor A Day Giveaway
The New Age Parents is giving away 3 sets of tickets to 3 lucky winners to attend Doctor a Day 2018!
Each ticket set includes 2 Adults + 2 Child to attend a Doctor for A Day, on 8 April, Sunday, 2 pm.
To take part, all you have to do is:
1. Like and Follow us on Facebook or Follow us on Instagram.
2. Fill in the form below:
This contest has ended.
3. Like, share and tell us why you want to win this in our Facebook thread here.
Contest ends 26 March 2018.
WINNER: Congratulations to the following winners. You are our lucky winners for this giveaway!
Annie Tan Cheng Lin
Gordon Ngiam Kia Moaw
Rebecca Tan Hwee Chuen