We can't deny – children love toys. However, a toy does not necessarily only have to be something fun and enjoyable, it can be educational as well. In fact, all toys can be educational if you allow them to be. The new board game you bought for your child develops virtues such as patience and fairness. Even a simple stuffed teddy bear can teach your child to share. Here are some indoor and outdoor toys that will make great Children's day gifts.
Phlat Ball XT, $29.90
From Smart Alley
Phlat Ball's unique hinged panel design, along with its innovating time-delay mechanism, allows the toy to be easily compressed and thrown as a disc, then "magically" pop into a ball in flight! Offered in both foam and soft plastic versions, Phlat Ball is ideal for indoor and outdoor fun, as well as water play. Throw a disk, or catch a ball! When you squash this lightweight, hollow ball, the large suction cup inside holds it flat until the suction gives in and the ball pops back into shape. The rigid, canvas like easy grip fabric makes this a favourite for throwing and catching games. The suction also acts as a time delay for a hot-potato-style of fun. Plus, it floats, making it great for water games too.
Suitable for ages 5 years and above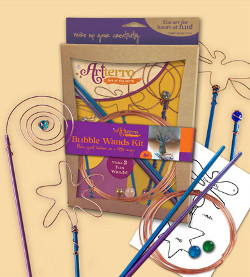 Bubble Wands Eco Kit, $35.90
From Jam 'n Muffin!
Make your own special toy this children's day and not just buy one off the shelves!
Every child loves bubbles, get your bubble wand kit to bond with your child this children's day and develop creativity. Our Art projects are also the perfect way to fill up long, sunny days on the deck, rainy days indoors, or vacations on the road! Bend high quality copper wire with marbles into two beautiful, sturdy wands. Blow huge bubbles, decorate a garden or use for magic! Kit Includes: Artist-quality 14 gauge copper wire, 2 wooden wand sticks, glass marbles, jig patterns, bubble recipe and ideas sheet.All Arttero kits are made from Eco-friendly materials in USA.
Suitable for ages 7 years and above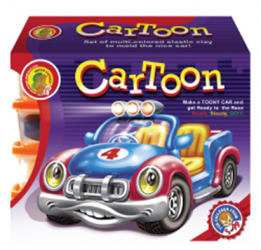 Clay Kingdom "CarToon", $18.90
From Funovator
Tickle the imagination of your kids while developing their motor skills and spatial thinking with A-clay. This non-sticky, extra soft ultra light clay can be easily moulded into any shape, and can be mixed to create new exciting colours. There are 4 clay colours included in this set with a step-by-step instructions and car base for your child to work on. What's more, the hardened A-clay can also be reused by sprinkling some water on it and storing in its box.
Suitable for ages 5 years and above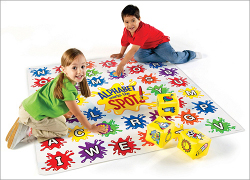 Alphabet Marks the Spot, $81.90
The Learning Store
Leap to learn your ABCs! A fun and versatile game, this is great for kinesthetic learners. Besides encouraging gross motor skills, it also helps children to learn their alphabets, letter sounds, beginning sounds and more. It includes 8 different alphabets, letter sounds, spelling games and 5 inflatable cubes illustrated with familiar objects starting with different letters. Game markers and an activity guide are also included with the wipe-clean vinyl mat.
Suitable for ages 5 years and above
Architecto Series Bundle, $93.70*
From Nurture Seeds
Get not one, two, three, but four Architecto Game Set! Architecto is a puzzle game that helps to develop children's spatial visulatization. In each game set, childern are encouraged to build the strucutres in the illustrated game book with the solid plastic blocks included. Each structure is more complex after the previous one, building on your child's eye-hand coordination, fine motor skills, creativity and perserverance. Your child will also be indirectly exploring the fundamental concepts of geometry, space and balance as he tried to complete each structure. The game also allows your child for free play and welcomes the player to build whatever they can imagine. Each Architecto game set comes with a book.
– Equalibrio Game set, for ages 5 years and above
– Tangramino Game Set, for ages 6 years and above
– Architecto Game Set, for ages 7 years and above
– Clicko Game Set, for ages 8 years and above
*This offer is only valued at Nurture Seeds till 7 October 2012
If you find this article useful, do click Like and Share at the bottom of the post, thank you.
Want to be heard and seen by over 100,000 parents in Singapore? We can help! Leave your contact here and we'll be in touch.