Imagine this, a preschool covered with soft cushy materials, and no matter where the child goes to, he or she is protected from falls. Now is this even practical?
Inaugural Workshop Organized by Association of Early Childhood and Training Services (ASSETS)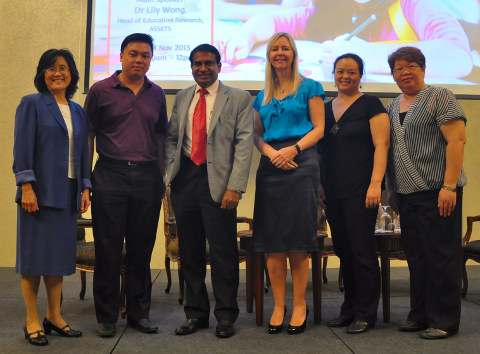 ASSETS, a non-profit organization formed in 2012, run by and for private preschool and teacher-training operators in Singapore organized its first workshop on 4 November 2013, on Intentional Safety and Prevention for Children in Preschools.
The keynote speaker was Dr. Lily Wong, Head of Education Research for ASSETS and Executive Director of Advent Links-SAUC Education Centre. Dr T. Chandroo, Chairman of ASSETS and CEO of Modern Montessori International Group gave the opening and closing address for the workshop.
With more than 30 years of experience in the early childhood field, Dr. Lily Wong shared her expertise and experiences through real-life scenarios. She reiterated a point to the audience which I found intriguing ever since I entered early childhood industry.
She said never to use 'don't', and goes on to explain, "When you say don't run, the child can only hear the second word, which is run." This is one reason why children do not stop running even though parents, educators tell them 'don't run'."
Tofu Muscles
Another interesting point that was brought up by her was the term 'tofu muscles'. I laughed when she enlightened the crowd with this scenario, "Before a child even reaches the end of the table, the parents and family members will rush to the child's rescue, and sometimes their antics scare the child, which result in the child having tofu muscles, a common sight in the 21st century."
I do agree with her analogy. Most of the time, because of the love for their child, caregivers make all sorts of measures to ensure that their child is protected from any single harm. There are pros and cons to this. While I believe it is perfectly normal for the child to learn through the hard way sometimes (i.e. falling down, getting injured, picking themselves up), it seems society is not as accepting. Perhaps with Dr. Wong's analogy on 'tofu muscles', parents will be more aware of their parenting style, and reflect if they are overprotecting their child.
She also simplified the information, making it easier to digest and remember. "You should not change the child's behaviour, try changing the environment first!" Unlike in most situations, parents try to rectify the child's behaviour, instead of changing the environment which is less of a hassle.
The last takeaway I had from the workshop was the danger of water. I know water can be dangerous, but who knew that one teaspoon of water can drown a child? Parents and caregivers must be vigilant when children come in contact with water, especially during water play.
The workshop was attended by 120 preschool operators, teachers and parents and 14 media companies. I believe the committee of ASSETS will definitely bring the organization to scale greater heights in the future, to bring more awareness to the public and related key players in the industry.
By Heather Yew
If you find this article useful, do click Like and Share at the bottom of the post, thank you.
Want more comprehensive info? Check out our e-guides here.