Spending quality time together with your child (without the presence of any electronic device) is crucial to the developing child as it gives them a sense of belonging. As a parent, I set a time limit to my two kids on how much time they can spend on my iPad and iPhone. As a working mother, I also try to spend some time with them after work, such as reading stories to them before their bedtime.
Recently, the kids and I had the chance to try out some activities from iNbox, a monthly educational subscription box by Smart Alley. Working hand in hand with early childhood development experts, the activities in the box are catered for children between 3-7 years old.
What's In The iNBox?
In every iNbox, there contains 4-5 activities including an illustrated storybook. Each activity targets to improve specific development areas of a child. There will also be no two same boxes as the theme and activities in the box will be different every month.
Let's take a look at what's inside the box.
Activity 1: It's Story Time! Flinto's The brave rangers
A beautifully illustrated storybook, the story is about Flinto the octopus and his friends as they set out for a wild life safari tour. In their journey, they meet Haati, an elephant who is crying away. Flinto and his friends find out that Haati's baby has been kidnapped!
The book allows children to go on an adventure as they try to rescue the baby elephant, Ganesh. The story brings the readers on a quest with your child as you find out what can be done to rescue Ganesh. Your child can even play a part in the story by drawing a page of the desired ending.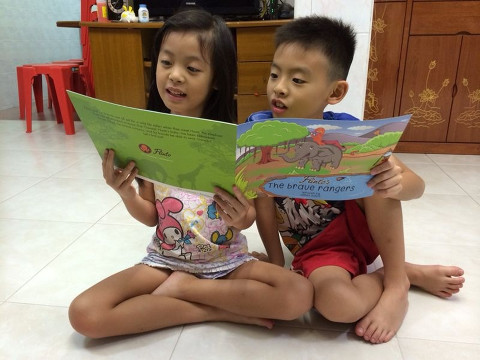 So who are the brave rangers? You have to read to find out more!
Activity 2: Activity Booklet – Keep Learning Animals
Do you know how heavy Ostrich eggs are? This is a great activity booklet that equips children with knowledge and fun facts about different wild life animals. Ashlyn and Ashton were busy sharing with me the diets and habitats of the safari animals after reading it. With extra information provided in the booklet, children can also draw how each animal will look like when placed in a different environment.
Activity 3: Let's Go For A Ride! Creating our own Safari Jeep
Ashton was excited to try this out as he got to build and design his own jeep. Watch the little builder emerge in your child as they learn how to connect base of the jeep and piece all the parts together by assembling the nuts, bolts and wheels. For a finishing touch, Ashton decorated his jeep with the stickers available in the box. Now we have a vehicle to ride on. All that is left are our safari animals.
Activity 4: Meet Our Safari Animals
Engaging in craft activity never fails to heighten children's creativity and imagination. Put on the Flinto apron provided and get ready to have your child's hands dipped in paint! In this activity, children can bring animals to life by drawing or finger-painting their desired body patterns on the animal sheets. When your child is done, don't forget to add in the bases for the animal sheet and watch them come alive. My girl Ashlyn even added some personality to her hippo and tiger (red lipstick and long eyelashes).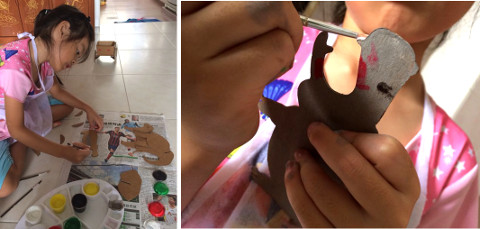 "See mummy, my hippo put on make up."
Now we are all ready for our Safari Tour! We even invited a few friends along.
Activity 5: Jumbled in the Jungle Board Game
Jumbled in the Jungle Board Game is a fantastic and easy way to spend some unhurried time together. Through this game, children will learn about animals, rules of the game and the concept of matching. Board games are also full of great learning opportunities that children can explore on.
It's been a while since Ashton and Ashlyn played something together. It was nice to see them working hand in hand as they took turns and waited for each other.
With five activities and materials all bundled and packaged nicely in a box, iNbox saves me the hassle of shopping for craft materials or looking for resources. Plus, all the activities can be done in the comforts of our own home.
If you find this article useful, do click Like and Share at the bottom of the post, thank you.
Want more comprehensive info? Check out our e-guides here.