Have you tried and tested all sorts of diets and exercise regimen to shed those post-pregnancy weight? Do you spend many hours planning of what to eat, worrying about your calories intake, yet after so many months, your clothes still don't fit? We all know that in order to lose weight, the common idea is to eat less and exercise more. But sometimes, this may not be sufficient to help us shed those extra pounds. So how to lose weight after pregnancy?
This is where the experts come in to play.
Where East meets West
Did you know that using Traditional Chinese Medicine (TCM) helps re-balance and 'harmonize' the body? In doing so, this can also help the body lose excess weight? Practiced more than 5,000 years ago, TCM is considered one of the oldest medical systems.
Slimming 101 uses the combination of TCM and modern technology to help you lose that excess weight and attain shapelier figures. Not just looking at your body condition externally, their signature TCM treatment helps to condition the body from inside out. Through a series of acupressure slimming body massage and diet plan, the weight loss results are much more significant.
Fighting the Flab
Post-pregnancy weight. Chunky Arms. Belly Fats. Thunder Thighs. Do you relate to them?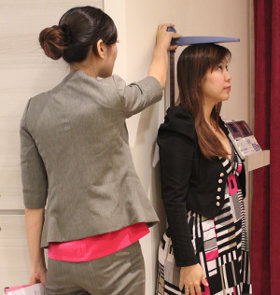 Alice Toh, who is 30 years old and married with two young children, has been trying to lose weight for many years. She tried to eat less and lower her carbohydrates intake for 3 months but results were not visible. She tried Slimming 101 treatment for 2 sessions over a period of 2 weeks, targeting at her stubborn fat areas which are her thighs and tummy. After the treatment, she was very pleased with the results. "I could see a physical difference in my tummy and thighs. I lost a total of 28 cm within this two weeks." Alice shared.
A mother to a 6 year old boy, Lilian Chiang, 36, put on 8 kg after giving birth. Besides trying to lower her food intake, she also exercises regularly. Once a week, she did cross training exercise each time she hit the gym. But after several months, she was not seeing much effect despite her diet and exercise routine. After the 2 sessions with Slimming 101, she lost a total of 14.5 cm on her tummy and thighs.
For mother Evien Lee, her method too was to eat less rice and to exercise regularly. Married with two kids, aged 5 and 8 years old, her weight ballooned after the birth of her first child, and she became 20kg heavier. She had a lot of difficulties losing her post-pregnancy weight. After trying out Slimming 101, she was very happy to have lost 2 kg after just one session. Her results were visible within the first week and her stubborn fat areas, such as her thighs and tummy were noticeably smaller.




Friendly Staff
What also made the treatments comfortable and enjoyable was the service. With the vision to be the friendliest Slimming Specialist in Singapore, Slimming 101's dedicated team aims to provide customers with the utmost satisfaction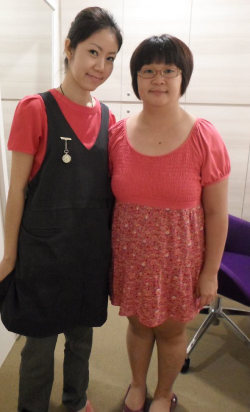 For Alice, the staff who served her, Mandy was very helpful. "She provided me with advice after the treatments, on what are the types of food I should avoid, the number of meals and quantity of food I should consume each day." Alice adds.
On top of the prominent results she saw from the treatments, what Lilian really liked was the warm service she received "I am also very pleased with the service provided. During my consultation, the staff (Lynn) explained to me in details about the type of treatments they were going to perform on me. And after the treatments, she would advise me on my food intake and diet plans, and how I can boost my body metabolism rate."
Also quite satisfied with the service provided, The staff (Mitta) who attended to Evien was knowledgeable and approachable. "During my consultation, she told me that my body water retention was quite high. After each session, she would advise me on my diet. She also shared various breakfast, lunch and dinner menus with me that I could try." Evien added.
Once in a while, we all need a little help from the experts to shed those excess pounds and learn how to lose weight after pregnancy.
This post is brought to you by Slimming 101.
Want to be heard and seen by over 100,000 parents in Singapore? We can help! Leave your contact here and we'll be in touch.