Tokyo, the capital of Japan, is often considered to be one of the world's culinary capitals. Renowned for its delectable cuisine that is a testament to the city's rich culture and history, Tokyo is a food lover's paradise that offers a diverse range of flavours, from traditional Japanese cuisine to innovative fusion dishes.
One of the best things about food in Tokyo is the attention to detail that goes into every dish or food product. Moreover, Japan's food culture is deeply rooted in tradition, making it an excellent opportunity for parents to introduce their children to new and unique flavours and learn about Japanese culinary customs and etiquette.
➡️ Related Read: Kid-Friendly Places To Visit In Tokyo
Here is a summary of 10 amazing foods you should try in Tokyo!
1. Confectionery – Cocoris Sand Biscuit
Source: Cocoris
Cocoris is a popular bakery that is known for its sand cookies. These buttery, melt-in-your-mouth biscuits are filled with a variety of flavours, including raspberry and hazelnut. This brand is so popular that there are perpetually long queues outside its branch at Tokyo Station.
Learning opportunity: Impart to your child the etiquette of gifting one's family and friends with thoughtful, tasty treats.
2. Wagashi – Hiuchi-An
Source: Hiuchi-An
Hiuchi-An is a traditional Japanese sweets shop that has been creating handcrafted wagashi (a type of Japanese sweet) in the mountain area of Ome, a short train ride away from central Tokyo. Wagashi is usually served in tea ceremonies to be eaten before one drinks tea. Hiuchi-An uses the concept of five senses to come up with unique wagashi designs with inspiration from nature, Japanese art and jazz music.
Learning opportunity: Using wagashi as a conversation topic, you can teach your child how to use his five senses for inspiration and tune into his artistic capabilities.
3. Kioke soy sauce – kioke.jp
Soy sauce made in large wooden barrels (or kioke) have a complex flavour profile arising from the natural fermentation process that takes place in the wood. The craft of making soy sauce in kioke has declined due to the rise of industrialization and mass production methods, but a small number of artisans have worked to keep the tradition alive. Still, kioke soy sauce consists of less than 1% of Japan's soy sauce production, and 26 kioke breweries have joined forces to pass on the craft to the next generation.
Learning opportunity: Discover traditional food preparation methods and respect for craftsmen together with your child.
4. Vegan – T's Tan Tan Vegan Food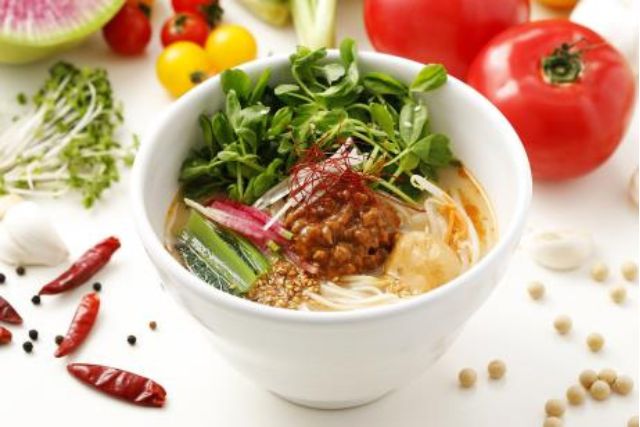 Source: T's Tan Tan
T's Tan Tan is a vegan restaurant set up by a housewife in 2009 that specializes in people-friendly and environment-friendly food through plant-based meals. Its signature dish, the Tan Tan Men, is a spicy ramen noodle soup that does not use any animal ingredients such as meat, seafood, eggs, or dairy products.
Learning opportunity: Open your child's mind towards vegan food and be conscious of one's diet.
5. Peanuts Cafe
For a change of environment, take your kids to Peanuts Café, a charming cafe that features all things Snoopy, from the decor to the food, from the plates to the table napkins. Choose from a variety of basket plate dishes inspired by the Peanuts gang's "POTLUCK picnic" and purchase Peanuts-themed snacks as souvenirs.
Learning opportunity: Brainstorm with your child on a character-themed meal or party that would make family mealtimes special.
6. Kaiseki – Asakasa Kikunoi Restaurant
Asakasa Kikunoi is a 2 Michelin-starred restaurant that offers an unforgettable dining experience within an elegant house built in the traditional skiya style. Their kaiseki menu (a prescribed set of courses that is dependent on seasonal produce) features a selection of seasonal ingredients presented in a beautiful and artistic manner. Suitable for children 10 and up.
Learning opportunity: Expose your child to Japanese creativity and food presentation, and cultivate an appreciation of ingredients prepared in different styles.
7. Bread – Burdigala Bakery
Burdigala ("Bordeaux" in ancient Latin) is a French bakery that offers a wide range of delicious pastries and bread. Its croissants are a must-try and are some of the best you'll find in Tokyo. Each bread is made from 10 types of flour and this popular bakery releases limited edition products for each season.
Learning opportunity: Besides appreciating quality bread and pastries as a consumer, your child could observe how F&B and business could be a possible career path if he loves cooking and baking.
8. Curry and Bread – Zopf Curry Bread
Source: Zopf
Do you love both curry and fried bread? Zopf Curry Bread packs a real punch by stuffing Japanese curry made with plenty of ground beef into deep fried Swiss bread. Once you've tasted one, you'll be craving for it all the way to Singapore.
Learning opportunity: Versatility – curry doesn't always have to be served in a pot.
9. Bento – Toubei
Source: Toubei
Toubei, a takeaway joint, offers bento sets and 9 flavours of mini cups for customers to purchase in twos or threes. Toubei does not use synthetic preservatives, colouring agents or chemical additives, making its food fresh and healthy. Its salmon cutlet sandwich is also a best-seller!
Learning opportunity: Let your kids try new types of food presented in attractive mini cups, and mix and match your own mini sets at home for a fun family bonding activity.
10. Jabara fruit products – Jabara Honpo

Source: Jabara Honpo
Jabara is a citrus fruit that grew wild in Kitayama Village in Wakayama Prefecture. Its name is said to come from the phrase 'to purge evil spirits'. It is consumed in Japan for its high content of 'narirutin', vitamin C and antioxidants. Studies by Osaka City University have shown that jabara relieves symptoms of hay fever. Jabara Honpo produces jabara flavoured products such as drinks, sweets, powders and gummies to introduce the benefits of jabara into one's daily intake.
Learning opportunity: Prevention is better than cure. Instead of taking medicine after falling sick, we can make simple changes to our diet and habits to improve our overall health as a family.
Special thanks to Sake Tours (Ms Etsuko Nakamura and Ms Shima Enomoto), JR East, and all the abovementioned Japan F&B businesses for the information.
By Julia Chan.
* * * * *
Like what you see here? Get parenting tips and stories straight to your inbox! Join our mailing list here.
Want to be heard 👂 and seen 👀 by over 100,000 parents in Singapore? We can help! Leave your contact here and we'll be in touch.