We are looking for a coverpage model for our Parenting with Love booklet!
The New Age Parents and New Age Pregnancy will be organising our next Parenting with Love Seminar in *March 2015, on how parents can prepare their child for Primary School.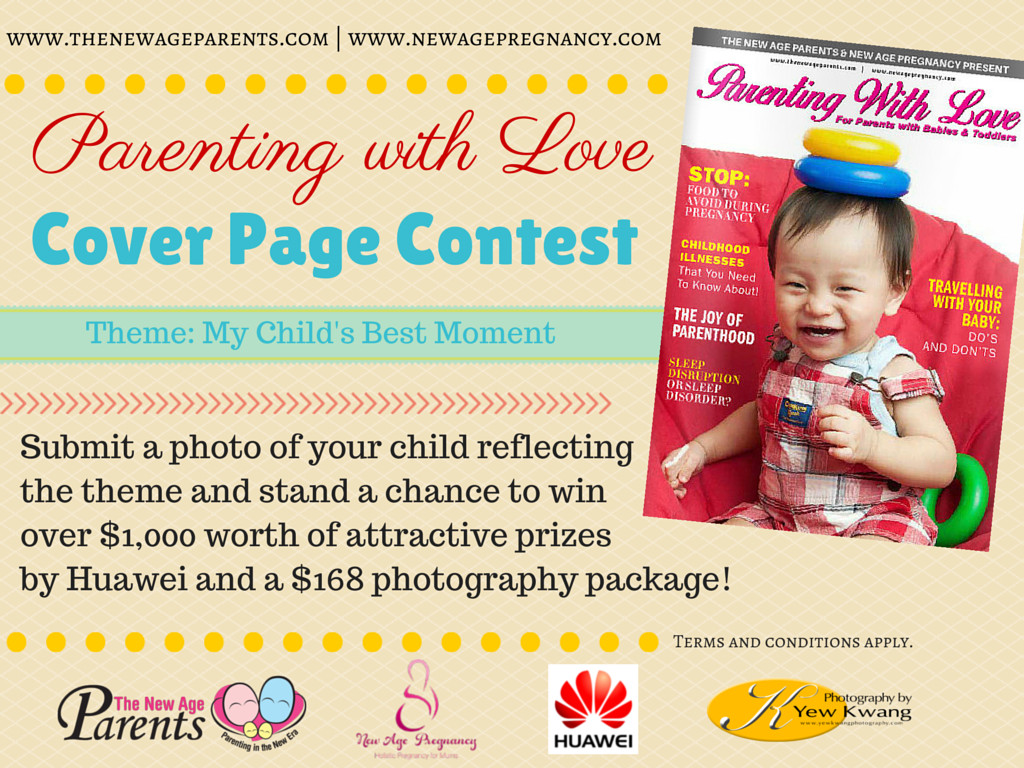 The New Age Parents™
'Parenting With Love' Coverpage Contest
*March 2015

The New Age Parents' Parenting with Love Coverpage Contest (Public and Non-Public Voting)
Theme: My Child's Best Moment
Top Prize (TNAP and Huawei's choice):
Featured on Parenting with Love: Preparing for Primary School coverpage (Booklet will be distributed during the Seminar in *March 2015)
Professional Photo shoot worth $168
Huawei Ascend P7 (Black) worth

$699.00
Second Prize (top voted)
Huawei G6 LTE (Gold) worth $399.00
Consolation Prize (for 3 Lucky Voters)
Huawei 

Power Bank worth $49.90
How to participate in this contest:
1. To sign up our mailing list, fill in your particulars below:
(Existing members need not sign up again. New members need to check your email after signup to confirm subscription)
2. Submit your child's photo via this link http://parentingwithlove.pgtb.me/wQ9Tp9
3. Like Huawei Facebook Page
4. Share your submitted photo (by clicking on the share icon) and include this text on your Facebook or Instagram accounts:
Take part in The New Age Parents "Parenting with Love" Coverpage Contest and stand a chance to win attractive tech prizes worth over $1,000 by Huawei and a professional photo shoot! #parentingwithlove #huaweiSG #mychildbestmoment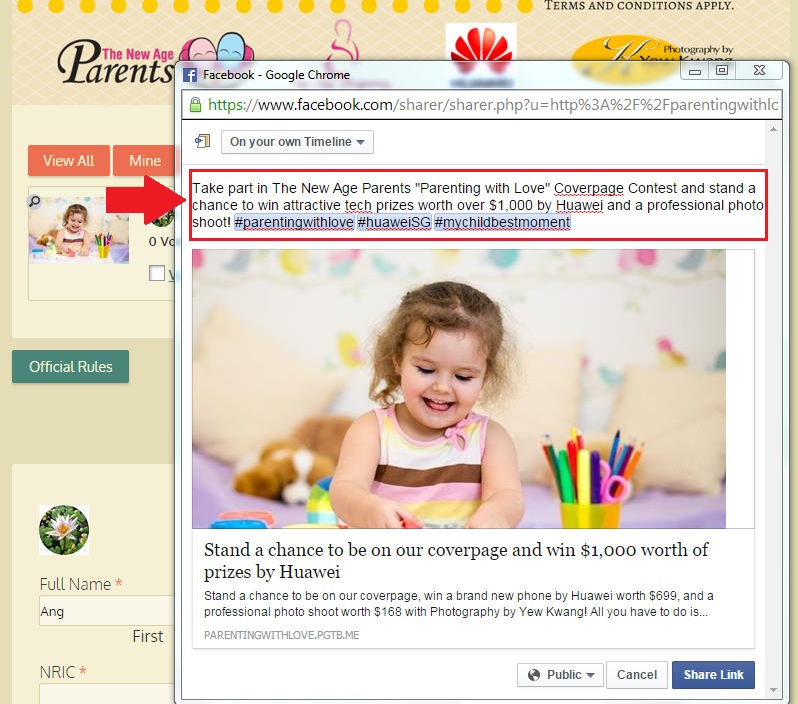 Photo submission ends on 11 January 2015 and voting ends 18 January 2015.
This booklet that will be distributed at The New Age Parents and New Age Pregnancy Parenting in Love Seminar: Preparing for Primary School.
*Date of the seminar has been postponed to April 2015.
Read more about our first Parenting With Love Seminar.
Contest Rules

This contest is ONLY open to members residing in Singapore.
You can only submit photos of your own children.
The images submitted to New Age Consulting by the Contestant are free of any Copyright, intellectual property, trademark or patent violations and are the sole property of the contestant.
The top two winners will be interviewed and featured on Huawei Singapore Facebook Page.
In order to be qualified for the Coverpage Contest, you are required to join The New Age Parents mailing list.
Sponsors reserve the right to substitute the prizes with products / services of a similar value.
In the event of any disputes, New Age Consulting's decision will be final and no correspondence will be entertained.
In the event that the top prize winner selected (TNAP and Huawei's choice) is also be the top voted photo, the winner for the top voted category will be the photo with the second highest votes.
The organizers' decision are final and no correspondence shall be entertained.
The coverpage winner will need to have his/her photos taken at the studio

before 1 Feb 2015

.
Winners who have won The New Age Parents coverpage photo contests for the past 6 months will not be eligible for this contest.
---
Information on the Photography Package:
Coverpage Winner
– Coverpage Model for Parenting with Love March 2015 Booklet
– Photography by Yew Kwang package:
* Up to 45 minutes of shoot in studio
* 2 different outfits (self provide)
* 10 high resolution images in CD ROM
* Value of package – $168
Terms and Conditions apply. Please also read our Privacy Policy.
For more contests and giveaways, go to The New Age Parents Contest Page.